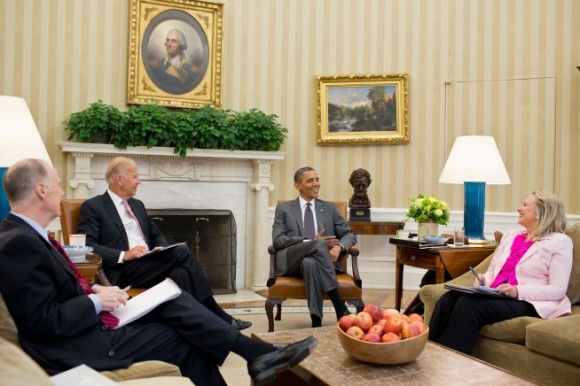 A minor miracle the other day. U.S. President Barack Obama drew a "red line" concerning Syria's chemical weapons.
Everyone understood what he meant. No one thought he was threatening to nuke Syria.
Hallelujah!
In case you missed it, President Obama responded to growing concern that the Syrian government might use chemical weapons by drawing a "red line" for the Assad regime, warning that use of chemical weapons might result in US military intervention in Syria's civil war:
Q    Mr. President, could you update us on your latest thinking of where you think things are in Syria, and in particular, whether you envision using U.S. military, if simply for nothing else, the safe keeping of the chemical weapons, and if you're confident that the chemical weapons are safe?

THE PRESIDENT: …

I have, at this point, not ordered military engagement in the situation.  But the point that you made about chemical and biological weapons is critical.  That's an issue that doesn't just concern Syria; it concerns our close allies in the region, including Israel.  It concerns us.  We cannot have a situation where chemical or biological weapons are falling into the hands of the wrong people.

We have been very clear to the Assad regime, but also to other players on the ground, that a red line for us is we start seeing a whole bunch of chemical weapons moving around or being utilized.  That would change my calculus.  That would change my equation.

Q    So you're confident it's somehow under — it's safe?

THE PRESIDENT:  In a situation this volatile, I wouldn't say that I am absolutely confident.  What I'm saying is we're monitoring that situation very carefully.  

We have put together a range of contingency plans.  We have communicated in no uncertain terms with every player in the region that that's a red line for us and that there would be enormous consequences if we start seeing movement on the chemical weapons front or the use of chemicalweapons.  That would change my calculations significantly.

All right, thank you, everybody.
The most interesting thing about the press reaction is that, although Obama did not specifically state that he was referring only to conventional military operations, no one thought Obama might be threatening to use nuclear weapons against Syria.
OK, I know, no one has suggested using nuclear weapons against Syria.  And actually using nuclear weapons in the midst of a civil war would be totally crazy.  "Ah, but," I say.  For many years, U.S. officials would simply not rule out the use of nuclear weapons in specific scenarios, no matter how fanciful or ridiculous. The result was high comedy!
The classic case involved then-Secretary of Defense Bill Perry in 1996. Perry answered a general question about whether the United States would use force to prevent Libya from completing what appeared to be a chemical weapons factory near Tarhuna.  Perry trotted out the old chestnut of "I wouldn't rule anything out or anything in" and –shock! — reporters assumed he meant nuclear weapons.  I am pretty sure Perry didn't intend to threaten the use of nuclear weapons against Libya, but once he was misunderstood the policy of not-ruling-things-in-or-out played havoc.  Eventually, Perry offered a clarification that amounted to "not that we would, but we might," a statement that the Defense Department saw fit to reprint in the 1997 edition of Proliferation: Threat and Response. (I am being unkind, but you go ahead and parse his statement.) The Clinton Administration considered the issue closed, but, as you can see from this transcript, they never figured out how to answer the question cleanly.
The problem kept popping up.  George W. Bush answered a routine question about Iran by saying all options were on the table, prompting UK officials to express discomfort with the idea of using nuclear weapons against Iran. And in 2007, Hilary Clinton attempted to paint then-Senator Barack Obama as a foreign policy neophyte for taking nuclear weapons off the table for scenarios involving Al Qaida in Afghanistan and Pakistan. (Afghanistan! Pakistan!) These were all stupid kerfuffles, but stupid kerfuffles were a recurring feature of US declaratory policy as US policy-makers tried to pretend that nuclear weapons played a role in deterring lesser threats, like chemical weapons.
The problem was the policy of "calculated ambiguity" — a term first used retrospectively by James Baker in his 1995 memoir, and which quickly found popularity within a Clinton Administration seeking to ease ratification of the Chemical Weapons Convention.  Whatever the short-term political merits, "calculated ambiguity" was not, as I often point out, an instance of ambiguity, at least not in the sense of being open to more than one interpretation.   The policy compromised contradictory statements that were lawyered into word salad.  The policy would rightly have been called "calculated incoherence" if anyone in Washington had a sense of humor about such things. This policy transformed mundane remarks into nuclear threats, before self-destructing into incoherence as officials and spokespersons attempted to clarify.  If you ever saw Eddie Izzard joke about Englebert Humperdinck being dead, it was sort of like that.  (See the bit that starts around 1:40.)
The 2010 Nuclear Posture Review largley resolved this problem.  Although "calculated ambiguity" remains a feature of how US officials talk about nuclear weapons, the 2010 Nuclear Posture Review finally made clear that the United States would not use nuclear weapons in response to attacks with chemical and biological weapons.  (Hold that thought!)  Instead, the US promised an overwhelming conventional response, as Scott Sagan had long proposed.
It is the threat of an overwhelming conventional response that Obama is now invoking. Whether the prospect of conventional US military operations will deter Assad from using chemical weapons or not is almost beside the point.  It is surprising enough that Obama was able to make this threat without having to endure a distracting discussion about whether or not he had just threatened to use nuclear weapons.  It is also noteworthy that no one is lamenting that Obama could not strengthen deterrence by alluding to the possible use of nuclear weapons.
There is, however, a twist.  I said the United States would not use nuclear weapons in response to attacks with chemical and biological weapons.  Well, that's not quite accurate.  What the Nuclear Posture Review said is that the United States "is now prepared to strengthen its long-standing 'negative security assurance' by declaring that the United States will not use or threaten to use nuclear weapons against non-nuclear weapons states that are party to the NPT and in compliance with their nuclear non-proliferation obligations."  In other words, not Syria! The pledge is only good for non-nuclear weapons states in good-standing with their nuclear nonproliferation obligations.  If you read the fine print, the US still retains the right to nuke the bejesus out of Damascus in response to a use of chemical weapons.  Not that we would, but we might.
Yet, no one is jumping to that conclusion — which is a good thing.   Nuclear weapons are, rhetorically speaking, off the table in Syria with no harm to deterrence and, to the contrary, a much sharper point  on the threat of conventional military options to respond to any use of chemical weapons by the Assad regime. Apparently, when it comes to declaratory policy, people listen to the music, not the words.   That's a lesson in itself for our future discussions about declaratory policy.