The Commander of the US Strategic Command, C. Robert "Bob" Kehler recently offered support for the Triad — the trinity of bombers, land-based missiless and ballistic missile submarines — that some people have chose to characterize as tepid.
Now, admittedly by "some people" I mean two interns at the Heritage Foundation, one of whom now writes for Air Force Magazine.
Nukes of Hazard has posted Kehler's remarks on the triad. As I suspected,  they are essentially the same as the ones he made in October 2011 and May 2012. To most observers, Kehler has continuously expressed support for the triad, not opposition.  Kehler's heresy was to note that his support for the triad is contingent and immediate, subject to adjustment in light of changes to the strategic environment.   (Some people take insufficient enthusiasm very seriously.  It's a good thing Kehler doesn't command the KPA Strategic Rocket Forces because he's got a thing or two to learn about sugar-coating things for 20-somethings.)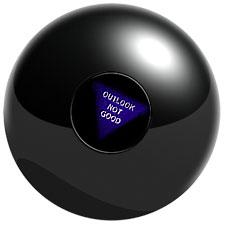 Rather than heresy, Kehler's defense of the triad.  has been, in fact, quite orthodox.  He actually made the canonical case for the ICBM-leg of the triad, based on promptness:
And what the ICBM force gives to the president is the ability to respond promptly. I think that's still a valuable component of the range of alternatives that we could offer to the president."
This has always been the fundamental justification for keeping some portion of the ballistic missile force based on land.
The statement left me wondering: Are ICBMs really more responsive than SLBMs?
The idea that the President can communicate with an ICBM launch facility more quickly than a submarine at sea is one of those enduring notions within the strategic studies community.  Heck, I've even written it.
After a while, I started to wonder.  Is there any data to support that claim at all? In trying to answer that question, I discovered a very interesting little study.
In 1990, as the Warsaw Pact crumbled, eventually taking the Soviet Union with it, Congress asked the then-General Accounting Office to examine the triad.  GAO did something very unusual — research — and produced a report in 1992.  GAO also made available an unclassified summary that explains:
This is … the first study in at least three decades that both sets up a comprehensive framework for comparing numerous, dissimilar strategic systems on multiple measures and that uses test and performance data to compare the systems in question.

Moreover, we did not simply use the performance data cited by DOD for these systems, but instead validated those data through extensive research, analysis and questioning about the underlying validity of the data, including the quality and quantity of the testing of each system. For systems where we found that the claimed performance could not be sustained by such analysis, we have made the uncertainties explicit.
It turns out the claim that ICBMs were more prompt than SLBMs was just something people said. It seemed reasonable, of course, but there was no data.  None.  Nada.  Zip.  When GAO looked at all the relevant data, including patrol data for ballistic missile submarines, they found little difference.  The two systems were essentially equal in terms of responsiveness:
Test and operational patrol data show that the speed and reliability of day-to-day communications to submerged, deployed SSBNs were far better than widely believed, and about the equal of speed and reliability of communications to ICBM silos. Contrary to conventional wisdom, SSBN are in essentially constant communication with national command authorities and, depending on the scenario, SLBM from SSBNs would be almost as prompt as ICBMs in hitting enemy targets.
Reading this stunned me.  The idea that ICBMs have an advantage in promptness is one of those bits of conventional wisdom I've never seen challenged.  To see GAO say "nope, that's wrong" is one of the more disorienting experiences I have had in a while.
Now, obviously, the US has incrementally improved the command-and-control system for land-based ballistic missiles over the past twenty years — though not nearly so much as one might hope.  The Navy, too, has been improving command-and-control systems for Trident, including development of a capability to retarget SLBMs.  It is hard to compare improvements in command-and-control without the sort of data GAO used, but when STRATCOM proposed conventionally-armed Trident ballistic missiles, STRATCOM officials seemed pretty dismissive of concerns about how difficulties in communicating promptly with submarines.
That's bad news for the ICBM force.  Although I think silo vulnerability is vastly overstated, land-based missiles just can't compete compete with submarines, even with really expensive mobile launchers.  And then there is the issue of overflight.  It is an unfortunate reality that Russia happens to lie between the United States and most of all the interesting places we might someday want to nuke.  The Unites States is extraordinarily unlikely to light up the Russian EW system with one or more nuclear weapons en route to someplace else.  That leaves a prompt response to a Russian bolt-from-the-blue as all the ICBM leg has left. Well, that and the Senate ICBM caucus.
Bad news, if it is true, I mean.  Someone should do a study!  Actually, not just someone.  The Government Accountability Office.  Congress ought to ask GAO to revisit the 1992 Triad study making use of the same data-rich methodological approach.  It would be very interesting to see whether the promptness argument holds up to scrutiny.
Update | I've edited the post because it turns out I had read Kehler's remarks on Nukes of Hazard this morning — they were just so close to remarks in May that I momentarily thought I was conflating the two.  I probably should have done the strike-through thing, but this is how I wanted the post to read in the first place.