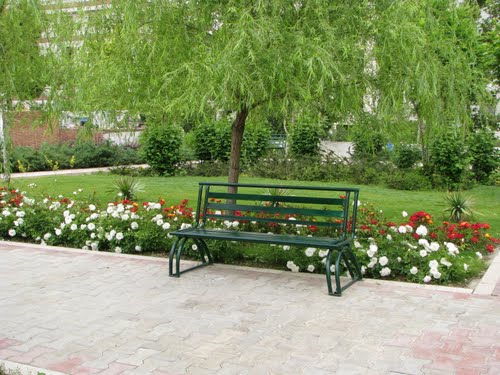 Fredrik Dahl of Reuters reports that the IAEA has satellite images, including one dated May 25, that show "two side buildings had been dismantled and other possible clean-up work" described as "ground-scraping activities" at Parchin. (The sourcing is "diplomats who attended a closed-door briefing by U.N. nuclear agency officials.")
We don't have the images (yet) [Update: We do now.], so I thought I would share these lovely photographs of Kowsar Park in Tehran. Oh, you may not recognize it — the place has changed a lot since we last saw it.
Back when it hosted Iran's pre-2003 covert nuclear weapons program.
Yes, that's right, you may know Kowsar Park  better as the Lavisan-Shian — location of the Physics Research Center.
If you don't recall the story, ISIS has a nice summary.
The short version is that some people became suspicious of the Ministry of Defense site after they purchased two whole body counters — the sort of equipment one needs for sites with nuclear material.  Pretty much any site that requires whole body counters (which identifies and measures radioactivity in the body of human beings) ought to be declared to the IAEA.  Before the IAEA could visit Lavisan-Shian, Iran bulldozed it, claiming that the Ministry of Defense had returned the site to the municipality of Tehran after a dispute.  When the IAEA took environmental samples from vacuum equipment that had been stored at the site, it found uranium particles with enrichment levels of 36 and 54 percent.  (Iran claimed the equipment had been contaminated by the supplier, widely reported as Pakistan.)
You can see the evolution of the site from 2000 to the present in Google Earth (images are dated 2000, 2004, 2005, 2005 again and 2010):
I know, I know.  It's getting to be where a fellow can't build an innocent soccer pitch in Tehran without someone screaming for an IAEA special inspection.  🙂
Today, Lavisan-Shian is a lovely park, pictures of which are available in Google Earth.  I've made available a sampling.  Really, this is one of the finest instances of defense conversion I've ever seen.  Clearly we need to get the Municipality of Tehran involved in Global Zero.
Update | 5:09 pm The Institute for Science and International Security has images of the earth moving equipment and what remains of the two small buildings.  Clearly this is about giving the workers at Parchin the quality soccer pitch they so deserve.