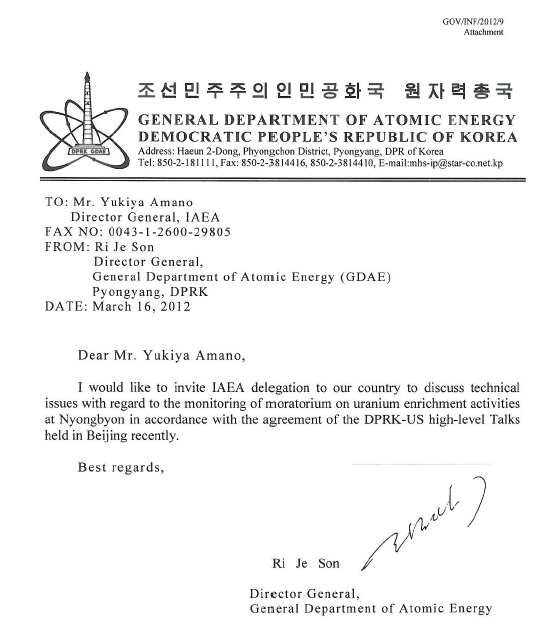 When the Washington Post published a letter, purportedly from Jon Byong Ho to AQ Khan, we had a lively debate here about whether or not it was real. Some of the questions related to font, kerning, stationery and even how Jon signed his name.
In trying to reach some sort of judgement about the veracity of this document, I was struck by how few examples of official DPRK stationery I have seen.  I went through all the DPRK-IAEA  communications, for example, only to find they were by TELEX.
Until now!
I have acquired a copy of the DPRK's invitation to the IAEA to "discuss technical issues with regard to the monitoring of moratorium on uranium enrichment activities at Nyongbyon in accordance with the agreement of the DPRK-US high-level Talks held in Beijing recently."
Now that is some stationery!
The document is also interesting because the DPRK is very clear that the invitation is to discuss the monitoring of the moratorium on uranium enrichment activities at Yongbyon.  The document contains no reference to reprocessing facilities, the disabled 30 MWth reactor or the light-water reactor under construction.  US officials were dismissive when reporters tried to point out these discrepancies.  But the reporters were right.
I have to admit, this looks terrible for the Administration.
By the way, has anyone heard a peep from Glyn Davies since all this went down?  The press is hinting that he's no longer speaking in public. For example, the Korea Times mentioned seeing Davies outside the State Department: "Davies swiftly went back into the building, without talking to the media."  There is a little editorializing in that sentence — the decision to mention the appearance at all, the characterization of his departure as "swift."
Poor guy.  By my estimate, Davies has 32 years in the foreign service.  He's probably taking this abuse to hit the magic 35 and get his retirement deductions refunded. The President should appoint Davies as an Ambassador someplace uncomplicated so he can finish out his career in peace and quiet.
Someplace where they don't make Ambassadors tie their own ties.
Late Update | 6 April 2012 Steph Haggard has a nice analysis of the letter on his blog with Marcus Noland, North Korea: Witness To Transformation.  One issue relates to Amano's response, dated 30 March, which is the subject of a story by AP's George Jahn.  Here is the complete package, GOV/INF/2012/9.