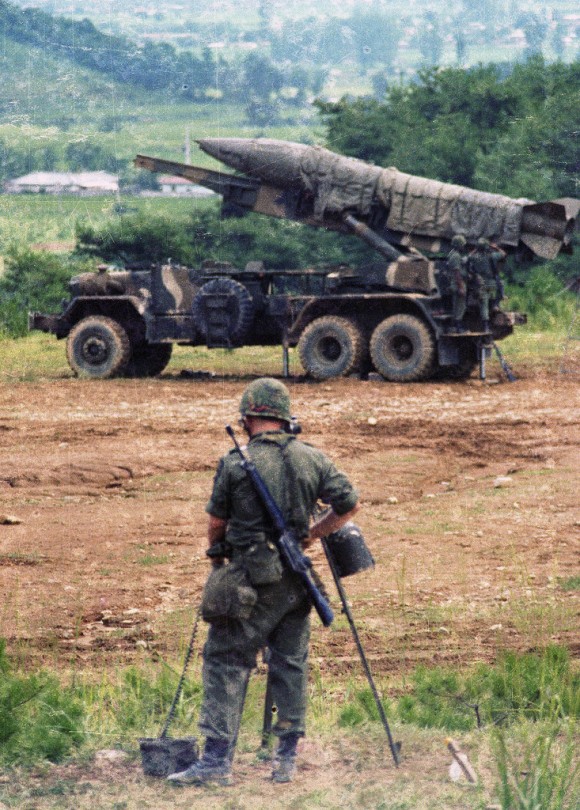 I find it hard to believe that one could confuse a nuclear weapon with a latrine, but during the 1970s anything was possible.
I am teaching a class at MIIS entitled "Security and Arms Control in Northeast Asia."  The course is structured around national security decisions so that students understand both the evolution of national security decision-making structures in the United States, as well as the most important decisions relating to security and arms control in Northeast Asia.  So far, we've covered decisions to use nuclear weapons against Japan in 1945, whether to do so in Korea in 1953, whether to use force to prevent China's nuclear test in 1964, and whether to revert Okinawa to Japan without nuclear weapons in 1969.
Sometimes old documents and news stories contain moments of surprising mirth. Skip to section 2 if you just want the funny bit.
1.
Last week, we examined the Carter Administration's 1977 decision to withdraw nuclear weapons from Korea.  In the late 1970s, the United States had 42,000 combat troops in Korea, largely with the 2nd Infantry Division.  The United States also forward deployed several hundred nuclear weapons for use by these forces, including atomic demolition munitions, nuclear artillery (Honest John, 8-inch Howitzer, Nike Hercules, Sargent, 155-mm Howitzer) and air-delivered gravity bombs.  Nuclear weapons for these systems were stored at Camp Ames, as well as Kunsan and Osan Air Bases.
Then-Governor Carter, during the 1976 Presidential campaign, made clear his intention to withdraw all US ground forces from South Korea.  (The Nixon Administration had substantially reduced the number of ground forces and many Americans were uncomfortable about extending deterrence to an authoritarian government that employed imprisonment and attempted murder to suppress democracy activists like Kim Dae Jung.)
President Carter moved swiftly to make good on that pledge during his first days in office.  The Carter Administration openly attempted to withdraw all ground forces, which would obviously include any nuclear-capable artillery systems or ADMs. (The ROK military had some nuclear-capable systems, so one might imagine the warheads would remain behind — but no one seemed to think that was a very likely outcome.)
Carter also decided — in secret — to withdraw the remaining air-delivered nuclear weapons as well. The Carter Administration may have contemplated replacing the warhead with dummies, in order to avoid telling the South Koreans of the withdrawal. (The Carter Administration eventually rejected this plan as infeasible.  "If we have gone forward with the secret pullout," one official told the Boston Globe's William Beecher, "one can imagine a private writing home about how he was standing guard in freezing weather protecting ostensible nuclear weapons which were actually sacks of sand. What would have happened to deterrence and our credibility, then?")
Even today, the portion of the PD-12 that would appear to record the President's decision relating to the withdrawal of  nuclear weapons from Korea remains redacted (As does the relevant portion of PRM-13).  We know about Carter's decision because of this declassified memorandum recording Zbigniew Brzezinski telephone call to Secretary of Defense Harold Brown to relay Carter's decision.
Of course, there we also numerous leaks to the press at the time about Carter's intention to withdraw nuclear weapons from Korea — including one in the Washington Star that I would like to track down.  As a result of those leaks, reporters repeatedly pressed US officials about whether the withdrawal of US ground forces would be accompanied by a withdrawal of all nuclear weapons, including air-delivered gravity bombs.
2.
It was in this context, that I encountered the following, hilarious exchange as recorded by the Washington Post:
There was a momentary communications gap at White House yesterday when Rex Granum, the deputy press secretary, got the bathroom confused with the battlefield.

Granum was explaining the administration's reaction to the Senate's refusal to endorse withdrawal of American troops from South Korea.

A reporter asked about the possibility of withdrawing small tactical nuclear missiles called "Honest Johns."

"When they withdraw the troops," said Granum forthrightly, "they withdraw the facilities."

Later, Granum explained the thought the reporter had asked about latrines, using the slang word "johns." His response had not been intended to apply to the weapons, he added.
That's priceless. Granum, by the way, went on to a successful news career.
3.
The Carter Administration faced serious domestic political opposition to his plan to remove ground forces from Korea.  By mid-1978, the US Intelligence Community was coming to the conclusion that North Korea had much larger armored forces than previously thought.  Leaks to the press in January 1979 helped deal a fatal blow to the withdrawal plan.  Carter suspended the withdrawal, pending another study.  That effectively ended the withdrawal process, with Carter losing his reelection bid to Ronald Reagan.
Still, the Army did inactivate three nuclear-capable artillery battalions in South Korea in 1977: the 3d Battalion, 81st Field Artillery, which was the last Sergeant battalion on active duty; the 1st Battalion, 42d Field Artillery, an Honest John unit; and the 2d Battalion, 44th Air Defense Artillery, a Nike Hercules battalion.  Overall, the Carter Administration does seem to have withdrawn about two-thirds of all US nuclear weapons stationed in Korea, leaving only a small number of aircraft-delivered gravity bombs.  (The Army also deployed nuclear-capable Lance missiles in Korea until 1992, but any nuclear warheads remained stationed in Guam as far as I can tell.)
In what is an interesting step, the Carter Administration seems to have sought to reassure South Korea with an unprecedented series of port calls by nuclear-armed ballistic missile submarines, peaking with almost monthly visits in 1979 and 1980.  Hans Kristensen has a fascinating discussion of this little known episode in the history of extended deterrence.  The United States eventually removed the last nuclear weapon from Korea following the 1991 Presidential Nuclear Initiatives.
The United States and South Korea have successfully deterred a 1950 like attack from North Korea despite the gradual reduction and withdrawal of US nuclear weapons from South Korea.  That's a hopeful sign.  The Peninsula's proliferation record, on the other hand, is less encouraging.  South Korean interest in a nuclear weapons capability appears to have persisted into the early 1980s, while  we know how North Korea's bomb program turned out.  What that says about the history of deployments and withdrawals is not completely clear, but complexity makes for a stimulating discussion.
The students are now off for Spring Break, but when they return we fast forward to 1991 so they can revisit this decision all over again.
4.
I leave you with a final bit of unconfirmed "lore" about the Honest John in Korea:
This is an anecdote that has remained in certain U.S. Army artillery circles since the late 1970's. The event's documentation is nowhere to be found, and its truthfulness is only supported by the question, "Why would someone make this up?"

Here's how it goes.

The incident, it is told, occurred in Korea, where a U.S. Army unit kept custody of nuclear warheads that could be released to the ROK army in the event of an all-out war on the peninsula. The ROK army had Honest John rockets, and apparently one of the other duties of the custodial unit was to advise the ROK artillerymen on the entire system. At least two U.S. officers were present to watch the Koreans fire an Honest John one afternoon.

The rocket prior to ignition is held secure by three large pins on its raised launching rail or ramp. The pins are painted red so they can be readily seen, but apparently the one in the middle is obscured from casual observation by some of the mechanism and might be overlooked. A failure to notice and remove that middle pin would set events in motion.

One of the U.S. officers gave this account:

"I was sitting there waiting for the rocket to fire, and finally it did. I saw this big cloud of smoke and flames, but I noticed that I didn't see any rocket coming out of it. I thought, 'uh oh!'" When the smoke cleared up a little, I could see the rocket was still sitting there attached to the truck. Then, the truck started to shake and bounce around, and pretty soon the whole thing kind of rose up slowly into the air — truck, rocket, and all! It got up about 50, 60 feet and then nosed over, and slammed into the ground. The motor was still burning, so it started rolling and bouncing end-over-end down range, until it finally blew up."

Other than proving that the pins had a 200% safety margin, since one of them was unfortunately all too capable of holding the rocket on the rail against the thrust of the motor, I can only imagine what went on in the Korean artillery battalion headquarters. I imagine some rocketeers quickly became infantrymen, or worse!

I have never heard of such an event occuring to the 3AD or any Army unit in Germany, but if anyone knows of such an accident, or of any serious nuclear weapon mishap in Germany, please contact me through the webmaster.