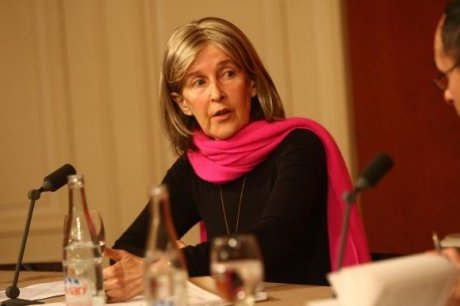 Sad news today, as Bruno Tertrais has emailed me to say that Thérèse Delpech, doyenne of the French strategic studies community, has passed away.
The last time I saw Thérèse, my wife and I were standing at the TGV station in Avignon, trying to figure out how to purchase a ticket with a North American credit card.  (We ended up stealing the short ride to Aix.)
We found ourselves in Avignon after touring  the decommissioned French fissile material production facilities at Pierrelatte and Marcoule.  I had met Thérèse at several meetings over the years, but that trip to Provence was the first time I really understood how special she was.  I was seated at a lunch with a few French experts, including Thérèse and Bruno Tertrais.  Thérèse could be combative in meetings, so it was with a little trepidation that I sat down.  The previous time I had seen Thérèse was in Paris where she was not very impressed by some of things my traveling companions were saying about nuclear weapons. "Well, it is your deterrent," I remember her saying, with "your deterrent" sounding exactly like "your funeral."
Lunch turned out to be pure magic.  Thérèse enjoyed talking about wine and philosophy as much as nuclear weapons.  That lunch is one of my favorite memories, as Thérèse turned her formidable intellect to all the things I really find interesting in life.   (The wine was also excellent!)  By the end of that trip, I was completely charmed. The next thing I knew, we were all in Avignon, with Thérèse troubleshooting the TGV before bidding us farewell.
There is something strange about finding out how much you enjoy someone's company only to never see that person again.  I noticed that, recently, Thérèse had been traveling less and was cool about committing to a conference I've been planning.  It never occurred to me, although it should have, that there might be a reason she was staying close to home.  Thérèse was such a presence that I simply couldn't imagine one day she would be gone.  It would be like waking up in Paris only to see someone had taken down the Tour Eiffel.
Thérèse was a very special person.  She will be missed.