I have been sort of amused that one news outlet after another keeps sending reporters to Site F near Sabha, where the Libyans store their stockpile of uranium yellowcake.  CNN, Daily Telegraph, Reuters.  Am I missing anyone?
Anyway, I figured I would post the coordinates of the site: 27° 4'0.10″N, 14°34'18.62″E
I was able to make a high confidence match based on the Reuters video (above).  Watch the pavement configuration closely, then notice the three hills visible over the southern wall (which is to the reporter's left as he enters the compound.)  Those two white buildings are the site in question.
Here is my favorite picture from inside, taken by photographer David Rose: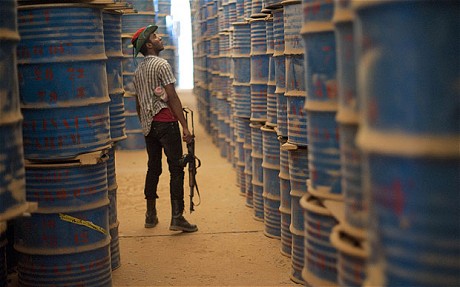 There are also some nice details that confirm the location — Richard Spencer, writing in the Daily Telegraph refers to rusting vehicles in the sheds.  Well, I don't know about in the sheds, but I see rusting vehicles.  In a 2003 image (left), the vehicles are scattered around the site and construction is not completed. (In 2003, Libya is ending its WMD program.) In 2004 (center), the vehicles all lined up neat and pretty.  In 2011 (right), the vehicles are still parked in the same locations — seven years of baking in the hot Libyan sun.  That will ruin your car's paintjob.
So, what to do with 1,000 metric tons of U3O8? Uranium isn't particularly dangerous in the form of yellowcake — unless you frost it and then serve it at a birthday party.
The Qadhafi Government committed to sell the yellowcake as part of its abandonment of WMD programs, but a leaked (NSFW!) January 2009 State Department cable from a meeting between the Secretary of Libya's Atomic Energy Establishment and the US Embassy in Tripoli revealed that Libya was waiting for the price of uranium to go up.  And waiting.  And waiting.
These things always take longer than one expects.  Remember Iraq, the country we invaded before the smoking gun was a mushroom cloud?  The US eventually arranged for the sale of Iraq's stockpile of 550 metric tons of yellowcake to CAMECO, but the uranium didn't leave Iraq until July 2008.  Anyway, I am sure that there are smart, dedicated people who are planning the fastest way to remove this material.  But let's just keep in mind that there isn't even a Libyan government in place right now and any future government will, presumably, seek fair market price for what is, after all, a natural resource.  (The Iraqis were to get $76 million for their stockpile, although a pair of leaked cables detail the back-and-forth between Iraq and the US over a missed delivery date that may have cost Iraq a substantial portion of the expected proceeds. Warning: Wikileaks 1|2.)
In the meantime, I leave you with my favorite bit of yellowcake humor from the Chapelle Show.  This is in no way, shape or form safe for work, either.