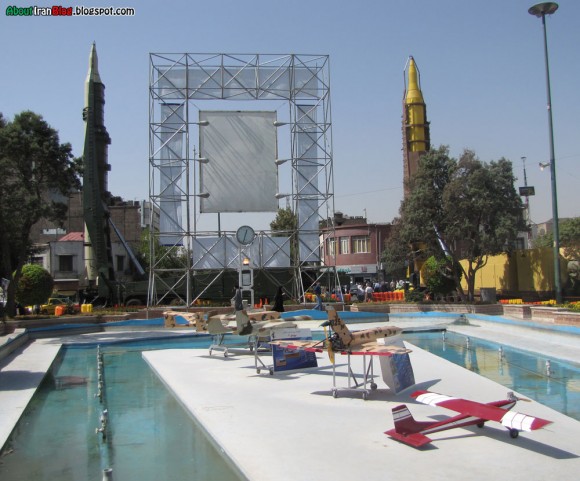 Trick or treat!
The About Iran Blog, which is run anonymously, has posted images from a defense exhibition in Tehran.  The images show placards with technical data for the Shahab, Ghadr, Qiam and Seijil missiles.
This is definitely a treat.
The placards contain data relating to range, payload, dimensions and mass. Someone probably needs to play with the data in a model, but it is worth pointing out that the data is essentially consistent with the public descriptions of the missiles in question.  Here is a simple range-comparison chart:
| | | |
| --- | --- | --- |
| Missile | Placard (km) | US IC (km) |
| Shahab-2 | 500 | 500 |
| Shahab-3/Ghadr-F | 1948 | 1900 |
| Sejil | 2000 | 2000 |
| Qiam-1 | 800 | n/a |
The US estimates are drawn from Unclassified Report on the Military Power of Iran (April 2010) and Ballistic and Cruise Missile Threat (August 2009).
The authors of the About Iran Blog have translated the technical data, which is available on their site.
The comparisons, of course, are imprecise: US intelligence estimates are presented in miles (so they are rounded) and the assigned payload, not known in the US estimate, makes quite a difference. Still, looks like we are in the right neighborhood.
It is, of course, possible that these are Western data reproduced although the Iranians seem quite proud of their accomplishments.  I seized on the bizarrely precise estimate for the Ghadr-F, but nothing suspicious popped up.  Perhaps more digging is in order.
The placards are also consistent with the hypothesis, advanced by Mike Elleman and Robert Schmucker and Markus Schiller that the Qiam-1 is essentially a Shahab-2 with a different nose cone.
There is also some jet-vane porn, which is a favorite subject of this blog and, it turns out, the United States Government. (WARNING: LEAKED CABLE WITH SECURITY MARKINGS.)