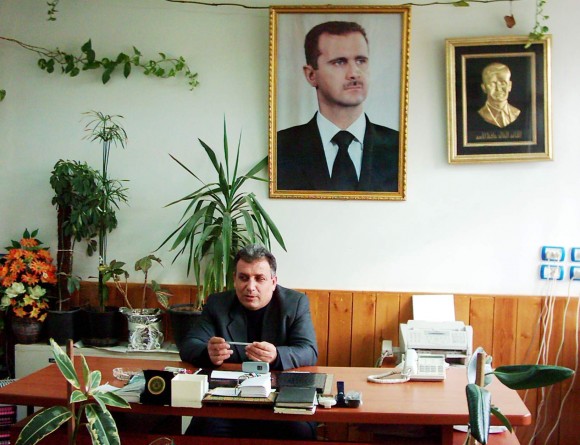 Earlier this week, I posted about a location in Syria that some folks in the IAEA believe was originally intended to house centrifuges as part of a nuclear weapons program.
This is just a housekeeping post, bringing that conversation up to date based on comments and few off-line conversations. The short version is that it is almost certainly a textile factory today.  The allegation, apparently, is that the facility was intended to house centrifuges.  Who knows?
First, we now have two bits of documentation in Arabic located by one of our students, Anna Eorkhina. (One of the best parts about MIIS are all the talented young people with amazing language skills.)
She found, posted on-line, a pair of stories in Arabic about the Hasaka Spinning Factory.
A daily publication on local politics in Hasaka carried a March 5, 2009 story titled Benefits and New Features of the Hasaka Spinning Company that notes a Presidential Decree (No, 89, 12 February 2009) established the financial and administrative independence of firm, which had previously been part of a state entity.  The General Manager (pictured above) explained that the firm has existed since 1976, but could not be considered a company until now.
Another site, which looks less professional, carried a November 15, 2009 story with some additional details about the timeline of the firm: Another reference to the founding in 1976, machines imported from East Germany in 1983, a major modernization from 2001-2008.
In the comments, a reader named "Mark" confirmed that "some people" believe the plant was originally intended to house centrifuges. (I'll vouch for him.) I have also heard some hints about what might be the cause of the suspicion, but I'll hold off on that for now.  The important point, of course, is that no one is disputing that the facility is, now, really an honest-to-goodness textile factory.
Andy, one of our most frequent and insightful commentators, noted a few things including the lack of high-voltage lines that would be necessary for either a textile factory or a centrifuge plant.  I wonder if they might not be buried, which would be an excellent sign of concealment and deception.  I have to say, can you imagine being some little state-run firm, getting this amazing new facility and then walking around like "Wow, that's a really big scale in the floor …"
Finally, one reader — in mocking the notion that the facility might be anything other than a textile factory — noted the date of the DNS registration for the site was 2007-12-7.  I found a January 2007 date using another query, but the basic question is whether the website went up after Israel demonstrated that the covert Syrian nuclear program had been compromised in September 2007.
Since it appears the allegation involved the original intent of the facility, as far as I can tell we are working on two questions: Does the construction timeline for the facility square with the timeline given for the Hasaka Spinning Factory and does the facility have signatures that would suggest it was built for some other purpose?