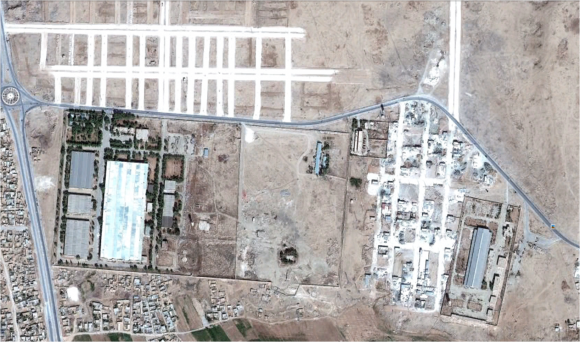 Reporters are calling around town inquiring about this site, which is located at 36°30'33.99″N, 40°46'34.75″E near the town of Al Hasaka in Syria (sometimes transliterated as Hasakah or Hasekeh).  The facility is said to be of some interest to the IAEA.  (Like my use of the ambiguous passive voice?) There will, undoubtedly be a story in one rag or another soon enough, so I wanted to give readers a head-start.
Just what is this thing?
Based on these three photographs (one, two, three), I conclude that this facility is most likely the so-called Hasaka Spinning Factory. (Two other exterior shots — one, two — are inconclusive.) I am interested in whether others agree with me — we can make comparisons in the comments and I am happy to identify the signatures I see in the overhead and ground photos.
Just what the Syrians are spinning, of course, is an interesting question. Sorry, lame pun.  The website for the Hasaka Spinning Factory says that they are spinning cotton fabrics.  There are many, many photographs of the textile machines that the website claim fill the various buildings on-site.  For example, consider these:
You can take a look at the whole set by using the search string "site:www.hasakaspin.com" and then restricting the search to images, like this.
To a first approximation, I don't see anything obviously amiss. I am not sure what is so interesting about this facility.
The website is copyrighted 2006. The site was first crawled by the Internet Archive in November 2007 and has been redesigned at least once following December 2007.  (That doesn't mean the 2006 date is false or that there wasn't a website before, simply that we only know the website dates to at least November 2007.)
The buildings themselves are older than the website — the oldest image in Google Earth is 2004, while I think I can make out at least the large building in a 2001 Landsat image that is pretty pixellated — so it is at least possible that the buildings were intended for one purpose then converted to another. Or, rather innocently, the textile factory simply predates the idea that an industrial firm in Syria should have a website. Or the prior website is lost to history. You get the idea.
The facility itself looks reasonably secure and there is another odd little compound further to the east with a building that looks like a munitions storage depot to me. (Well, ok, the smaller facility is simply a long narrow building with a gabled roof and ventilation along the ridge.  There are many reasons to ensure a warehouse is well-ventilated, of course, but ventilation is essential for munitions storage, so that always catches my eye.)
Syrian security in the area appears to have been remarkable even before the recent security crackdown.  Two Westerners making a documentary about Iraqi Assyrian refugees — Adam Teale and Anobel Odisho — visited Al Hasakah in early 2009. (You can view their documentary, Transient, online.)  Teale, who is Australian, remarked on the unusual security — "As our minibus got closer to Hasaka we were stopped a few times for ID/Passport checks. I hadn't had a mid journey ID check in Syria so I guess it [m]ust have had something to do with being close to Iraq."
Yeah, must be the border crossing 160 km to the East.
Teale continues "This time we stopped at a checkpoint and our passports were given to a beedy-eyed fellow with a mounted machine gun in the back of his ute. We got our passports back and the bus continued on its way only this time were were being followed, by the Machine Gun Man!"
Odisho, an American now living in San Francisco, has a long account of being followed by "Machine Gun Man" as the two dubbed him for the entirety of their visit to Al  Hasaka.  "Now, I'm not sure how many of you have been followed by a machine gun mounted truck," Odisho wrote, "but it's pretty scary."
You don't say.  Let's just all be happy neither of you bore any resemblance to a certain good-humored Finn or expressed any interest whatsoever in the local textile industry.  Good lord, this is why no one should EVER do anything like this again.
It is possible, of course, that the buildings were constructed for one purpose relating to a nuclear weapons program and that, following the compromise of the site at Al Kibar, the Syrians simply converted them to something innocent, with a website hastily thrown up.  It is also possible that pretty much any big building in Syria is going to get a long, hard look in the current environment and this is just a bit of paranoia run amuck. It may, after all, simply be a textile factory.
Am inclined to skepticism, pending an important question: What triggered the initial interest in this site? If it is just a big building in Syria, that seems  a little overzealous to me.  On the other hand, if the Syrians  imported something incriminating — like the whole body counters imported by the Iranians at Lavizan —  then that would be a different story.
I suppose we'll just have to wait for more leaks to find out why the IAEA is so interested.  But, for now, it is just a textile factory.