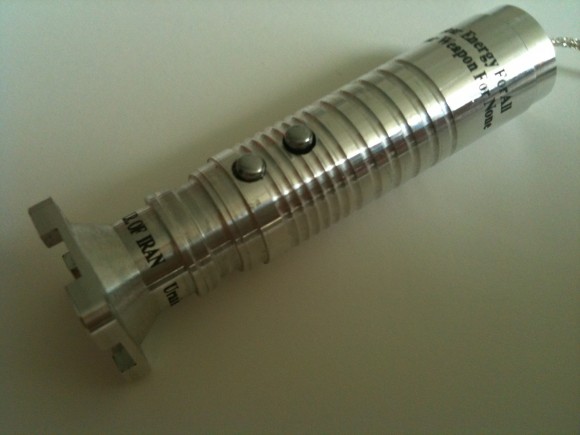 Readers know that I yield to no one in my love of atomic schwag.  A colleague, who sadly must remain anonymous, snapped this picture of a giveaway from the IAEA General Conference held last month.
Yes, the Islamic Republic of Iran distributed laser pointers in the shape of a  centrifuge — sort of stubby for a P1 don't you think? — with the phrase "Nuclear Energy for All, Nuclear Weapon for None" [sic] and, I am guessing, "I.R. of Iran, Uranium [Centrifuge]" around the bottom.
"Nuclear Energy for All, Nuclear Weapon for None" was the slogan of an April 2005 conference on disarmament that Iran hosted.  Iran hosted the second "International Nuclear Disarmament Conference" this summer.  There is even a Facebook page if, you know, you are banned from commenting here.
Maybe the US delegation should have passed out thumbdrives.  Too abstract.  How about little motorbike keychains?  Actually, maybe we should have just made Delonte West a member of the delegation.  Nah, too confusing.  I can just see the Iranian delegation wondering what this has to do with Ahmadinejad's mother. (If you don't like professional basketball, this is probably very confusing.)
Wow.  Okay, I totally want one.