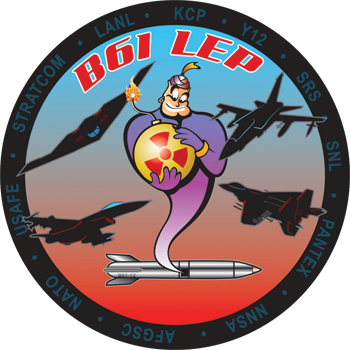 Question: What's a national lab to do when the  GAO releases a report warning that a major effort, the B61 Lifetime Extension Program, is headed for trouble?
Answer: Write an article about how essential the B61 LEP is to "21st Century Deterrence" with a seriously creepy patch that shows a Genie going bowling.
I can't make this stuff up.
Actually the article, 21st Century Deterrence by Dan Borovina and Michael Port, isn't that bad. I had a longer post in mind about how the authors, by focusing on the role of LEPs in improving recruitment and retention, are perpetuating a myth that harms stockpile stewardship without actually improving morale — but for now I just want to focus on that damned car analogy.
You know the one — the habit of labbies the world over to compare nuclear weapons under a test ban to cars you aren't allowed to start. I went so far as to propose a bilateral US-Russia T-BAM: Treaty Banning Automotive Metaphors.
I hate that analogy because cars don't f'ing explode when you start them.  (Unless you are in the casino business.)
The United States has never deployed an explosively tested warhead to the stockpile because an explosively tested warhead, by definition, has already exploded.  What the labs exploded were weapons like the ones in the stockpile, which raises uncomfortable questions about (1) how designers infer confidence in a stockpile even with testing and (2) what it means to be like a warhead in the stockpile.
As the National Academies Committee on the explained in 2002, "only a small fraction of the warhead designs subjected to nuclear testing were identical to the warhead designs that actually entered the stockpile. … [T]he number of tests was too small to provide a statistical basis for confidence, and it did not allow coverage, for each design, of the range of stockpile-to-target sequence (STS) conditions called for in the military specifications."
The proper analogy for nuclear testing was always: "Here is a Jaguar.  You can't start it until you need it.  But, don't worry, we started a similar engine on a stand back at the factory to validate the design principles before the beginning mass production. Happy Off-Roading!" You would never drive a car model that had been tested like a nuclear weapon design, either under a test ban or in the heyday of explosive testing. Because cars aren't like nuclear weapons, or vice-versa.
Again, unless you work in the casino business.  Or have a nickname like "Ace" or "Lefty".
Ok, here is the clip you wanted to see: