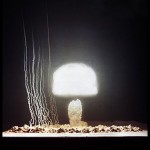 Well, we finally have some clarity on that very strange post on an IRGC website about the day after Iran's first nuclear test.  It appears that the website in question, Gerdab.ir, reposted content from an Iranian blog.
The blogger-in-question appears to have contacted Julian Borger, who wrote the original story for The Guardian.  He also (it appears) left a comment on this site.
As I thought, it does appear that many people  were reading a bit too much into his post, which was in part a satirical look at journalism around the world.
The author, according to Julian Borger, is Seyed Ali Pourtabatabaei, a 30-year-old from Qom, who runs a blog called Kheyrazanonline.  Pourtabatabaei contacted Julian to explain he was the author of the original post, which Gerdab reposted.  He (or someone claiming to be him) also left a comment on this site, explaining that he was frustrated with sanctions:
about 2 months ago, i was so angry about sanctions and their effects on internet price and quality in Iran, so i thought the reason of this sanctions is our peaceful nuclear program. Then i thought until End of The Days, west parties continue their sanctions and it's better for us to build a nuclear bomb and put an End to any thing like India.

That was the only reason! Gerdab likes my posts and republished some of them before. They publish this post but after 2 months, Guardian post an article about IRGC website who promote nuclear bomb! so funny!

[snip]

My goal from writing this program was showing the differences between medias to cover Iran's news. I am a journalists and these differences is interesting for me.

However, disputes arose about my article were not true. so analyze it with full brain ability 🙂
I suppose I could swap IP addresses with Julian to make sure it is the same fellow, but I am not sure how much more attention this warrants.  Borger is trying to contact him for an interview, which should wrap this up.  I will only add that the story checks out — the original blog post pre-dates the item on the Gerdab website and the original blog has been updated (English) to note that the author has contacted Julian.
Some commentators are being a bit harsh on Julian.  I don't think his original story is particularly sensational or irresponsible.  Some of the stories that came after his original post by others looking to use the example, however, were downright silly. The two comments I would offer for the future are that Julian seemed to draw a causal inference from the timing of the piece, which clearly demonstrates the dangers of that sort of exercise, and perhaps didn't anticipate how his post would explode in cyberspace.  But on balance, I read the post as withholding judgment (he quotes Meir Javedanfar calling it a "one-off") and  I can't hold Julian responsible for what other people write.
Misinterpeting the 2007 (and 2011) National Intelligence Estimates
Despite writing what I thought was a cautionary post about reading too much into the story — that we should "be cautions about interpreting an article with a satirical tone" and  "we ought not read too much into this bit of satire" — I too got flamed by the Iranian cyber brigade. (I am being flip; I don't think the flame-throwers are actually an Iranian cyber brigade.)
I suppose one reason is that I noted the belief of the US intelligence community that the Rev Guards (IRGC) pursued a nuclear weapons program until 2003.  Several commentators, picking up on Sy Hersh's latest piece in the New Yorker, have argued that the 2007 and 2011 National Intelligence Estimates (NIE) on Iran's Nuclear Intentions and Capabilities give Iran a clean bill of health. But Sy and the commentators can't have it both ways: If you believe, as I do, the conclusion of the 2007 NIE that Iran has "halted" its nuclear weapons program, you must also believe there was a covert nuclear weapons program to halt.  Moreover, what the  2007 NIE found — if you read it carefully — is that Iran halted same-said covert nuclear weapons in response to international scrutiny and pressure.  Again, if one accepts the conclusion of the NIE, one must also accept that pressure is a good thing. Somehow, I think the Iranian cyber brigade isn't signing up for either claim.
Then there is the issue of Fordow Fuel Enrichment Plant.  For some reason, Sy doesn't mention Iran's effort to construct a covert facility enrichment site near Qom (the so-called Fordow Fuel Enrichment Plant). One overlooked finding of the 2007 NIE was that if Iran were to attempt to restart its nuclear weapons program, it would do so not at Natanz, but at a newly constructed covert facility.  The 2007 NIE even contained a list of possible candidates for a covert site.  I don't know if the facility near Qom was on that list, but I am confident that the US intelligence community found the site precisely because it was looking for one.
The Fatwa
Another thing that upset some people is that I questioned the infamous fatwa precluding the development, stockpiling and use of nuclear weapons.  Iranian officials announced the fatwa in August 2005 , but there is no text, transcript or context provided for it. We don't even know where and when the Supreme Leader issued it — beyond the claim that it was issued "at Friday prayers" sometime in September 2004.  If the text is and other information is out there, it would do the community a load of good to pick up a copy.
What is the nature of the constraint created by existence of the fatwa?  The question is fundamental: Iran breached its comprehensive safeguards agreement, leading many of us to conclude that Iranian leaders do not feel particularly bound by their obligations under the Nuclear Nonproliferation Treaty (NPT). A religious prohibition is potentially a significant confidence-building measure — Hasan Rowhani argued the fatwa was a stronger restraint than the NPT — but we lack details about the precise nature of that prohibition. I still don't know if I should be reassured that the Supreme Leader has forbade nuclear weapons or disturbed that the Islamic Republic regards treaty obligations so lightly.
Is a "fatwa" in this context is simply the equivalent of a Presidential Policy Directive?  We know, according to the NIE, that Iran decided to halt its nuclear weapons program in 2003.  Perhaps that halt was formalized by one "fatwa" and can be reversed by another. Or is a "fatwa" closer to a treaty, in the sense that a religious prohibitions in a Sharia-state like Iran function much as legal prohibition would in a secular country like the United States? Or some other option that I am just not clever enough to imagine?  Is there even a good book on the role of fatwas in Shariah governance?
Perhaps it was irresponsible to ask whether this article tells us anything about that debate, but it stills seems to be a legitimate question to me.  Presumably both the author of the post and the Gerdab geeks believe they are Muslims and patriots.  They also believe openly supporting the testing of a nuclear weapon is consistent with those beliefs, fatwa or not.  The comments on the original blog post seem to suggest some back-and-forth about whether nuclear weapons are permissible, but I reading with a translation engine.  A competent Persian speaker might take a closer look.
I think my posts are getting too long.  At the very least, I am spending to long on them.  I'll try to tighten it up here over the next couple of weeks.
Update | 18 June 2011 I've updated the post to correct a mistake — Gerdab reposted the original blog one day later, not "more than a month later" as I originally wrote.  (I think the posts appeared on April 23 and 24.) And I also fixed a link to an English post on Kheyzaran.
Update | 21 June 2011 Julian Borger has posted his interview with Seyed Ali Pourtabatabaei, the blogger who's post Gerdab reposted.