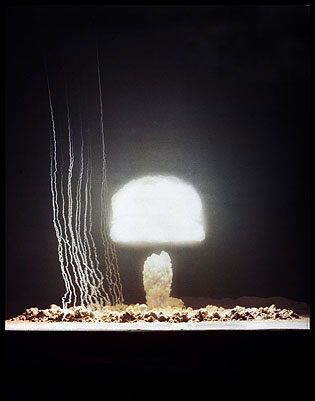 If you don't own Michael Light's 100 Suns, you should.
I keep seeing references to this story, posted on an IRGC website, entitled The Day After the First Iranian Nuclear Test: A Normal Day.
It is a very strange story — a satirical look at the day after an Iranian nuclear test — that is definitely attention getting.
I am not sure, however, that it means anything.
There are a couple of things that jump out at me.
First, and foremost, the website is run by the Iranian Revolutionary Guard Corps (IRGC) Cyber Command.  Yeah, that's weird. The only other mention of this site I can find is in the context of the Green Movement – Gerdab.ir apparently posted pictures of protestors to aid the security crackdown and came under attack by pro-Green hackers.
While being a Cyber Command-run website doesn't preclude writing about issues beyond computer security, it is sort of a weird place to muse about the day after Iran's first nuclear test.  (It does make a complaint by the author about internet pricing seem way less obscure, though.) To put it in perspective, I wonder how different my reaction would be if I saw this piece posted on a website run by Kimia Madaan.
Second, I can't help but be cautions about interpreting an article with a satirical tone. The device of comparative headlines yields some amusing insights about how Iranians view various news sources.  The author imagines Al Jazeera describing the test as an Islamic bomb, while Saudi-owned Al Arabiya calls it is a Shiite bomb. Only Reuters and CNN give credit to Iran.  Similarly, the Jerusalem Post has a tabloid style headline — "Mullahs obtain nuclear weapon" — while the Washington Post gives equal billing to the test as well as reaction in Israel.  Then there is a dig at a government-run, pro-Ahmadinejad newspaper touting "By the order of the President, Iran tests 100% Iranian atomic bomb"
Humor – especially satire – doesn't translate easily.  I know, because I tell a lot of jokes to foreign audiences that fall flat.  (What do you mean they aren't funny in English, either?)  I get some of the jokes in the piece, but I  am also familiar with the dipshits who take The Onion literally. One has to be careful interpreting something like this or risk joining the ranks of the dipshits.
Third, if Iran were about to test a nuclear weapon, the IRGC probably wouldn't muse about what Thursday was going to be like on a website.  Of course, that is easy for me to say.  I didn't have to explain to reporters why the US intelligence community missed India's 1998 nuclear test after a tiny Sikh newsletter in Canada predicted the test a few days in advance.  The official explained that the newsletter was "a rag, full of inaccuracies, quite tendentious [with] a very big ax to grind," all of which is true.  But I am sure it still wasn't any fun.
Overall, my impression is that we ought not read too much into this bit of satire.  We already know that, within the Revolutionary Guards, there is a constituency for a nuclear weapon.  To the extent that we have a candidate nuclear weapons program – the  so-called "Project 111" effort led by Mohsen Fakhrizadeh that the US IC believes was "halted" (or paused) in 2003 – that program is affiliated with the IRGC.  And although I interpret AQ Khan's statements very carefully, he also pins interest in the bomb program on the IRGC.  So, the fact that an IRGC website carries a little satirical number noting that a nuclear weapons might not be such a bad idea is attention grabbing. Still, Iran lacks the fissile material for bomb, which is why lots of us support energetic diplomacy to keep it that way.
On the other hand, this would seem to violate a taboo about discussing the prospect of an Iranian nuclear test.  (I don't recall a lot of discussions, even satirical, about the prospect of Iranian nuclear weapons or an Iranian nuclear test.  But perhaps I haven't looked in the right places.)
Iran has a boisterous press with many freedoms, especially for more hawkish views.  The one reason I can imagine for a taboo on discussing a nuclear weapons test would be the much-cited, but never seen infamous fatwa against the development and use of nuclear weapons.  At the very least, this article is surely inconsistent with such a statement.
If there is a fatwa, that is.
I raise this as a real question.  I have my doubts about the fatwa.  But it is also possible that satirical musings on obscure website run by the IRGC geek squad just don't rise to any level of scrutiny inside Iran  — until seized upon by an over-active Western press titillated by the thought of the Mullah's bomb.
But maybe, just maybe, what this really tells us is that the fatwa doesn't constrain Iranian discourse or actions in a significant way.
It's an open thread, recently pacified by my own little jihad against the trolls.
Have at it.
***
Here is a link to the original article in Persian on the Gerdab website.
There are a couple of translations floating around  but none is perfect: Julian Borger's article has long excerpts, but not the full-text.  The MEMRI translation has at least one major mistake.  The Open Source Center has a translation, too, but some helpful reader will have to put that in the comments. Patrick Disney provides a rough translation:
The day after the first Iranian nuclear test: a normal day

The day after the first nuclear test of the Islamic Republic of Iran, for us Iranians will be an ordinary day, but there will be a new sparkle in many of our eyes.

It is a good day. It is seven in the morning. The sun still has not risen completely, but everywhere has already gotten bright. In the northern hemisphere, many countries are beginning the day. Today, the sun rises after the first nuclear test of the Islamic Republic of Iran. It is a very ordinary day!

The day before, likely in the central desert of Iran, a place where once Americans and some western countries wanted to bury their nuclear waste, an underground nuclear explosion has taken place. The power of this explosion was not so strong as to do sever damage to the area, nor was it so weak that Iran's atomic scientists had problems running their tests.

Today is a normal day and, just like every other day when there is news coming from Iran — which is 90% of the time — one can see headlines such as these in foreign news sites:

Reuters: "Iran explodes its atomic bomb"

CNN: "Iran explodes atomic bomb"

Al-Jazeera: "Second Islamic atomic bomb tested"

Al Arabiya: "Shi'ite atomic bomb exploded"

Yahoo! News: "Atomic explosion in Iran."

Jerusalem Post: "Mullahs obtain nuclear weapon"

Washington Post: "Atomic explosion in Iran, shock and despair in Tel Aviv"

Of course, domestic news sites also accompany their headlines with congratulations for this outcome to the Imam of the Age and the Supreme Leader, as follows:

Keyhan: "Iran's first atomic bomb, tested"

Jomhoory-e Islami: "Iran successfully performs a nuclear test"

Iran (government newspaper): "By the order of the President, Iran tests 100% Iranian atomic bomb"

Etella'at: "Iran detonates Iranian atomic bomb years in the making"

Of course, the rest of Iran's newspapers and websites follow suit, but one cannot print them until it is sure!

The news controversy will not cause normal life in Iran to be disrupted; employees will clock in on time, or occasionally a little late; bakers will bake their high-quality, non-subsidized bread; high speed internet subscriptions will be cut off and extended once again. Even this controversy will not cause the price of internet to get cheaper, nor will IRIB even slightly reconsider all the nonsense in its programming.

The day after the first nuclear test of the Islamic Republic of Iran, for us Iranians will be an ordinary day, but there will be a new sparkle in many of our eyes. A sparkle that is made out of pride and national might.