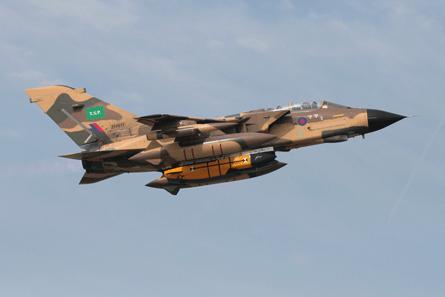 When France sold the Storm Shadow/SCALP cruise missile to the UAE (under the name Black Shaheen) in the 1990s, the United States strongly objected that the sale violated the voluntary guidelines under the Missile Technology Control Regime (MTCR).  France sold the missile anyway, but the US successfully pushed to tighten up MTCR guidelines in 2002 to prevent further transfers like this.
So, when news leaked last year that the UK would sell the same missile to Saudi Arabia, I expected a hue and cry.  Instead, nothing but crickets.
Is the Obama Administration trying to kill the MTCR? None of this would be happening if Vann Van Diepen were still alive.
Oh, wait, Van Diepen is still the Principal Deputy Assistant Secretary for International Security and Nonproliferation. Damn.
Black Shaheen
Let's start at the beginning.  In 1998, France announced that it would sell a stealthy cruise missile based on the French Apache to the United Arab Emirates, which named the missile Black Shaheen (sometimes rendered Black Shahine). France and the UK co-developed a follow-on to the Apache cruise missile, manufactured by MBDA, that the UK now calls Storm Shadow and France calls SCALP-EG.  (After Apache, SCALP is very droll don't you think?) Storm Shadow/SCALP-EG is an air-launched land attack cruise missile (LACM) that is capable of delivering a conventional penetrator and blast warhead to a range in excess of 300 miles (approximately 500 km). The Italians joined the program in 2003 (I think they call it SCALP-EG, too.) Black Shaheen is a 250 mile export version of SCALP-EG.
I don't precisely understand how France and the UK agree to export Storm Shadow, though the trade press usually refers to one country or the other other as responsible for a particular export.  So, for example, France is usually described as having exported the SCALP to Greece and the UAE.  I believe, however, that both countries must agree to the export.
The United States opposed the Black Shaheen sale to the UAE on the grounds that the Missile Technology Control Regime (MTCR) voluntary guidelines – to which France and the United Kingdom are parties — establishes a strong presumption against the sale of cruise missiles capable of carrying a 500 kg payload to more than 300 km.  France and the United Kingdom, according to our friend Dennis Gormley, calculated the range of the missile at sea level, instead of the more efficient high-altitude flight profile that the missile actually follows. In any event, France and the UK went ahead with the sale over US objections.  I have seen reports that MBDA reduced the fuel load of the Black Shaheen to make it a less egregious violation of the MTCR, but the National Air and Space Intelligence Center lists the range as exceeding 250 miles or about 400 km.
The United States did not let the issue drop.  In 2002, the members of the Missile Technology Control Regime (MTCR) updated the guidelines to standardize how to calculate the range of cruise missiles.  The guidelines now require that states determine the range based on "a one-way distance using the most fuel-efficient flight profile…"
In the United States, this was interpreted as preventing future Storm Shadow sales.  For example, a GAO report pointed to the Black Shaheen sale as evidence that "MTCR members have not always agreed with each others' interpretation of the MTCR guidelines and control lists concerning cruise missiles." The State Department, in those nifty comments at the back of GAO reports, allowed "that the definitions of range and payload have had an impact on control effectiveness in the past" [emphasis added] but noted "the MTCR adopted new definitions of range and payload in 2002, at U.S. instigaton.  We believe that these definitions will play a useful role in enabling the members to resolve technical questions that inevitably arise."
The UK and France, however, had a slightly different view: Cruise missiles!  Get yer red hot cruise missiles! (Or, as AvWeek's Douglas Barrie put it, "Following the sale of the Black Shaheen, there was an expectation that this configuration of the missile might form an acceptable baseline for an 'export' system, addressing U.S. concerns.")  Or not.
Saudi Seeks Storm Shadow
That brings us to the mid-2000s, when Saudi Arabia began negotiating to upgraded its existing fleet of combat aircraft, as well as buy new ones. As early as January 2005, press reports indicated that Saudi officials sought a "land-attack cruise missile" to hold at risk infrastructure targets from outside the range of regional air defenses. The Iranian air defense network depends heavily on point defenses.  The long-range of the Storm Shadow would allow Saudi combat aircraft to attack ground targets in Iran from beyond the reach of such defenses.  That is precisely what the UK did, when it used a small number of Storm Shadow cruise missiles to penetrate Libya's S-200 based air defenses.
Now, you may be asking whether Saudi Arabia really needs Storm Shadow or this is just a case of missile envy. That's up to you, dear readers.
In mid-2006, Saudi Arabia and the United Kingdom agreed to the Tornado Sustainment Program (TSP), sometimes rendered as the Tornado Capabilities Sustainment Programme (CSP) — a program to upgrade Saudi Arabia's existing Tornado aircraft. Saudi Arabia was also negotiating to buy £20 billion worth of Eurofighter Typhoons, which caused the Brits to forget about a lot more than just the old MTCR.
In October 2006, UK officials met with their US counterparts to inform them that the TSP would likely include the sale of Storm Shadow missiles similar to those provided to the UAE. US and UK officials met a second time prior to May 2007. It isn't clear whether the US agreed, but a UK government source told Barrie that the "highest level of government approval will be required" — a reference to the Prime Minister.
Whether the US acquiesced or not, in April 2007 a photographer captured a Saudi aircraft in UK carrying the Storm Shadow as part of the TSP.  In September 2007, during an joint exercise in the UK, Saudi Lt Col Abdulaziz Al Qdairi told Flight International that Saudi Arabia wanted to purchase Storm Shadow, stating "We hope we will have [advanced weapons] such as these to make sure our air force has the latest weapons and technology."
As best I can tell, Saudi Arabia and the United Kingdom reached an agreement to provide Storm Shadow sometime in late 2009.  Neither party announced the sale, but BAE later announced that "Significant incremental orders totalling £1.2bn were received in the period for the Tornado Sustainment Programme (TSP) weapons contract." Industry sources later claimed this referred to the Storm Shadow sale to Saudi Arabia.  Neither the UK nor the Saudis have confirmed that, but I am pretty sure this is happening.  Air Force Magazine, for instance, in December 2010 claimed the sale included Storm Shadow.
Is the MTCR screwed?
I suppose I understand why there isn't more outcry.  Without an official acknowledgment from the UK or the Saudis, it is hard to be certain Saudi Arabia is buying Storm Shadow. And, of course, Saudi Arabia is only following the precedent set by the UAE. The aggrieved party is the nonproliferation regime in general — in other words, no one in particular.  Well, I suppose there is also Lockheed Martin, which is prohibited from selling the Joint Air-to-Surface Standoff Missile (JASSM) by rules that its competitors ignore.
I think we should, however, be at least a little concerned about the precdent from the Storm Shadow sale.  I am not worried that Saudi Arabia plans to place nuclear weapons on Storm Shadow. (Now, the Brits and Froggies, that's another story according the Air et Cosmos.) But I do think that the MTCR is important enough to deserve our consideration.  Cruise missiles may post a much greater proliferation threat than many people realize.  (Well, people who aren't Dennis Gormley.) Ignoring it invites other countries to do the same thing.
Exhibit A is Brahmos — a Russo-Indian cruise missile with a range greater than 150 miles (Russia and India claim 290 kilometers, just under the MTCR threshold.)  Russia and India intend to sell Brahmos — which is a portmanteau of the Brahmaputra and Moskva Rivers — to other countries.  The  website for the missile states that it has drawn interest from "Malaysia, Vietnam, South Africa, Indonesia, Thailand, Egypt, Oman, Brunei and other African & Middle Eastern countries."  Isn't that just wonderful?
Although Brahmos is MTCR-compliant, it is easily modified to extend the range.  The possibility that other countries might purchase Brahmos and extend the range resulted in a very unusual event: a Russian defense official telling the Press Trust of India that Moscow was "not keen" on selling the missile to third countries:
"This is a very lethal and potent weapon system, which can upset balance of forces in any region where it may appear, be it in our neighbourhood, Indian Ocean or Latin America.

"India is one thing, she is our strategic partnership and poses no military threat to Russia, but we are not keen on giving it to other countries, be it China or any other friendly nation," Colonel-General Anatoly Mazurkevich told PTI.

Mazurkevich, who heads international cooperation department of the Russian defence ministry, said that one of the reasons for not Russia not keen to export this weapon, "highly lethal for potential enemies", is that its range could be easily extended from the current 300 km, allowed under Missile Technology Control Regime (MTCR).

"We are not worried about it as we have nuclear weapons, but this (unauthorised extension of range) may pose threat not only to India but also to our other friends and allies," Mazurkevich underscored.
It is really spectacular to imagine a weapon destabilizing enough to give a Russian officer pause. I am not sure how successful we can be in stopping the export of cruise missiles like Brahmos, but I sure as hell want to try. The MTCR is going to be a crucial part of that.
Which means someone needs to start asking questions about the Storm Shadow sale.
The story of how Saudi Arabia came to purchase the Storm Shadow is pieced together from a number of sources. I am indebted to the various individuals uncovered so many fragments of this story: The reporter with Flight International who scored a crucial interview with a Saudi officer on the Tornado Sustainment Program, the planespotter who photographed noticed a Saudi Tornado carrying a Storm Shadow cruise missile in the UK, the industry reporter who inferred from BAE's statement to investors that MBDA had executed a large sale to Saudi Arabia in 2009. But most of all, I am indebted to an amazing series of articles published by Douglas Barrie, who detailed each step in the pages of Aviation Week and Space Technology.  I highly recommend his articles: "Missile Maneuvers" (March 29, 2010), "Prime Directive: Downing Street will have to sign off on releasing the Storm Shadow missile to Riyadh" (May 7, 2007), "Kingdom Come: London aims to ensure that the U.S. doesn't try to nix elements of Saudi weapons package" (October 16, 2006), "Desert Construction: Saudi Arabia plans to use Typhoon acquisition to boost indigenous industrial capability" (February 20, 2006), and "Desert Deal: Typhoon will bolster Saudi air defense capabilities as a replacement for the Tornado now in the role" (January 2, 2005).