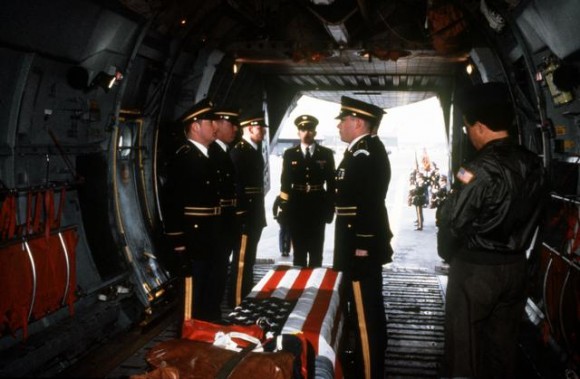 On Memorial Day, I wanted to remember Major Arthur D. Nicholson, a U.S. Military Liaison Mission Tour Officer who was killed on March 24, 1985 by a Soviet soldier.
As a lapsed epistemologist, I can't help letting my interest in arms control, disarmament and nonproliferation creep into an interest in intelligence and espionage. I don't think one can understand the spread of nuclear weapons without also understanding how much of the information about proliferation is collected.
Of course, it helps that spy stories are also riveting.  And there aren't many as riveting as the Cold War-era Military Liaison Missions.
Originally established at the end of the Second World War among the allied powers occupying Germany, the powers accredited a small number of liaison officers to the occupation forces of the other side.  For the United States, that meant that there were 14 free passes for US intelligence officers to go driving around much of what became East Germany. Although the stated purpose of the MLMs was liaising, over time they evolved into a tolerated form of intelligence gathering.
Nicholson was involved in one of the biggest bonanzas in the history of the USMLM — photographing the inside of a Soviet T-64B tank to determine whether it fired an anti-tank missile through the main battle gun. (As it turns out, it did.)
That mission was executed during the wee hours of the anniversary of the October Revolution, when the US military figured "not a sober breath would be drawn throughout East Germany …"    The quote, as well as the basis for much of this post, is from the reminiscence of Major General (Retired) Roland Lajoie, who served as Nicholson's commander.  Lajoie, who who would later run US Cooperative Threat Reduction programs, provided his remarks in a podcast available from the International Spy Museum.
Nicholson and another officer got through the fence at a Soviet installation in East Germany, then got inside a tank shed, and finally inside a tank itself.  The overlapping photographs of the inside of the tank demonstrated that the T-64B had been modified to fire an anti-tank rocket through the main battle gun. Lajoie called it a "gutsy operation," which is an understatement.
A subsequent mission, however, had an unhappy ending.  On March 24, 1985, Nicholson was walking on a tank training range that was near, but according to Lajoie, not in a Permanent Restricted Area off-limits to the MLM. Without warning, an overzealous Soviet sentry started shooting, hitting Nicholson.  The sentry then prevented Nicholson's driver from administering first aid.  Nicholson is buried in Arlington National Cemetery. Nicholson is often called "the last casualty of the Cold War." (As for the first, well, a certain politically conservative group that bears his name thinks it was an American missionary turned intelligence officer in China called John Birch.)
John Miller, writing in the National Review, has a detailed account of Nicholson's killing, although Miller's version differs from Lajoie's recolletion on certain minor details about the first mission.
Miller is right about one thing: Someone should start an Arthur D. Nicholson Society.
If you want to learn more about Military Liaison Missions, my reading list right now is: Allied Military Liaison Missions, 1946-1990, Christopher Winkler, Anna Locher, and Christian Nuenlist, editors (Parallel History Project, 2005); John Fahey, Licensed to Spy: With the Top Secret Military Liaison Mission in East Germany (Naval Institute Press, 2002) and James R. Holbrook, Potsdam Mission: Memoir of A U.S. Army Intelligence Officer in Communist East Germany (AuthorHouse, 2008).