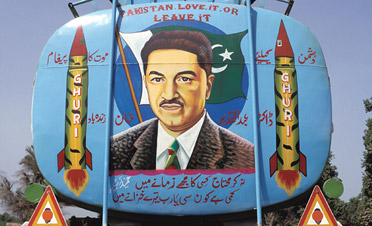 AQ Khan has written an oped in which he defends his efforts to produce nuclear weapons as necessary to "save my country from Indian nuclear blackmail."
I was going to suggest SEAL Team 6 make an encore performance in Pakistan, when I noticed that Khan said something else very interesting: there is a limit to Pakistan's fissile material requirements.
Khan has been chatty lately, although largely in the form of an Urdu-language blog that I can't read.  This time, though, he has chosen an English language venue — Newsweek, which is also the Daily Beast.
After having defended his actions in the op-ed, Khan talks a little about Pakistan's need for continuing modernization of its nuclear deterrent:
I have little knowledge of the present status of our program, as I left Kahuta, Pakistan's main nuclear facility, 10 years ago. As the pioneer of the program, my guess is that our efforts have been to perfect the design, reduce the size of the weapons to fit on the warheads of our missile systems, and ensure a fail-safe system for their storage. A country needs sufficient weapons to be stored at different places in order to have a second-strike capability. But there is a limit to these requirements.
"There is a limit to these requirements." That's very interesting.  Suddenly, AQ Khan is all Mr. Minimum Deterrence.  Of course, if there is a limit to Pakistan's requirements, then Pakistan might conceivably support negotiation of a  Fissile Material Cut-off Treaty.  And, as validators go, AQ Khan would be a pretty effective one in Pakistan for a cut-off.
There are obvious reasons, of course, for AQ Khan to suddenly support capping Pakistan's arsenal.  As David Albright has noted, Pakistan is making significant progress on the construction of a fourth plutonium production reactor.  Pakistan's rapidly expanding plutonium program is the legacy of AQ Khan's long-time bureaucratic rival, the late Munir Ahmad Khan. The impending eclipse of the enrichment program at Kahuta Research Laboratories by a PAEC-dominated plutonium program is precisely the last thing AQ Khan would enjoy living long enough to see.
Let's hold off that SEAL team for now.