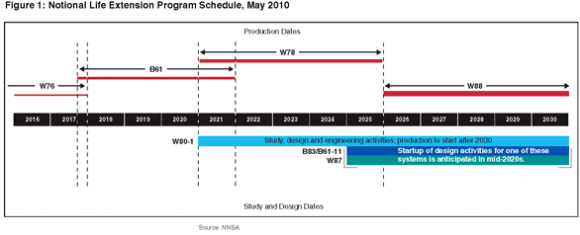 The General Accounting Office has a released a report, Nuclear Weapons: DOD and NNSA Need to Better Manage Scope of Future Refurbishments and Risks to Maintaining U.S. Commitments to NATO,  on the B61 Lifetime Extension Program.  Among the many, many amazing details is a very easy-to-read schedule of planned LEPs (see above).
But the report also has an policy implication, too. The B61 LEP looks like good candidate for serious delays that might result in a capabilities gap.
Can you say Skybolt?
(The Skybolt Affair, by the way, is how the UK came to build an Anglicized version of the B61, but I digress.)
The B61 LEP looks like it might be headed for trouble, although it is still very early in the process. GAO found that the the "broad scope" of the lifetime extension study "has complicated the effort, given the time available to begin producing refurbished bombs."  In this case, the "broad scope" refers both to the rather complex military requirements that arise from consolidating four tactical and strategic designs (Mods 3, 4, 7 and 10) as well as what GAO calls "many" safety, security and other enhancements and design changes.
Although DOD and NNSA argued that "it was premature to assess whether the study's broad scope put the life extension program at risk," GAO warned that "avoiding an operational capability gap over the long term may prove challenging, as previous nuclear weapons life extension programs have experienced schedule delays for a variety of reasons."
GAO recommended that DOD and NNSA develop a "plan to mitigate the long-term operational risks to these commitments, should the program be delayed." Which of course raises the natural question: Are there any operational risks if the B61 LEP is delayed? Page Van Der Linden has already wondered just why the B61 LEP is so urgent.  I looked through the comments to see if any chucklehead had a good one-liner.  No luck.
The short answer, of course, is because the Nuclear Posture Review concluded that the B61 LEP, along with the program to make the F-35 capable of carrying it, was necessary for extended deterrence. Or, as the GAO report notes, reducing the requirement for NATO nuclear weapons "could be unsettling to allies."
Now, I happen to agree that NATO allies would be unsettled if the United States screwed up a lifetime extension badly enough that we had to admit there weren't enough bombs to go around.  Even if the bombs are obsolete, that would make the President look like an idiot.
There are really two interesting questions about how Barack Obama might come to find himself thumbing through Richard Neustadt's The Skybolt Crisis In Perspective.
First, why did the Nuclear Weapons Council insist on a broad-scope (ie high-risk) LEP for the B61?  GAO notes that "the Nuclear Weapons Council instructed the joint Air Force and NNSA project officers group that it should pursue not only the complete refurbishment of the bomb, but also opportunities to improve other characteristics affecting the bomb's safety, security, and performance, as well as investigate alternative design concepts untried during prior life extension programs."
If the purpose of maintaining a small stockpile of nuclear weapons in Europe is to make our NATO allies feel better, what possible rationale is there for undertaking a high-risk LEP?  Isn't this just asking for a programmatic delay that results in the temporary removal of B61s for refurbishment, which then never make it back?  Regular readers know that I support the immediate consolidation of US nuclear weapons to two US airbases in Europe and would be open to their eventual removal (provided this wasn't like the Baltimore Colts leaving town), but a high-risk LEP that fails and forces their removal is a scenario no one wants. Nuclear Weapons Council is a real entity, but it is also a euphemism for the senior leadership at OSD, NNSA, JCS and STRATCOM.  Who is the genius who came up with this idea?
Second, would someone please explain to me why this is not a cautionary tale about relying on hardware as a symbol of political commitment? Let's face it, we are life-extending an obsolete warhead with little or no operational utility.  I've had senior NATO officials say as much to me.  To hear NNSA officials talk about it, life-extending old warheads is always fraught with risk.  (Not that this deterred them from an ambitious LEP, but whatever.)  If you make these archaic things the symbol of the alliance, you are sort of counting on the LEP to come through, aren't you?
In this case, the desire to keep a capability for NATO on the cheap resulted in a common lifetime extension for both tactical and strategic mods of the B61.  And while I am little surprised combining them made a significant difference, it apparently did.  (It didn't help that the requirements entailed an aircraft that is "yet-to-be fielded" — the F-35.)  Isn't this precisely what happens when we rely on something old and outmoded as a symbol of our commitment?  That it acts like something old and outmoded, which then threatens that commitment?
As I have noted elsewhere, I think this is an inherent cost of relying on hardware as a proxy for commitment.  When the Secretary of Defense talks about how important a system is as a symbol, he saddles his successors with that system long past its shelf-life.  In this case, the political requirement to maintain the "tactical" B61s in NATO resulted in a clusterf*ck of competing military requirements.  I accept the NATO nuclear-sharing enabled the consultations and burden-sharing in very important ways during the Cold War.  I believe that consultation and burden-sharing remain important to the alliance, which, I hasten to add, ought to maintain a nuclear character.
It is probably time to start thinking about life after the B61, even if we life-extend it and everything turns out hunky-dory.  In particular, it is probably time for a careful study of how we might use the capabilities in the strategic triad to extend deterrence.  I made the argument at a PONI meeting that we ought to think about how to sustain consultation and burden-sharing on the basis of the strategic triad, but I didn't seem to make a lot of headway.  Still, I have my doubts about the viability of both the B61 LEP and the plan to make the F-35 nuclear-capable. Some future Administration is going to have to explain that the 2010 NPR didn't really mean what it said about forward-deployed nuclear weapons on tactical aircraft.  When that time comes, we might have at least thought about how visits by SSBNs (or SSGNs) or hosting exchange officers at STRATCOM demonstrates just as well our commitment to maintaining a nuclear element to extended deterrence.
Random Stuff
As I mentioned in the introduction, the report has a whole bunch of cool detail about the LEP process.  Here are the things that struck me:
* As I noted in the introduction, the report contains a schedule of planned LEPs.  (I had tried to put together a similar chart in a December 2008 article for Arms Control Today.)
* Also, in that same Arms Control Today piece, I speculated that "one option [for the B61 LEP] might be to make use of the 200 or so W84 pits that remain in the strategic reserve."  Sure enough, the report notes that "the group investigated reusing components from the W84 ground-launched cruise missile warhead." They apparently ruled it out in April 2009, shortly after my piece came out, apparently because they didn't have enough W84 pits.
* There is also a discussion of the scope of previous LEPs, which is pretty eye opening about what changes were — and were not — introduced into the stockpile. (Did you know that the W87 LEP did not include refurbishment of aging components? Or that the W80 would have gotten a safety and security enhancement?)
* Have you ever seen an unclassified description of the sort of requirements that comprise the military requirements for a nuclear weapon?  Me neither.  Although there are no surprises about the type of requirements (yield and accuracy, for example), the discussion is noteworthy for its common-sense transparency.
* One of those requirements, by the way, is a guided tailkit. Could be inertial, but I wonder whether they are considering satellite-guidance.  That would be a cultural change, wouldn't it?