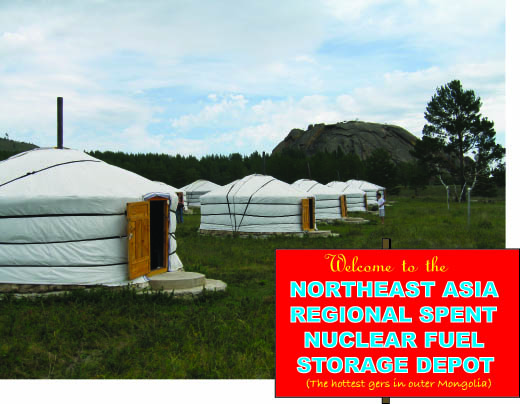 During the Carnegie International Nuclear Policy Conference, a senior State Department official revealed discussions between the United States and Mongolia on a 123 Agreement for nuclear cooperation. It was a thing of beauty to behold — a well-aimed indiscretion by a cunning bureaucrat who framed US-Mongolian discussions in terms of turning Mongolia into a nuclear waste dump.
The story hit the press (Mongolia May Store Region's Spent Nuclear Fuel, Senior U.S. Official Says) and, predictably, the Mongolian Foreign Ministry (en) and Nuclear Energy Authority (en) have denied any plan to host a regional repository.
Take that, GNEP. Or INEF.  Or whatever the hell they are calling it now.
The story is pretty straight-forward.  Dick Stratford, Director of the Office of Nuclear Energy, Safety and Security at the State Department, was simply running through a list of all the 123 agreements that will need to be negotiated or extended in the near future.  When he mentioned Mongolia, I nearly fell out of my chair.  I knew about discussions with Mongolia. It turns out Mark Hibbs knew a lot more, including details of an October 2010 visit to Ulan Bator.  But was not something officials wanted to talk about.
The Mongolians have been seeking a 123 Agreement — an agreement for peaceful nuclear cooperation with the United States — for some time now.  They don't really need a 123 Agreement, which is for the sale of reactors, major reactor components, and nuclear fuel, but after the US-India deal, some countries like Armenia now view a 123 Agreement as a kind of political symbol.
The Mongolians have uranium deposits, but they aren't content to remain a mere resource exporter.  At least some Mongolian officials want to acquire the entire fuel cycle, through fuel fabrication.  (The Mongolians are careful about what they say, but the gist comes through in this article in the Mongolian Mining Journal by Undraa Agvaanluvsan, a Mongolian academic with government ties, who notes Mongolia's desire to go beyond "a raw uranium producer" to become "a supplier of nuclear fuel components".)
Within the US, on the other hand, the bureaucracy that sustained the Global Nuclear Energy Partnership (GNEP), is still around.
GNEP is now called the International Nuclear Energy Framework (or, as I prefer "Atoms for Peas".) These folks seized on the idea that Mongolia might become a regional spent fuel repository, which would require a 123 Agreement to store US-obligated spent nuclear fuel, including the SNF piling up in South Korea and Taiwan. (I am not calling it"used fuel" thank you very much.)
So, that's the deal.  If you want our blessing to go big into the front-end of the nuclear fuel-cycle, you need to help us with our waste problem on the back-end.
The Mongolians have been coy about whether they would agree to take foreign spent nuclear fuel  — for example, try reading between the lines in this article by Agvaanluvsan in Mongolia Today.  (Mongolia Today is a real publication.  I am serious.)  Agvaanluvsan hints Mongolia might become a regional spent fuel repository, but just hints.  There is no killer quote.  I happen to think the Mongolians are just teasing a very excitable bureaucracy, until the US is too committed to a 123 Agreement to back out even without the waste dump.
The entire process has been very quiet precisely because neither the Mongolians nor the advocates in the US government wanted to see a headline like: Mongolia May Store Region's Spent Nuclear Fuel.  Especially not in the middle of the disaster at Fukushima.
Enter Dick Stratford.  As he got to Mongolia on his list, Stratford hammed it up.  "Mongolia. Whoa. Why Mongolia?"  Yes, indeed, why Mongolia?
The he stuck in the knife and twisted it:
[T]here are discussions about whether or not Mongolia would harbor – or take a spent-fuel storage depot for third-country fuel. Now, if that works out, we have to have a 123 with any country where U.S.-obligated material is going to. Now, since such a spent-fuel storage facility might take material from Taiwan and South Korea, we'd have to do Mongolia.
Because we need someplace to dump a bunch of waste from Taiwan and South Korea.  How ya like them apples?
Now, Stratford professed to strongly support a regional repository in Mongolia.  I have no doubt he is sincere in that conviction.  Indeed, I  share his professed view.  On the other hand, if you think the US is going to give away the store to Mongolia, without getting the waste dump in return, this is a good way to force the Mongolians to commit or not.
I immediately followed-up with a question.  The Elaine Grossman at Global Security Newswire wrote up the story.  Now the responsible Mongolian authorities (Foreign Ministry and Nuclear Energy Authority) have thrown their GNEP buddies at DOE under the bus.
I should add that problem is not Mongolia bomb. Mongolia is not just an NPT signatory, it is a single state nuclear weapons free zone!
But Mongolia seems to be following Kazakhstan's path of what I call "book-ending" enrichment — developing a full process of mining, milling and converting uranium, sending it abroad to be enriched, the reimporting it and fabricating fuel.
Countries that heavily depend on resource exports, particularly in the energy sector, often muse about developing industries that add value to those resources.  Oil exporters, for example, often talk about investing in refining and other related industries.  This is also true with uranium exporters — officials in Australia and Kazakhstan, for instance, have argued that their respective countries should not merely dig uranium out of the ground, but also "add value" to the uranium either by enriching it and fabricating fuel for nuclear reactors.  You and Mongolia to that list.
Whatever the economics of more states getting into the fuel cycle, this would be a bad thing from a nonproliferation perspective if more states started enrichment programs.
When the US government learned Kazakhstan was interested in enrichment, it seems some pressure was put on Kazakhstan.  The Kazakh government announced that would pursue all aspects of fuel fabrication except enrichment, which would be done in Russia.  That leaves an open question:: If Kazakhstan invests heavily in steps A, B, D, and E, how confident are you that C doesn't happen sooner or later?
As I said before, Kazakhstan and Mongolia are unlikely candidates for the bomb. At the same time, it seems clear that some of the more enthusiastic proponents would like to start enrichment programs if not for the likely international pressure  on them.  Which makes their decision to "book end" enrichment look a lot more like hedging, than restraint. That hedging could be a bad thing if other states with less shiny nonproliferation credentials, like South Africa or Algeria, pursue the same model or something dramatic happens in Kazakhstan, Mongolia or other "safe" countries.