The current problem of the moment at Fukushima is the amount of water with high levels of radioiodine flowing into the ocean from Unit 2. TEPCO tried to stop up the leak with a mixture of "polymer absorber, sawdust, and shredded newspapers."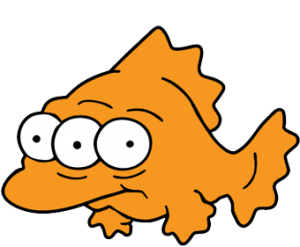 One wag emailed me, noting that this proves newspapers can do at least one thing that blogs cannot. He also sent along a picture of Blinky, the three-eyed fish from the Simpsons (right).
The Associated Press and Hiroko Kabchi and Ken Belson in the New York Times have additional coverage on the effort to stop the leak, which does not appear to be going well.
The other news is the arrival of US military barges (towed by JMSDF ships) carrying freshwater for pumping into the reactors.
Full-text of today's FEPC info sheet after the jump.

Update to Information Sheet Regarding the Tohoku Earthquake

The Federation of Electric Power Companies of Japan (FEPC) Washington DC Office

As of 11:30AM (EST), April 4, 2011

o      The level of concentration of radioactive nuclide I-131 (2.5 x 101 Bq/cm3) from the seawater sampled near the seawater discharge point of Fukushima Daiichi Nuclear Station at 1:50PM (JST) on April 3 was approximately 625 times higher than the maximum permissible water concentration (4.0 x 10-2 Bq/cm3)  set by the government.

o      On April 4, TEPCO announced that it will discharge 10,000 tons of low level radioactive water stored at the Central Radioactive Waste Disposal Facility in order to accommodate higher level radioactive water. It will also discharge 1,500 tons of low level radioactive water which had accumulated at the sub-drain pits of Unit 5 and 6 in order to prevent important equipment of Unit 5 and 6 from being submerged. The original TEPCO press release is attached and also available at:

http://www.tepco.co.jp/en/press/corp-com/release/11040404-e.html

(At 9:30PM on April 4, NHK reported the discharge of water from the Central Radioactive Waste Facility has commenced around 7:00PM and from the sub-drain pits at 9:00PM.)

o      At 6:00PM on April 4, radiation level at main gate (approximately 3,281 feet from Unit 2 reactor building) of Fukushima Daiichi Nuclear Power Station: 118 micro Sv/hour.

o      At 6:00PM on April 4, radiation level at west gate (approximately 3,609 feet from Unit 2 reactor building) of Fukushima Daiichi Nuclear Power Station: 72.1 micro Sv/hour.

o      Measurement results of environmental radioactivity level around Fukushima Nuclear Power Station announced at 7:00PM on April 4 are shown in the attached PDF file. English version is available at:    http://www.mext.go.jp/english/radioactivity_level/detail/1304082.htm

o      For comparison, a human receives 2,400 micro Sv per year from natural radiation in the form of sunlight, radon, and other sources. One chest CT scan generates 6,900 micro Sv per scan.

Fukushima Daiichi Unit 1 reactor

o      On April 2, lighting was restored at the part of the turbine building.

o      At 7:20AM on April 4, the temperature of the spent fuel pool by thermography measurement: 64.4 degrees Fahrenheit.

o      At 11:00AM on April 4, pressure inside the reactor core: 0.299MPa.

o      At 11:00AM on April 4, water level inside the reactor core: 1.65 meters below the top of the fuel rods.

o      At 11:00AM on April 4, pressure inside the primary containment vessel: 0.15MPaabs.

o      At 11:00AM on April 4, the temperature of the reactor vessel measured at the water supply nozzle: 469.0 degrees Fahrenheit.

o      As of 3:00PM on April 4, the injection of freshwater into the reactor core continues.

o      As of 7:00PM on April 4, preparation to recover and transfer the accumulated water at the turbine building continues.

Fukushima Daiichi Unit 2 reactor

o      On April 2, lighting was restored at the part of the turbine building.

o      On April 2, monitoring cameras were set at the trench outside the turbine building and at the basement floor of the turbine building to monitor the water levels.

o      At 9:30AM on April 2, the accumulated water was found in the pit (a vertical portion of an underground structure for housing electric cables) near the seawater intake and the radiation level of the water was over 1,000 milli Sv/hour. In addition, the water was observed entering the ocean from a crack (about 20cm = 7.9 inches) on the lateral surface of the pit.

o      At 4:25PM on April 2, concrete was injected into the pit in an attempt to stop the discharging of water. (injected again at 7:02PM)

o      At 1:47PM on April 3, polymer absorber, sawdust, and shredded newspapers were inserted in the pit in an attempt to stop the overflow of the discharge of water, until 2:30PM.

o      At 7:08AM on April 4, tracer (white colored bath agent) was inserted into the trench outside the turbine building to determine the route of the water leakage.

o      At 11:00AM on April 4, pressure inside the reactor core: -0.018MPa.

o      At 11:00AM on April 4, water level inside the reactor core: 1.5 meters below the top of the fuel rods.

o      At 11:00AM on April 4, pressure inside the primary containment vessel: 0.10MPaabs.

o      At 11:00AM on April 4, the temperature of the reactor vessel measured at the water supply nozzle: 282.2 degrees Fahrenheit.

o      At 11:00AM on April 4, the temperature of the spent fuel pool: 122 degrees Fahrenheit.

o      As of 3:00PM on April 4, the injection of freshwater into the reactor core continues.

o      As of 7:00PM on April 4, preparation to recover and transfer the accumulated water at the turbine building continues.

Fukushima Daiichi Unit 3 reactor

o      On April 2, lighting was restored at the part of the turbine building.

o      At 9:52PM on April 2, TEPCO began to shoot freshwater aimed at the spent fuel pool, with a specialized vehicle normally used for pumping concrete, until 12:54PM (approximately 75 tons in total).

o      At 7:20AM on April 4, the temperature of the spent fuel pool by thermography measurement: 134.6 degrees Fahrenheit.

o      At 9:30AM on April 4, pressure inside the reactor core: 0.005MPa.

o      At 9:30AM on April 4, water level inside the reactor core: 1.75 meters below the top of the fuel rods.

o      At 9:30AM on April 4, pressure inside the primary containment vessel: 0.1069MPaabs.

o      At 9:30AM on April 4, the temperature of the reactor vessel measured at the water supply nozzle: 194 degrees Fahrenheit. (This figure is under investigation.)

o      As of 3:00PM on April 4, the injection of freshwater into the reactor core continues.

o      At 5:03PM on April 4, TEPCO began to shoot freshwater aimed at the spent fuel pool, with a specialized vehicle normally used for pumping concrete.

o      As of 7:00PM on April 4, preparation to recover and transfer the accumulated water at the turbine building continues.

o      As of 7:00PM on April 4, approximately 4,908 tons of water in total has been shot into the spent fuel storage pool.

Fukushima Daiichi Unit 4 reactor

o      On April 2, lighting was restored at the part of the turbine building.

o      At 5:14PM on April 3, TEPCO began to shoot freshwater aimed at the spent fuel pool, with a specialized vehicle normally used for pumping concrete, until 10:16PM (approximately 180 tons in total).

o      At 7:20AM on April 4, the temperature of the spent fuel pool by thermography measurement: 86 degrees Fahrenheit.

o      As of 7:00PM on April 4, approximately 1,473.2 tons of water in total has been shot into the spent fuel storage pool.

Fukushima Daiichi Unit 5 reactor

o      At 2:00PM on April 4, the temperature of the spent fuel pool: 94.3 degrees Fahrenheit.

Fukushima Daiichi Unit 6 reactor

o      At 2:00PM on April 4, the temperature of the spent fuel pool: 70.7 degrees Fahrenheit.

Fukushima Daiichi Common Spent Fuel Pool

o      At 8:10AM on April 3, the temperature of the spent fuel pool: 89.6 degrees Fahrenheit.

o      At 9:10AM on April 2, a US Military barge (No.2) carrying freshwater docked at the dedicated port at Fukushima Daiichi Nuclear Power Station, towed by a vessel of the Marine Self Defense Forces.

o      At 10:20AM on April 2, transferring freshwater from the US Military barge (No.1) to a filtrate tank resumed, until 4:40PM.

o      At 12:12PM on April 4, a US Military barge (No.2) carrying freshwater docked again at the dedicated port at Fukushima Daiichi Nuclear Power Station, after refilling the freshwater.

Our official sources are:

Office of The Prime Minister of Japan
Nuclear and Industrial Safety Agency (NISA)
Tokyo Electric Power Company (TEPCO) Press Releases
Ministry of Education, Culture, Sports, Science and Technology (MEXT)