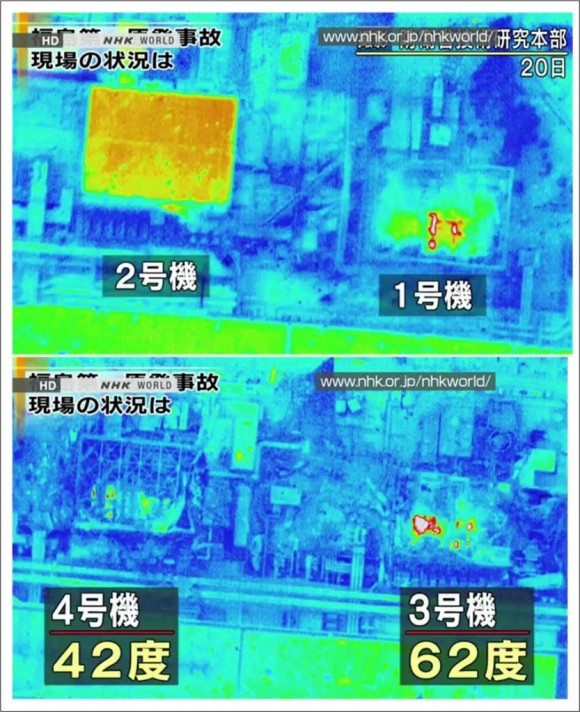 TEPCO has released another information update.  Three workers were exposed to a doses exceeding 170 mSv.
From a wonky perspective, the SDF is releasing "thermographs" of the reactors — infrared images that show the heat from the reactor vessels and the spent fuel ponds. The SDF website has a full set of images from March 20, 23 and 24. They aren't quite as high-res as the ones that aired on NHK (see the top of this post, via The Big Dustup), but the time series data is nice.
Full-text and images after the jump.
TEPCO Earthquake Information Update on March 24: Fukushima-Daiichi Status

(1) Worker received high dose, 2 hospitalized

On March 24th, it was confirmed that 3 contract workers laying cables in the 1st floor and the underground floor of turbine building were exposed to the radiation dose of more than 170 mSv.

2 of them were confirmed that their leg skin was contaminated. Although they were decontaminated, it is judged that there is possibility of beta ray burn injury, they were transferred to Fukushima Medical University Hospital. After medical examination at the hospital, they will be transferred to National Institute of Radiological Sciences in Chiba Prefecture on March 25 and stay around four days for medical check.

Confirmed radiation dose of each workers are:

Worker (A: 30's)  180.07 mSv
Worker (B; 20's)  179.37 mSv
Worker (C: 30's)  173.00 mSv

Planned dose for this work was 20 mSv, and set alarm at 20 mSv. Workers wore proper personal dosimeter, but they accidentally soaked their foot in the contaminated water, depth of which was 15 cm. The work site was dark because of power outage.

Use of long boots is determined considering the work environment such as radioactive control and workability, in the case of the work using water. According to the information on the site of the previous day (March 23), there was not much water at the site of the work, therefore high boots had not been prepared.

The radiation dose in the B-1 floor of turbine building was 400mSV at water surface and 200mSV in the Air.

As of 6:30 am, March 24, 17 workers exceeded 100 mSv in Fukushima-Daiichi NPS.

(2) Result of thermograph by SDF

Self Defense Force takes thermographs over Fukushima-Daiichi units 1-4 on March 20, 23 and 24.

Below pictures are results of March 24 flight. You can find the rest of the results on the Ministry of Defense Web site (see bottom of this e-mail).

http://www.mod.go.jp/j/approach/defense/saigai/tohokuoki/index.html

•           Date/Time: March 24,2011 06:54-07:26
•           Weather: Cloudy
•           Temperature: 1C (Soma City at 07:00)
•           Altitude: 3000ft (900m)
•           Chopper: CH-47 (SDF)
•           Camera: NEC/Avio Infrared thermography
•           Shooting Range: 87m x 65m (@3000ft)
•           Temp. Range: 0 – 500 C
Note: The JSDF has made available thermographs from March 20, March 23 and March 24. The camera is an NEC/Avio product.
First Putzmeister, now NEC/Avio.  There may be a budding market for product placement in large-scale disasters.  "This futile effort to flood a molten reactor core is brought to you by Pocari Sweat, the official sports drink of the 2011 Tohoku Earthquake."