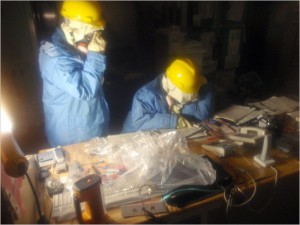 TEPCO turned on the lights in the control room at Unit 1.  I imagine this is a little like turning on the lights Saturday morning after a very large party that turned ugly. It has to be the same sinking feeling as the scale and consequences of the preceding events slowly dawn on you.  Except that this crisis is continuing.
Keith Bradsher has an interesting story in the New York Times that summarizes the new technical concerns about current operations to stabilize the reactors at Fukushima including the  large amounts of precipitated salt that has collected in the reactors and the appearance of a fission product (I-131) that might imply criticality and a containment breach.
At lunch the other day, I compared this to how I play chess — being forced into a series of moves to stave off one disaster after another, all the while unable to manage how those moves are weakening my long-term position.  My solution was usually to play with a good friend over beers; Sadly, TEPCO doesn't have the option of playing a drunken Mother Nature.
Full text of the most recent FEPC information sheet after the jump.
Update to Information Sheet Regarding the Tohoku Earthquake

The Federation of Electric Power Companies of Japan (FEPC) Washington DC Office

As of 11:00AM (EST), March 24, 2011

o      At 6:30PM (JST) on March 24, radiation level at main gate (approximately 3,281 feet from Unit 2 reactor building) of Fukushima Daiichi Nuclear Power Station: 204.5 micro Sv/hour.

o      Measurement results of environmental radioactivity level around Fukushima Nuclear Power Station announced at 7:00PM on March 24 are shown in the attached PDF file. English version is available at:    http://www.mext.go.jp/english/radioactivity_level/detail/1303962.htm

o      For comparison, a human receives 2,400 micro Sv per year from natural radiation in the form of sunlight, radon, and other sources. One chest CT scan generates 6,900 micro Sv per scan.

Fukushima Daiichi Unit 1 reactor

o      At 10:50AM on March 24, hazy white steam was emitted from the top of the second containment building.

o      At 11:30AM on March 24, lighting was restored in the Central Control Room.

o      At 1:00PM on March 24, pressure inside the reactor core: 0.423MPa.

o      At 1:00PM on March 24, water level inside the reactor core: 1.7 meters below the top of the fuel rods.

o      At 1:00PM on March 24, pressure inside the primary containment vessel: 0.39MPaabs.

o      As of 7:30PM on March 24, the injection of seawater into the reactor core continues.

Fukushima Daiichi Unit 2 reactor

o      At 1:00PM on March 24, pressure inside the reactor core: -0.023MPa.

o      At 1:00PM on March 24, water level inside the reactor core: 1.15 meters below the top of the fuel rods.

o      At 1:00PM on March 24, pressure inside the primary containment vessel: 0.11MPaabs.

o      At 1:00PM on March 24, the temperature of the spent fuel pool: 113 degrees Fahrenheit.

o      As of 6:00PM on March 24, approximately 58 tons of water in total has been injected into the spent fuel storage pool.

o      As of 6:00PM on March 24, external power generation is connected and the functionality of the electric devices is being checked.

o      As of 7:30PM on March 24, the injection of seawater into the reactor core continues.

Fukushima Daiichi Unit 3 reactor

o      At 11:30PM on March 23, it was confirmed that the emission of black smoke had ceased (confirmed again at 4:50AM on March 24).

o      At 5:35AM on March 24, TEPCO began to inject seawater into the spent fuel pool via cooling and purification line, until at 4:05PM (approximately 120 tons in total).

o      At 10:20AM on March 24, pressure inside the reactor core: 0.036MPa.

o      At 10:20AM on March 24, water level inside the reactor core: 1.9 meters below the top of the fuel rods.

o      At 10:20AM on March 24, pressure inside the primary containment vessel: 0.107MPaabs.

o      At 2:25PM on March 24, the radiation level near the power panel of the 1st basement floor of turbine building was measured as 200 milli Sv per hour.

o      As of 6:00PM on March 24, approximately 3,927 tons of water in total has been shot to the spent fuel storage pool.

o      As of 7:30PM on March 24, the injection of seawater into the reactor core continues.

Fukushima Daiichi Unit 4 reactor

o      At 2:36PM on March 24, TEPCO began to shoot water aimed at the spent fuel pool, with a specialized vehicle normally used for pumping concrete, until 5:30PM (approximately 150 tons in total).

o      As of 6:00PM on March 24, approximately 685 tons of water in total has been shot to the spent fuel storage pool.

o      As of 6:00PM on March 24, external power generation is connected and the functionality of the electric devices is being checked.

Fukushima Daiichi Unit 5 reactor

o      At 1:00PM on March 24, the temperature of the spent fuel pool: 117.9 degrees Fahrenheit.

o      At 1:00PM on March 24, the temperature of the water in the reactor core: 197.6 degrees Fahrenheit.

Fukushima Daiichi Unit 6 reactor

o      At 1:00PM on March 24, the temperature of the spent fuel pool: 80.6 degrees Fahrenheit.

Fukushima Daiichi Common Spent Fuel Pool

o      At 3:37PM on March 24, the external power started to be supplied.

o      As of 6:00PM on March 24, approximately 130 tons of water in total has been injected to the spent fuel storage pool.

o      As of 6:05PM on March 24, cooling of the spent fuel pool began.

o      At 6:40PM on March 24, the temperature of the spent fuel pool: 163.4 degrees Fahrenheit.

Our official sources are:

Office of The Prime Minister of Japan
Nuclear and Industrial Safety Agency (NISA)
Tokyo Electric Power Company (TEPCO) Press Releases
Ministry of Education, Culture, Sports, Science and Technology (MEXT)