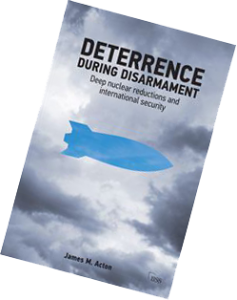 James Acton, our good friend and erstwhile colleague here on the blog, has published a new Adelphi Paper (aka a book), Deterrence During Disarmament.
James received two awfully fine blurbs:
"Ronald Reagan's vision of a world without nuclear weapons remains a valid and ever more urgent goal. James Acton has analysed and rebutted the arguments that have been made against the proposition that the process of eliminating nuclear weapons can enhance national security. Whichever side of the argument readers support, they will find an exceptionally thorough and well-informed examination of the issues raised in this essential public debate."

George P. Shultz, former US Secretary of State and Fellow of the Hoover Institution, Stanford University

"I have been reading literature on nuclear weapons policy for more than 50 years. This is as careful, conscientious and reliable as it gets."

Thomas C. Schelling, University of Maryland, Emeritus and author of Arms and Influence
£9.99, plus postage outside Western Europe.