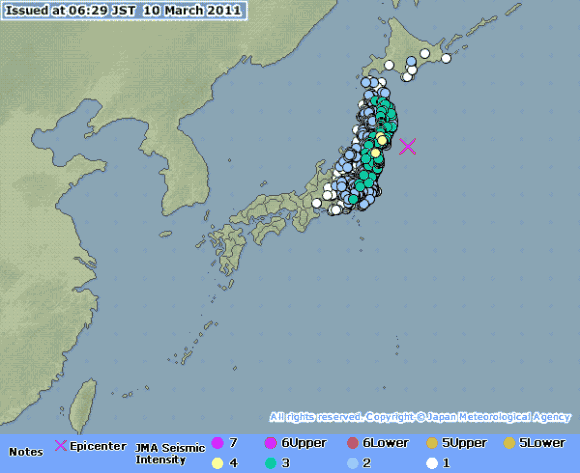 Greetings from the land of the earthquake!  Yesterday's visit to Rokkasho was earth-shaking – literally.  Well, the earth did shake, although I know correlation is not causation.
During lunch at the Rokkasho site, we felt an earthquake.  Then another large earthquake woke me up last night.  Now, we are getting hit by a third as I write this.   That's three earthquakes in less than 24 hours.
The purpose of the visit was demonstrate to nongovernmental types the overall level of IAEA access at Rokkasho.  I have to say it was pretty effective.  It is pretty clear that the Japanese have decided that the best way to manage local anxiety about the danger from radiation and international concerns about proliferation is to be as transparent as possible.  I think that is a pretty sensible strategy.  We were discussing IAEA access to the facility that produces Japan's centrifuges  and I said, "Maybe you can convince the Iranians that it isn't such a burden."  That is, I suspect, the point.  Whatever you think about how other countries will use the activities of Rokkasho to justify their own enrichment and reprocessing effort , the Japanese are at least trying to be a model of close collaboration with IAEA.
I have signed a confidentiality agreement, so I will need to ask before I share details.  But I can at least give you the schedule.  As I noted, the tour emphasized elements of IAEA access at Rokkasho, so the tour focused areas where the IAEA implements safeguards rather than a straight tour of the facilities.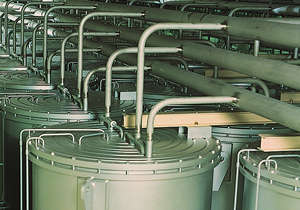 The tour was divided into two parts — in the morning, we toured the Rokkasho Enrichment Plant. The cascades have been shut down, as Japan is replacing its current generation of centrifuges. But not all the cascades have been removed (right).
In the afternoon, we toured the Rokkasho Reprocessing Plant, including the the On-site Safeguards Laboratory.  (See also, Quality Control in the OSL Rokkasho: Status after Four Years of Operation.  Several of the authors were present during our visit.)
Today, we visit Japan Steel Works to see them forge pressure vessels, which is going to be awesome.  Very manly, what with fire and steel and all.  (I spent about ten minutes looking the video of Homer Simpson taking Bart to the Ajax Steel Mill, but to no avail.)
We'll see if there are anymore earthquakes.