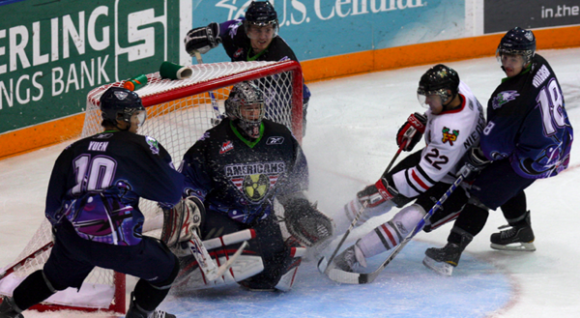 Credit: Brad Lindsey
Sorry about the dearth of posting lately — last week was one of those periods where I am pretty convinced I should have gone to law school instead of getting a PhD.
On an amusing note, the Tri-City Americans — a Western Hockey League team based in Kennewick, WA — held the Second Annual Nuclear Night "to promote the atomic history of the region." (The Hanford Nuclear Site is located in the Tri-Cities.)  The Ams auctioned off the jerseys to benefit the Player's Continuing Education Fund.
My brother-in-law is a professional hockey player, so I am tempted to make a joke about the need for continuing education among hockey players.  But then I think about this clip on YouTube, and decide that maybe a joke isn't such a good idea.
You can check out photos from the game or purchase one of the remaining jerseys.