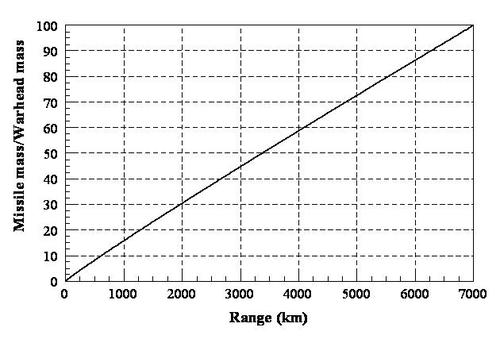 UCS's David Wright has written a nice post at All Things Nuclear that replots a graph originally produced by IISS to explain that ICBMs are hard to build because the principal trick to increasing range is adding fuel:
The reason for this trend is that the primary way to increase the range of a missile is to make it larger and add propellant. (Changing to a more energetic propellant or reducing the weight of the missile structure will increase the range somewhat, but a large increase in range will require additional propellant.) The additional propellant and missile structure increase the missile's mass. As a result, the engines need to accelerate all this additional mass as well as the original mass of the missile and payload, so the increase in missile size gives you much less increase in range than you might expect. What this plot shows is that this penalty becomes very significant as you go to longer ranges.
It's the kind of thing you know in the back of your head, but it's pretty stunning when you see in graph form how little other variables, like using a more energetic propellant or reducing the mass of the airframe, matter in actual practice.