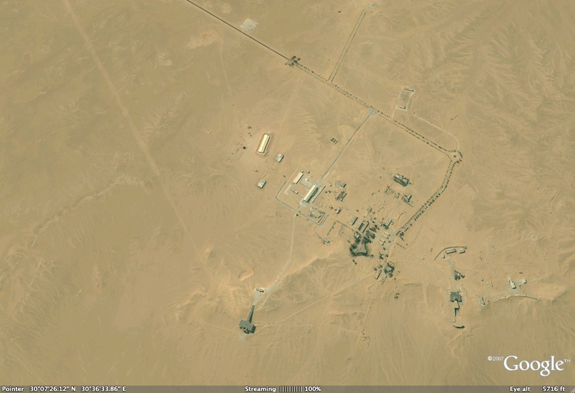 During my panel at the Wilson Center, David Albright told a story about how the Israelis talked to Gernot Zippe — inventor of the Zippe-centrifuge — about the contacts that some German scientists and firms had in Egypt.
I wanted to shout "Hey, that's the opening to The Odessa File!"
So, with my admission of really enjoying Frederick Forsyth's novels, I readily admit that the phrase "Egypt's ballistic missile test and launch facility" gets my attention.
Joseph Bermudez has an interesting examination of just that facility, near Jabal Hamzah, in the most recent Jane's Intelligence Review, (Pyramid scheme: Egypt's ballistic missile test and launch facility, February 4, 2010.) It is subscription-only, but you can look at the images in Google Earth. Here is the key graf:
Since 2000, satellite imagery has revealed significant and continuing infrastructure expansion at the Jabal Hamzah facility.

The missile facility is located in the governorate of Al Jizah (Giza). While the national designator is presently uncertain, in the late 1960s the US Central Intelligence Agency designated it the Jabal Hamzi Surface-to-Surface Missile Complex because it is on the road from Cairo to Alexandria just 12 km south-southwest of the abandoned Jabal Hamzi Airfield, which is no longer visible.

The original installation is located at 30° 07' 38.71" N, 30° 36' 25.08" E, and consists of a small cluster of facilities built on the edge of a low sandstone escarpment. Between 1967 and 2000 the original installation had only minor infrastructure development. However, since 2000, not only has there been significant expansion at this site but there has also been a major related construction project at a site approximately 3 km to the south. The two sites, which are here referred to as the north and south sites, are connected by an asphalt road that was paved between 2008 and 2009.
Click on the image to open Google Earth to 30°07'38.71"N, 30°36'25.08"E and have at it.