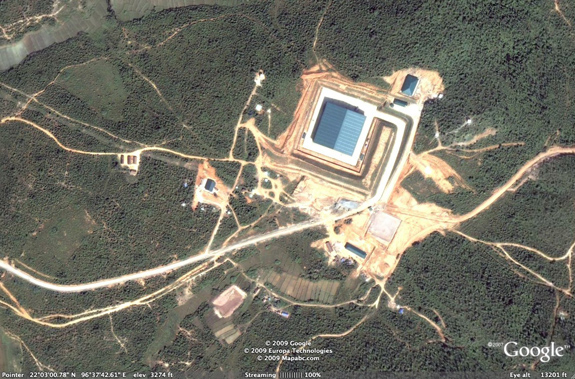 Over the past couple of days, I've been emailing with a couple of colleagues about this very odd building in Myanmar (nee Burma). Staring at that big box was the main reason I tweeted that "This Burma-NORK nuclear link has me worried."
Allen Thomson, Bruno Tertrais and some folks at VERTIC all found it too — working from the recent story in the Sydney Morning Herald and an older story originally published by an opposition group. We'd been quietly discussing what the thing might be.
Now, no one wanted to go declare the vaguely suspicious looking building to be something suspicious in particular — but since ISIS has found it too (the damn thing is visible from 4,000 feet) and published a nice analysis, I don't suppose there is any harm in crowdsourcing it.
ISIS describes what I am calling the BOB (let's leave the M out for now) as an "anomalous building" — noting that they cannot "ascribe [it] with obvious nuclear industrial characteristics."
It's big and tall. It is also nestled into the mountains and revetted. There seems to be a power transmission line running in (or out of it). It is several clicks from an obvious water source.
Still, someone has been very interested in it —in addition to this 2005 image, Digital Globe has happy snaps from 2008 and 2009 centered right on it.
What do you all think?