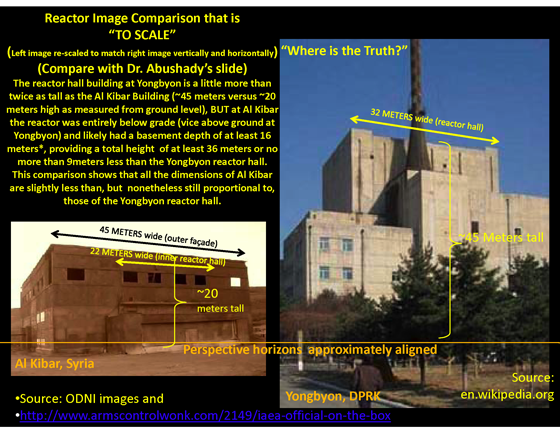 The debate continues over Yousry Abushady's remarkable appearance on Egyptian television.
The interview is notable, as one observer notes, because Abushady "is speaking in his personal capacity, which is soon-to-be retired." You just don't see IAEA officials doing television interviews like this.
Although I still have lots of questions about the type and size of the reactor, I continue to think the evidence, on balance, supports the reactor hypothesis.
James noted his skepticism regarding Abushady's comparsion of the heights of the probable reactor at Al Kibar (Dair Alzour) and the reactor at Yongbyon.
Frank Pabian sends along a careful comparison of photos that makes that skepticism explicit. To read his complete rebuttal to Dr. Abushday, just click on the image, which more accurately shows the relative heights of the building.