Of the many reasons I have a soft spot for the intelligence community, one is this: imagine how hard it is to produce a document that is both precise and readable.
That's the same challenge I face on the blog, but the IC can't include gratuituous jokes of a certain kind just to liven things up. (It also helps that you, dear readership, tend to be a couple of standard deviations above the mean when it comes to technical facility.)
I was amused by a chart that our intern — the talented Alex Kahan, who New America shares with Brookings — found in an old China DIE (PRC Strategic Forces: How Much is Enough? DIE FE 7-74, 3 December 1974 . Thanks to Bill Burr, who actually provided us with the copy.)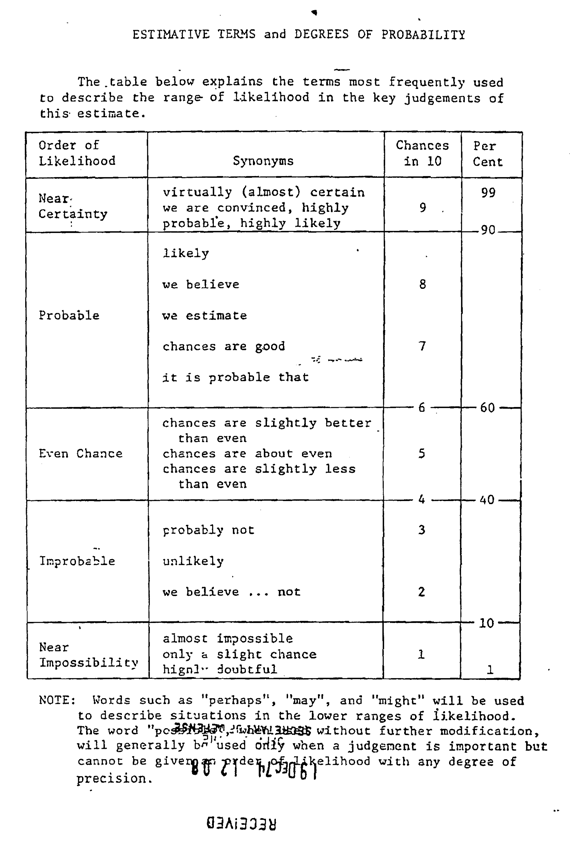 Look familiar? Here is a chart from the 2007 NIE, Iran: Nuclear Intentions and Capabilities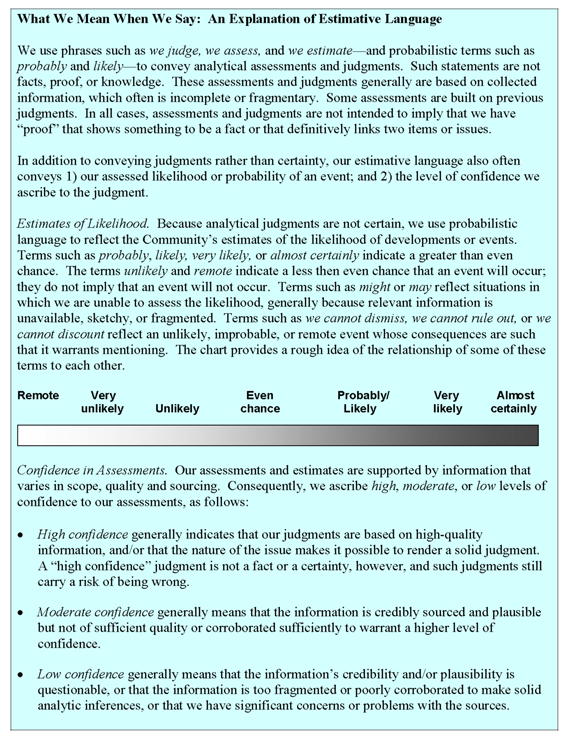 It is fascinating to see that earlier generations faced the same challenges and how little the basic structure of the language has changed. You could use the 1974 chart to decipher the 2007 NIE without too much confusion.
The one change, of course, has been the post-politicization effort to make analysts express confidence levels, which I don't think are independent of the estimative language.
What does it mean, for example, to have "low confidence that Iran probably has imported at least some weapons-usable fissile material …" How can evidence in which you have little confidence or no confidence, that lead you to conclude that something is not merely plausible, but probable?
Maybe its just my pet peeve, but such language seems mostly to serve as a permission slip for the Doug Feith's of the world to disregard the estimate.