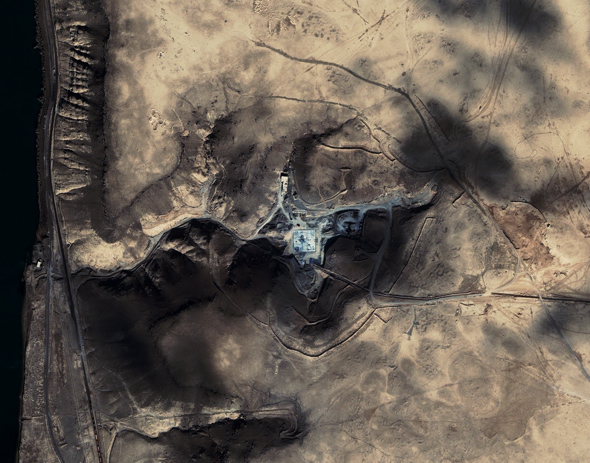 Reader Allen Thomson sends along this image of the AlKibar dated 23 November 2007 showing an apparently thick slab of concrete over the remains of the BoE and one or two construction cranes erected on it. Credit:GeoEye/Space Imaging Middle East IKONOS Satellite Image.
A very curious set of stories appeared yesterday about the results of environmental sampling that the IAEA conducted at the AlKibar site.
Diplomats — which is to say, not the IAEA staff — told AP's George Jahn, Reuter's Mark Heinrich and DPA's Arthur that the IAEA DG ElBaradei's report for the 27-28 November Board of Governors meeting will indicate that "samples … contained traces of uranium … was processed and not in raw form."
ElBaradei is said to be irked at the leak.
Well, that's not surprising. The presence of processed uranium (it is unclear it is enriched or in the form of metal) has many possible implications. There wasn't supposed to be any reactor fuel on site and the IAEA didn't find any evidence of graphite — though that isn't particularly exculpatory (see: Mark Hibbs, "Evidence form IAEA graphite probe not critical to Syria reactor case," Nuclear Fuel 33:21, p. 7). Maybe it was cross contamination from the North Koreans. Or maybe Syria has some enrichment efforts.
But, at least today, I think the story hit the papers as part of an effort to press ElBaradei to request a "special inspection" in Syria.
Although Syria allowed the IAEA to visit AlKibar on a voluntary basis, they denied the IAEA access to three sites that are believed to house equipment for the reactor project and have dragged their feet on a follow-up visit. (Having IAEA's point of contact whacked by a sniper hasn't helped, either.)
ElBaradei has been reluctant to ask for a "special inspection" under Syria's INFCIRC/153 safeguards agreement to visit those three sites (see Mark Hibbs, "Key IAEA directors not inclined to press for special Syria probe," Nucleonics Week 49:41, 9 October 2008, p. 7). ElBaradei's has taken an exceptionally narrow view of the basis on which he would ask for a special inspection — according to Hibbs "sources close to ElBaradei said last week that unless the IAEA found evidence of undeclared nuclear material, it would not be inclined to request a special inspection to pursue the allegations of an undeclared reactor project."
The real reason that ElBaradei is reluctant may have more to do with ongoing Israeli efforts to engage Syria. Hibbs has reported that the effort to pressure Syrua has "run aground on a separate diplomatic effort … to encourage Syria to isolate Iran (Hibbs, "Diplomatic efforts to engage Syria hindering US-led campaign at IAEA," Nuclear Fuel 33:20, p. 4).
So, that's the rub: Some countries — read the US — want ElBaradei to push for a special inspection — which the Agency has only requested twice in its history. ElBaradei has said that he won't unless there is evidence of undeclared nuclear material. So, delegations are seizing on the uranium finding — however scant — to force ElBaradei's hand.
You can see why the DG and the IAEA might be irritated, particularly if the evidence is less clear-cut than the diplomats are suggesting.
And while I won't condone using a leak to press for a preferred outcome, I would like to see the IAEA request special inspections as a more routine measure in cases when a state does not have the Additional Protocol in force. Syria does not and if there was ever a case for a special inspection, this is probably it.
As I mentioned, the IAEA has only requested special inspections twice — once at the request of a state (newly democratic Romania in 1992, which discovered that the Ceauşescu regime had a clandestine nuclear program) and once in an adversarial relationship (the DPRK rejected the IAEA's request in 1993, although the inspection was eventually carried out under the Agreed Framework).
Part of the problem, I think, has been the IAEA's reluctance to request special inspections. By making them rare, they are unnecessarily adversarial.
I highly commend, via James Acton's recommendation, a paper by John Carlson and Russel Leslie entitled, Special Inspections Revisited, (Australian National Safeguards Office, July 2005). They make the rather compelling point that special inspections ought to be conducted more often, as a normal and nonconfrontational part of the safeguards effort when a state does not have the Additional Protocol in force.
Moving toward that norm almost certainly requires requesting that Syria grant a special inspection.