The Department of Energy has announced that a new computer to be housed at Los Alamos — named RoadRunner after the state bird of New Mexico — is the first computer in the world to break the petaflop barrier, or perform 10 15 floating operations per second.
U.S. Secretary of Energy Samuel Bodman today announced that the new Roadrunner supercomputer is the first to achieve a petaflop of sustained performance. Roadrunner will be used by the Department of Energy's National Nuclear Security Administration (NNSA) to perform calculations that vastly improve the ability to certify that the U.S. nuclear weapons stockpile is reliable without conducting underground nuclear tests.

"This enormous accomplishment is the most recent example of how the U.S. Department of Energy's world-renowned supercomputers are strengthening national security and advancing scientific discovery," said Secretary Bodman. "Roadrunner will not only play a key role in maintaining the U.S. nuclear deterrent, it will also contribute to solving our global energy challenges, and open new windows of knowledge in the basic scientific research fields."
The old record holder was the IBM BlueGene computer, which managed a paltry (by comparison) 500 teraflops.
Implications for the CTBT
All of this is really important for discussions about the CTBT. When the Senate failed to ratify the treaty in 1999, one reason was concern among the Laboratory Directors about whether necessary advances in supercomputing would materialize.
An exchange between Senator John Warner and the directors of the nation's two nuclear weapons design laboratories captured the centrality of debates about supercomputing:
Senator John Warner: … I want to get to a very fundamental question, which each of you have answered, but not with the precision that I desire. In your best estimate, how soon can this Stockpile Stewardship program, largely dependent on computers, be up and running and performing the mission that it's been given? You describe it as the challenge, you describe it — how you've done — met several milestones, but each of you have honestly said we're not there yet. So let's just start and go to each of the three lab directors. Give us your best estimate of when this will be up.

[snip]

John C. Browne, Director, Los Alamos National Laboratory: The computer is certainly the key element to bring all of this together. There is no doubt about that. We have moved in that path this year, and last year, toward putting in place the supercomputers on a path that we think we need to have. We are on a path that, by 2004, we will have a supercomputer in place that begins to get us into the realm of what we need to do this job.

The issue that I think you are trying to address — and this is the hardest point I think as a scientist — is that we can't predict that by such and such a date, we will know everything we need to know. It's an evolving process. Each year you learn something else.

[snip]

I think we are going to be in the best position some time between 2005 and 2010.

Dr. Tarter?

Bruce Tarter, Director, Lawrence Livermore National Laboratory: I would agree with Dr. Browne.
Paul Robinson, then director of Sandia National Laboratories went next, but he had concerns other than supercomputing. But, for the directors of the two design laboratories, advances in supercomputing by 2010 were crucial.
At that time, the Department of Energy openly talked about a goal of 100 teraflops by 2004 — basically two orders of magnitude more powerful than the fatests computer then operating — Sandia's ASCI Red. Bruce Goodwin later told Nathan Hodge and Sharon Weinberger that he helped set the 100 teraflop estimate, which he thought unachievable:
I remember handing my answer in, thinking that they would kick me out of the room because it was insane at the time. It was 100 teraflops. That would be for a machine that could do one calculation only and take three months to complete it.
These concerns were central enough that the Los Angeles Times carried a story titled "Supercomputers Central to Nuke Test Ban's Failure" (October 25, 1999).
That was then, this is now
Well, things have changed a little bit since 1999.
Here is a chart showing the maximum performance of the fastest computer used in nuclear weapons simulations, which not-exactly-coincidentally has also been the fastest computer in the world.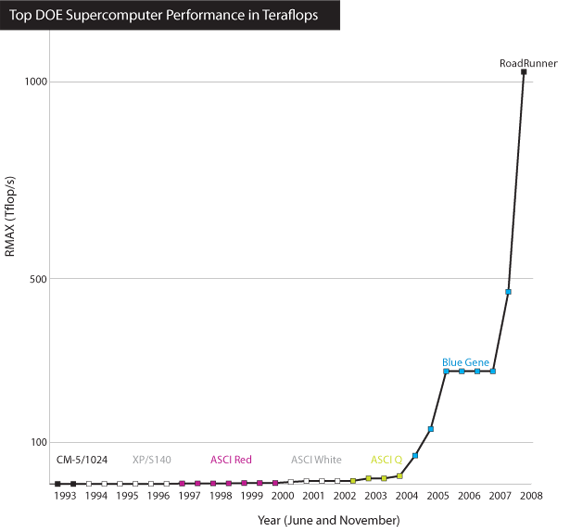 Pretty cool, huh?
DOE cruised past the "extraordinarily ambitious" 100 teraflop bechmark in early 2005, just a little behind schedule.
And now we have RoadRunner.