I just love my job. I am like a kid in a candy store with all these photos of Al Kibar. A couple of things don't add up just yet. Not saying they won't eventually, but I am trying to work through the evidence with some rigor.
Despite early press reports that the fuel channels atop the Al Kibar reactor core were identical to Yongbyon, I and others — including Geoff Forden, Cheryl Rofer and Richard Wendland — see some pretty significant differences that suggest Al Kibar might have been quite a bit smaller than its North Korean cousin.
To be clear, I don't doubt that Al Kibar was a reactor and, although I think the evidence of North Korean involvement is less impressive than early press reports suggested, that's my working hypothesis too.
But I don't understand the claim that Al Kibar is a copy of Yongbyon in the strict sense — in particular, I don't understand how the IC concluded that Al Kibar is the same size as Yongbyon.
Are the Fuel Channels Identical, Similar or Dissimilar?
Early reports suggested that the Al Kibar reactor had virtually identical configuration and number of channels to lower fuel rods into the core as at Yongbyon. Robin Wright wrote in the Washington Post:
Sources familiar with the video say it also shows that the Syrian reactor core's design is the same as that of the North Korean reactor at Yongbyon, including a virtually identical configuration and number of holes for fuel rods. It shows "remarkable resemblances inside and out to Yongbyon," a U.S. intelligence official said. A nuclear weapons specialist called the video "very, very damning."
The actual claim during the video was much more careful — that there were similarities in the configuration and in the size and capacity of the reactor.
This photograph shows the top of the reactor vessel in the reactor hall before concrete was poured around the vertical control rod and refueling tubes. Note the similar arrangement of vertical tube openings in the top of the Syrian reactor on the left and North Korea's Yongbyon plutonium production reactor on the right. We assess the Syrian reactor was similar in size and capacity to this North Korean reactor.
In fact, the number and configuration of fuel channels are different in some ways. Cheryl Rofer, over at Whirled View has been sifting through the images with care and meticulous attention and noticed that Al Kibar has only about 60 percent of the number of fuel channels as Yongbyon. Richard Wendland made a similar observation in a comment on the blog. Then Geoff Forden sent me a note stating:
I've been counting fuel tubes and it appears to me that the Syrian reactor is considerably smaller than the North Korean reactor.
The've got a point.
Take another look at the image of the fuel channels and count them.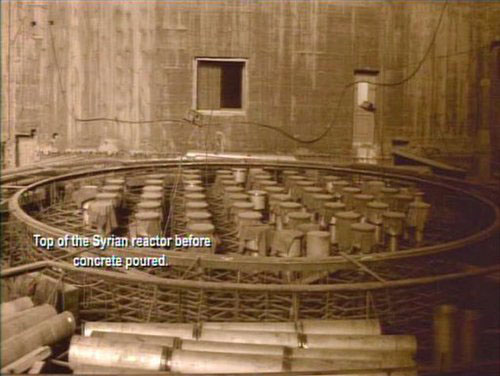 One can see quite clearly that the reactor at Al Kibar had 52 56 fuel channels in a 4-6-8-8-8-8-6-4 configuration like this (my arithmetic is especially poor on Sundays):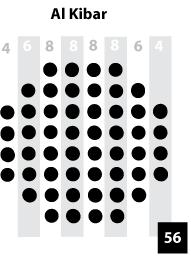 (There are a few onsies here and there, maybe for control rods, but that doesn't dramatically alter the picture.)
That's the same arrangement in the computer model released by the IC, so it seems quite plausible that no additional channels were to be installed. Here is a screen capture: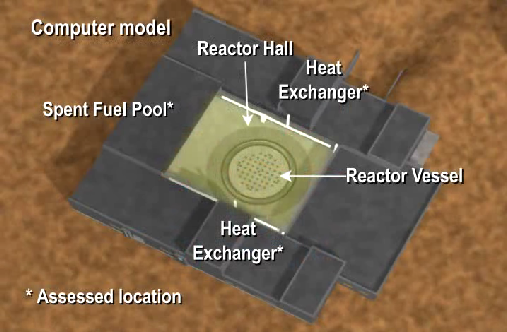 Yongbyon has considerably more fuel channels — 97, configured in 5-7-9-11-11-11-11-11-9-7-5. Like this: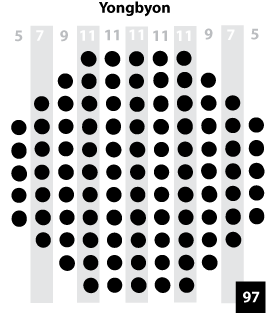 If you model the core of a reactor as a sphere, the volume (and hence capacity) of Al Kibar would be about one-fifth that of Yongbyon — sixty percent cubed.
The implication of a smaller reactor is smaller plutonium production — roughly, while Yongbyon could produce 5-7 kg of plutonium per year, Al Kibar could only produce about 1 kilogram of plutonium per year.
That's still not good, but it also invites comparison's to the fuss over Algeria's reactor, which was resolved with safeguards not airstrikes.
On the other hand, maybe there are design differences in the size of the channels or the rods that we aren't taking into account. But it doesn't seem to be a copy of Yongbyon, in the strict sense.
Whiskey Tango Foxtrot?
The possibility that Al Kibar is smaller might explain why the "copy" of Yongbyon doesn't have a secondary cooling tower as Yongbyon does (although, to be clear, Yale Simkin and others caclulate that Syria could river-cool even a Yongbyon-sized reactor without unreasonable pumping requirements or boiling fish).
A smaller reactor would also require less natural uranium fuel — something that might matter if one plans extract uranium from phosphates.
Finally, a smaller reactor would also, presumably, reduce the design throughput for whatever reprocessing facility the Syrians intended to build or have squirreled away. That question — what about the reprocessing facilities — is a big one that I suspect we will be talking about a lot in the coming weeks.
But for now I just want to know if the IC really judges that Al Kibar was going to be exactly the same size as Yongbyon and, if so, on what basis was that judgment made given the different number of fuel channels?
I mean that as an honest question.