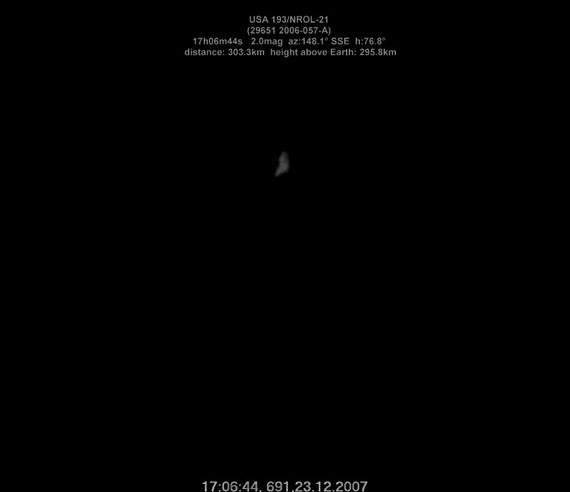 © John Locker
AP's Eileen Sullivan quotes government officials stating that a US spy satellite "has lost power and could hit the Earth in late February or early March…"
The satellite, which no longer can be controlled, could contain hazardous materials, and it is unknown where on the planet it might come down, they said. The officials spoke on condition of anonymity because the information is classified as secret. It was not clear how long ago the satellite lost power, or under what circumstances.
Speculation among visual satellite observers centers on USA 193 — a US Radarsat that malfunctioned shortly after it was launched in December 2006. (Friend of Wonk Jonathan McDowell has a couple of choice quotes in the New York Times about USA 193.)
Reuters' Andrea Shalal-Esa had a pretty decent story on USA 193 in March 2007:
The experimental L-21 classified satellite, built for the National Reconnaissance Office (NRO) at a cost of hundreds of millions of dollars, was launched successfully on Dec. 14 but has been out of touch since reaching its low-earth orbit.

Limited data received from the satellite indicated that its on-board computer tried rebooting several times, but those efforts failed, said one official, who is knowledgeable about the program and spoke on condition of anonymity.
John Locker has been watching this sucker steadily lose altitude, posting images of the satellite like the one adorning this post. "193 has come down about 30 km in the last 3 months, so by spring we should be able to get even better resolution," Locker noted in December 2007, "but it begs the question , will the operators let it continue to fall …"?
For more on NRO's troubles, I recommend the links my posts FIA joins Misty on SpySat Budget Scaffold, FIA Autopsy and Sayonara, Misty, especially:
Jeffrey Richelson (The Satellite Gap, Bulletin of the Atomic Scientists 59:1, January/February 2003 pp. 48-54) predicted a major gap that could develop in our all-weather radar imagery coverage if the

FIA

Radarsat was delayed, and
The fact that USA 193 is coming down is not a surprise; but it reminds us of the real problems that have plagued NRO for too long now.