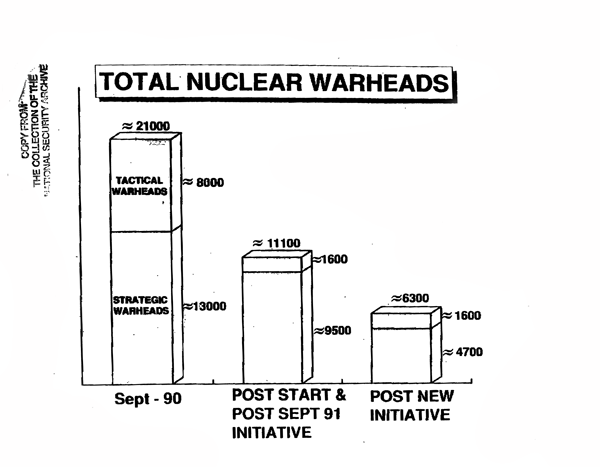 The White House has announced what it calls a "significant" reduction in the 2012 stockpile — later clarified to be 15 percent.
Although the stockpile size is classified, the announcement suggests the total size will drop from "roughly" a quarter of its size at the end of the Cold War to "less than one-quarter."
That means — working from the handy chart (above) provided by then-General Powell — we are talking about a reduction of hundreds, not thousands, of warheads — perhaps some of the W80s resulting from the decision to retire the ACM.
To my mind, that is a modest reduction that does not alter the character the arsenal in a significant way — but it is welcome nonetheless. As I have stated before, on this blog and in the Washington Post, the goal should not be the size of the stockpile when Ike left office (19,000), but when he entered it (1,200).
***
The press release announces reductions it describes as "significant," following a "major" reduction in 2004, that will result in a U.S. nuclear stockpile "less than one-quarter its size at the end of the Cold War."
This is the third stockpile plan signed by President Bush.
Sometime after the January 2002 Nuclear Posture Review, President Bush signed NSPD 10, a nuclear weapons stockpile plan that implemented the reductions starting in Fiscal Year 2002.
In May 2004, Bush signed NSPD 34 "Fiscal Year 2004-2012 Nuclear Weapons Stockpile Plan." That document directed "major" reductions in the stockpile to "one-half from the 2001 level – down by roughly a factor-of-four since the end of the Cold War and the lowest level since the Eisenhower Administration."
This is presumably the third presidential directive (NSPD 50-something), directing a "significant" reduction to "less than one-quarter" the Cold War level.
Although the size of the stockpile is classified, in 1991 then Chairman of the JCS Colin Powell stated that the US had approximately 21,000 nuclear weapons in September 1990. That's a handy benchmark.
If a "roughly" four fold reduction resulted in a stockpile projection of 5,300-5,800 warheads by 2012, then the current reduction would result in a 2012 stockpile of 4,500-5,000 warheads — a reduction of approximately 800 warheads.
***
I note, coincidentally, that between the last stockpile plan and the current one, the Air Force announced the retirement of the Advanced Cruise Missile and the Nuclear Weapons Council canceled the Life Extension Program for the W80.
Frankly speaking, I would have been surprised if the President had not announced a stockpile reduction, given the retirement of a significant delivery system (460 ACMs) and the cancellation of the LEP for its warhead (W80).
Of course, maybe the reduction is not related to the ACM. Either way, the Administration gets credit in my book for a modest, yet welcome, reduction.