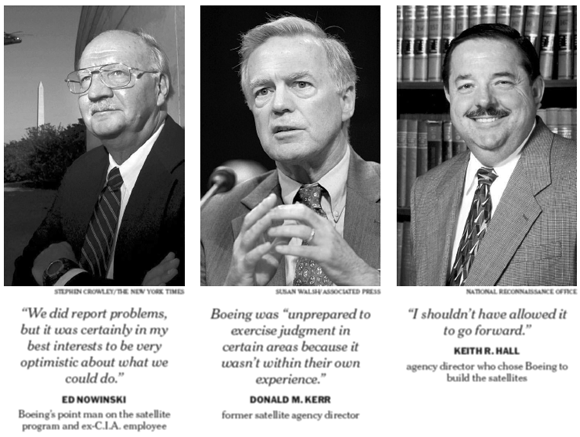 Phillip Taubman recently had a masterful account of the death of the Future Imagery Architecture in the New York Times.
Given the myriad myriad engineering and managerial disasters, the demise of FIA was probably overdetermined. If I had to pick just one cause, though, I suppose I would say the requirements were unrealistic given the available money, technology and expertise.
When I blogged about the impending demise of the FIA program
in August 2005, I linked to a Boeing job announcement for a "senior systems engineer" on the project.
I joked that readers might consider applying "you know, if your resume includes 'Miracle worker' …"
Heather Wilson (R-NM) brings that little snarky comment full circle by articulating a golden rule for space system acquisition in Taubman's article:
"There's a good rule on projects like this," said Representative Heather A. Wilson, a New Mexico Republican on the Intelligence Committee. "Aim for only one miracle per program."
For more backstory on the program, see my post dated 9 December 2004