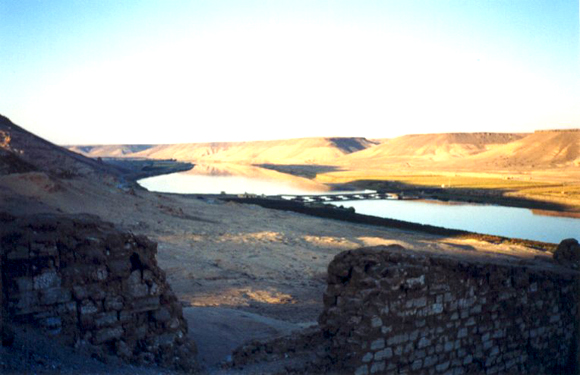 Is the Box-on-the-Euphrates in a remote place?
Details like that might seem insignificant, but they are not. Often, it seems to me, intelligence judgments are supported by informal bits of "color" or what you might call the gouge — circumstantial details that aren't part of any official briefing, but appear in loose talk to bolster a judgment. Recall the "viewing stand" that North Korea never built, but nonetheless contributed to a false alarm about North Korean nuclear testing in Spring 2005.
One detail in the Box-on-the-Euphrates story that seems to lend credence to the "nuclear reactor" hypothesis is that the site is remote, and therefore suspicious. Here is how Martha Raddatz at ABC put it:
The official said the suspected nuclear facility was approximately 100 miles from the Iraqi border, deep in the desert along the Euphrates River. It was a place, the official said, "where no one would ever go unless you had a reason to go there."
But the claim the the location is remote is, itself, an exaggeration.
The Box-on-the-Eurphrates is a little more than a mile from a well-known tourist site, the ruins of Halabiya (or Halabiyya or Halabiyah), which the Syrian Ministry of Tourism website describes as "forward-defence lines against Persian invasions."
Lots of people, actually, do go there — or at least pretty damn close.
And, as you can see from the photograph at the top of this post, they take pictures. This is a picture, looking up the Euphrates at the canyon in which nestled the box-on-the-Euphrates. Although the reactor would be out of view from this spot, the pumping station would be quite visible as well as quite a bit of the comings and goings at the site.
There are lots of pictures like this, actually. Sylvie Bletry, an archeologist, has some lovely shots of the site, as do other vacationers. You can even organize a rafting expedition down the Euphrates.
Hmmm, that seems like a good use of my grant money.
This picture was taken from a bridge less than a mile from the reactor. Had the photographer turned 180 degrees, she would have been less than a mile from the pumping station, which would have been in plain view.
All of this is to say that when someone tells you the site is remote, he has already made up his mind about the purpose and is attempting to persuade. The ruins are quite obvious in the imagery and any analyst looking at the photos must have wondered about that strange site. (I did and looked around one afternoon until a couple of colleagues beat me to it, e-mailing me the name.)
It seems to me one can say many things in favor of the reactor hypothesis, but location is not one of them.