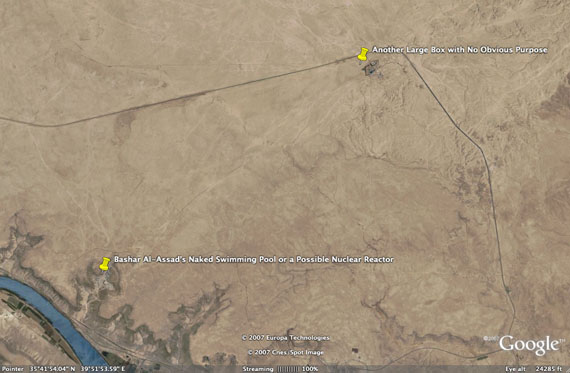 Chris Nelson is now convinced of the reactor story, based in part on Chris Hill's refusal to confirm or deny in Congressional testimony.
… a former directly involved official concluded, "today Hill said he couldn't say, or not. That says 'yes', because if not, you just SAY not!"
Nelson-san is the much respected collector of gossip. So, the consensus is that the IC thinks this was a reactor under construction with North Korean assistance.
***
The second, question, however, is whether the intelligence is correct.
I continue to point out that we do make mistaken identifications — take, for example, Kumchang-ri or Tarhuna — cases that were, in their own day, "slam dunks" to use the parlance of our times.
The site is sketchy as all hell, no doubt about it, but so were those empty tunnels in North Korea and Libya.
If you look five clicks east of the site, there is a secure facility with a large building that is about the same dimensions — 47 m x 45 m. No one, however, is suggesting that is a reactor. "Imagery intelligence," the Commission on the Intelligence Capabilities of the United States Regarding Weapons of Mass Destruction wrote, is "only one piece of the collection effort against WMD, and will have to be used in conjunction with information from other sources."
This doesn't mean that the Syrian facility wasn't a reactor. It means, based on the public evidence, we don't know what whether it was a copy of Yongbyon or Bashar al-Assad's naked swimming pool. The only way to know is to get inside.
So, the real key is this supposed HUMINT obtained by Israel. As far as I can tell, the only indication of this is from Martha Raddatz at ABC who claimed Israel "managed to either co-opt one of the facility's workers or to insert a spy posing as an employee. As a result, the Israelis obtained many detailed pictures of the facility from the ground."
Frankly, I would have preferred IAEA inspectors to some disgruntled construction worker with a drinking problem.
Of course, Raddatz's source also claimed it was a concrete cylinder, not a big box. So, I get the sense (s)he was passing along a little RUMINT.
***
For analytic completeness, we need images of the site between the strike and the clean-up operation.
Israel, for example, might have missed (at the very least, Syria would want to complicate any post-strike assessment) or Syria, I suppose, may even have dismantled the facility before the strike. I doubt both, very much, but I'd like the pictures, thank you.