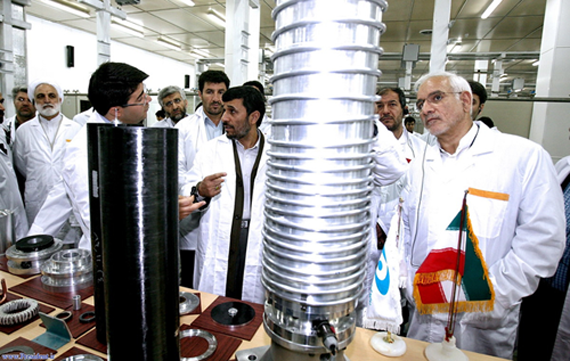 I was looking at all the pretty components laid out on the table around the IR-2 carbon fiber rotor with a ball bearing on top and thought "It would be great to identify all the parts."
So, I sent a note to Scott Kemp, at Princeton's Program on Science and Global Security, that said, roughly "Look at all the pretty components laid out on the table around the IR-2 carbon fiber rotor with a ball bearing. It would be great to identify all the parts."
He obliged. (Don't blame him for the crude outline drawing, that's mine.)
A. Vacuum casing, with cooling coils wrapped around exterior.
B. Electrical connection for Motor.
C. Lower end cap of rotor and armature plate.
D. Upper end-cap, with hole for feed pipes.
E. Weir baffle.
F. Carbon-fiber rotor, 62 cm long.
G. Magnetic bearing components.
H. Motor winding and stator.
I. Cooling loop for motor.
J. Base.
K. Base with motor.
L. Spiral groove pivot bearing.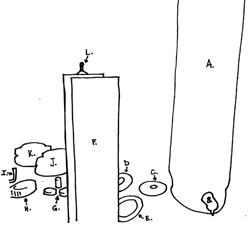 Scott has an article coming out in Science and Global Security that will detail the history of the U.S. centrifuge program, including never-before-released technical details and a simple formula for policymakers to estimate the performance of a centrifuge.
It is part of a special issue on centrifuges that will also include papers by Alex Glaser — assessing breakout scenarios using P1-type centrifuges in n 164-machine cascades — and Houston Wood.