This is a guest post by CNS Postdoctoral Fellow Daniel Salisbury.
The assassination in February of Kim Jong Un's half-brother Kim Jong Nam at Kuala Lumpur airport has turned international attention to North Korea's other shady activities in Malaysia. A Reuters investigation has already revealed that a North Korean company has been marketing military radios from offices in Kuala Lumpur. It turns out that military radios may be the tip of the iceberg in terms of DPRK sales shenanigans in Malaysia. Open source investigations reveal that North Korea has also been involved – albeit to an unclear degree – with a Malaysian company apparently marketing North Korean designed military vessels including miniature submarines. Evidence, including a recent US sanctions listing in 2016 and a flashy Youtube video, suggest that the company – Kay Marine Sdn Bhd – has collaborated with North Korean partners and may have marketed North Korean designed military vessels since the UN arms embargo first entered force in 2006.
In 2016, the US State Department designated several companies under the Iran, North Korea, and Syria Nonproliferation Act including Kay Marine Sdn Bhd, whose designation slipped attention at the time. Kay Marine is a shipbuilding company that has supplied vessels to customers including the Malaysian and Australian governments. The US has not provided a reason for Kay Marine's designation – although it must be due to evidence of the company trading with Iran, Syria or North Korea. A search of Kay Marine's details under the Malaysian corporate registry shows no evidence of North Korean ownership. However, other evidence suggests that Kay Marine may have been collaborated with North Korea, and has possibly marketed North Korean designed products.
Hints of Kay Marine's involvement with the DPRK have previously appeared in the Malaysian press. A November 2006 interview with Kay Marine's managing director suggested that the company had supplied North Korea in the past – the MD even stated that "the company was awaiting word from North Korea on a contract that would use technology from that country". He also noted that "North Korea needs small patrol boats to guard against infiltration". The previous month the UN had passed Security Council Resolution 1718, which prohibited the export of various arms to North Korea, including "war ships." In 2007, another Malaysian news article reported that Kay Marine's Chairman had stated that "the company was also forging cooperation with North Korean experts to manufacture assault boats."
A North Korean Marketing Video?
YouTube, of all places, is where Kay Marine's apparent relationship with North Korea gets really interesting. In 2011, a video was posted on a YouTube account apparently belonging to Kay Marine which raises further questions regarding Kay Marine's activities. Against a soundtrack of non-descript 1980s rock music featuring intolerably long guitar solos (the video's backing music is apparently provided by Grammy nominated guitarist Joe Satriani) the video features a selection of marine hardware. The first half of the video features a selection of civilian boats, including rigid inflatable boats, speed boats, a ferry-style "landing craft", a self-righting "search and rescue boat" and an aluminum coast guard patrol boat. The video lists Kay Marine's alleged customers including the Malaysian armed forces, Royal Malaysian Police and a variety of companies. So far, it's all pretty mundane and consistent with the company's broader digital footprint.
However, halfway through the film, the screen fades to black and a second video begins, again starting with the company's logo. This time the title page states "Advanced Military Boats from Kay Marine." The video proceeds to feature around six military craft showing off their paces – from a "small patrol boat," to a large military hovercraft, and a miniature "small submarine." The video ends with a periscope-like electronic sensor object (all vessels are provided with names/designations in the video).
Analysis of the video and comparison of these vessels with existing designs provides interesting results. Except for one generic-appearing patrol boat, these vessels all bear uncanny similarities to products designed in North Korea and used by DPRK clients including Iran. 
"TB 16 16Mtr. HIGH SPEED TORPEDO BOAT"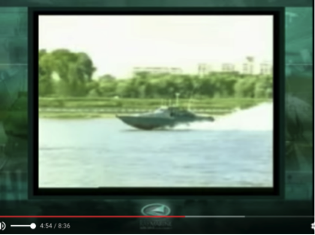 The first vessel bears a striking resemblance to the Iranian Peykaap patrol boat which the US Office of Naval Intelligence (ONI) suggests was based on a North Korean design. Some images of Iran's Peykaap craft from state media have been assembled here. The video suggests the boat carries an "armament" of "2Rounds x 324mm Torpedo." 
"TB16D 16 Mtr. HIGH SPEED SEMI-SUB TORPEDO BOAT"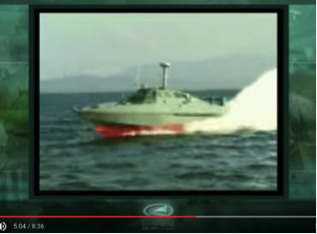 The second vessel – with its distinctive three strutted spoiler – bears a strong resemblance to the Taedong-C torpedo boat (Iranian designation Gahjae class). The US ONI has suggested that two DPRK-designed semi-/submersible vessels were transferred to Iran by North Korea in the early 2000s. There's an image and schematic of the Taedong-C here.
"TB17D 17mtr. SUBMERSIBLE TORPEDO BOAT"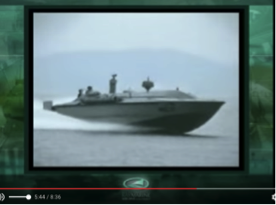 The third vessel bears a strong resemblance to the Kajami submersible torpedo boat currently in service in Iran. This may be the second semi-/submersible boat that Iran received from North Korea in the early 2000s, according to ONI. There is a nice image and schematic of a Kajami here.
"PB21 21Mtr. HIGH SPEED PATROL BOAT"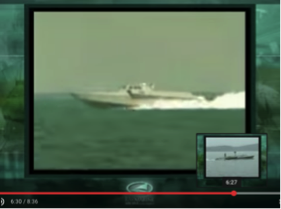 The fourth vessel is difficult to identify.
"LHC 24 24Mtr. LANDING HOVERCRAFT"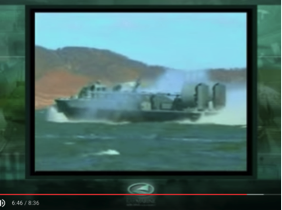 What appears to be three different types of hovercraft are displayed in the fifth segment of the video, including one that bears a strong resemblance to those displayed in a 2013 exercise (the footage of which was apparently also digitally manipulated).
"MS 29 29Mtr. SMALL SUBMARINE"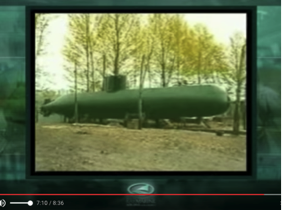 The final vessel displayed – the most exciting – looks to be a Yono type miniature submarine. The sub's dimensions in the video (2.75m beam and 29m length) are consistent with dimensions listed online. A nice image of a Yono class can be found here.
The sub is clearly the "piece de resistance." Sat in a yard on a cradle on rails, the sub is filmed from different angles with the anchor seductively raised and lowered, and a small external propeller (likely for small scale maneuvers) rotated. The boat bears a strong resemblance to the Yono class submarine, a type that South Korean reports suggested was a strong candidate for having sunk the South Korean ROKS Cheonan corvette in 2010, killing 46 sailors.
Interestingly, the products shown in the video are consistent with the product line of notorious North Korean arms trading firm, Green Pine Associated. Green Pine was listed under UN sanctions in 2012, with the summary concluding:
"Green Pine has been identified for sanctions for exporting arms or related material from North Korea. Green Pine specializes in the production of maritime military craft and armaments, such as submarines, military boats and missile systems, and has exported torpedoes and technical assistance to Iranian defence-related firms."
A North Korean Submarine Yard in Malaysia? 
Finding evidence which supports any hypothesis that any of these vessels are actually being manufactured in Malaysia – as opposed to simply being marketed from there – has been difficult. The midget Yono class submarine is certainly the most distinctive piece of equipment shown in the video. That this submarine in the video (despite its rather dodgy looking welds) may have been manufactured in Malaysia by Kay Marine is a far-fetched idea to say the least.
Kay Marine's online profile suggests that the company employs around 120 people and has six sites – mostly offices, one warehouse or industrial unit (away from the water) and one shipyard. The shipyard has a slipway around 50m long and was fairly simple for us to geo-locate using open source techniques. This shipyard, which is definitely not the one hosting the submarine in Kay Marine's YouTube video, features in a second video hosted on Kay Marine's YouTube account. This second video documents the launch of a research ship, the RV Discovery, that Kay Marine company built for a local university (the ship was marred by a corruption scandal, but that's another story…).
A news article detailing defects with the RV Discovery perhaps provides some insights into Kay Marine's capability (or willingness to cut costs):
"Among the defects were: the installation of an electronic cable beneath a generator (making it a fire hazard); failure to encase the high pressure oil hose with an anti-splashing tape; the lamps in the steering gear compartment not working; and the life rackets [sic] exceeding their life expectancy. This was on top of broken air conditioners, closed-circuit television (CCTV) and general shipping equipment."
This RV Discovery video featuring Kay's shipyard, along with another filmed by students as part of a college project, suggests that the capability possessed by Kay Marine at this site and within a warehouse at an unclear location is pretty basic. In fact there is no evidence to suggest that the company has the capability to manufacture even the most simple patrol boats of North Korean design featured in the video.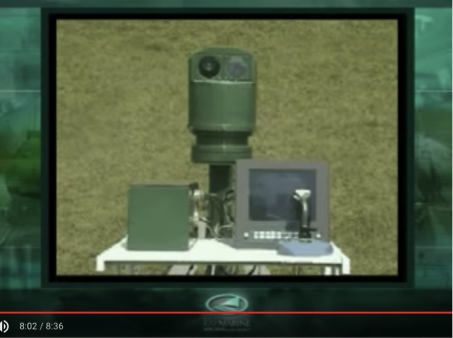 The final item advertised in the Kay Marine YouTube sales video is an outlier – a piece of equipment, rather than a maritime vessel. This "PASSIVE INFRARED DETECTOR" appears to be a periscope used on submarines similar to the Yono. While virtually no close-up images are available online of North Korean submarines, a comparative examination can be made of images of Iranian Ghadir submarines, with Iran being an export partner of North Korea for Yono type submarines since the early 2000s. Indeed, Iran's former president Ahmadinejad inspected a Ghadir submarine at an Iranian naval base in 2008, and was pictured emerging from a hatch right next to a very similar looking detector.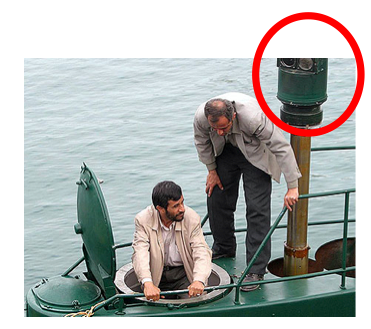 The sensor is featured in the video sat behind a table next to a box (likely holding electronics), a basic looking computer screen and a joystick. The sensor is apparently demonstrated, with a screenshot of its interface showing a ship in regular optical mode, and then white, apparently in a heat-signature mode. The screen also shows the sensor pointed at a moving vehicle and some people wearing glasses.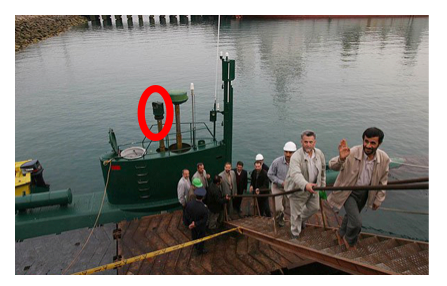 Following the sinking of the ROKS Cheonan, South Korean media quoted intelligence sources as noting that the Yono included advanced sensors: the Yono "is similar to the shark-class submarine and was built recently for export, equipped with night-vision equipment and other high-tech gadgets, as well as a unique structure to enhance its stealth capabilities."

"Built for Export"
Is it possible that the DPRK is exporting submarines to customers abroad, as the Kay Marine YouTube video suggests? Historical evidence suggests that it is. In 1996, a strapped for cash North Korea exported two Yugo class (predecessor of the Yono class) midget submarines to Vietnam. Two further incidents (covered in Andrea Berger's Target Markets) suggest North Korea's interest in – or openness to – submarine export. According to a leaked State Department cable, the North Korean deputy Defence Minister visited Nigeria offering to sell "anything in its inventory" in 2004 including "missiles and submarines" because Pyongyang needed hard currency. In the 2000s, North Korea exported the Yono class to Iran, with US government sources suggesting Iran had seven by 2007.
The issue of submarine parts trafficking has been raised more recently following the 2011 interdiction of a shipment of submarine parts in Taiwan, which was noted by the UN Security Council's Panel of Experts in their 2013 report. The Panel's 2015 report noted these parts were brokered by Green Pine Associated Corporation and allegedly procured in the US. The 2016 report provides further detail, noting that:
"The consignments were shipped from Vienna by an Austrian national, Josef Schwartz, through his company, Schwartz Motorbootservice & Handel GmbH. He had traded with the Democratic People's Republic of Korea on multiple occasions in the past, including violations and attempted violations of the luxury goods ban. The Panel confirmed that he had assisted Green Pine in evading the arms embargo,"
There is also evidence that Green Pine has exported services relating to marine craft and patrol vessels, having assisted Angola with revamping some of its Mandune class naval patrol vessels according to the Panel's 2017 report. Further evidence also presented by the Panel suggests that the company explored Sri Lankan interest in ships.
Growing evidence of Green Pine's role in conventional and broader proliferation activities resulted in the UN Security Council's designation of Green Pine in 2012. Green Pine's ongoing activities also led the Panel to warn that states should enhance vigilance for possible trafficking of "Maritime electronics (radars, sonars, compasses and the like) that can be used for naval vessels" in 2016. Considering North Korea's submarine-launched ballistic missile program, the Panel suggested in 2017 that "Member States should be vigilant regarding the export of dual-use commercial items that could contribute to the submarine programme." South Korea also produced a "Tailored watch list for submarine parts" in late 2016. 
Conclusion: Manufacturing or Marketing? Unclear
In sum, two questions remain: what is the true nature Kay Marine Sdn Bhd's relationship with North Korea (indeed if any has endured)? And what is this strange YouTube video with midget submarines and squealy guitar solos?
The alleged comments by the managing director and chairman of Kay Marine in the mid-2000s suggest that there were prospects for a relationship or contract with North Korea working on assault vessels after UN sanctions were put in place in 2006. It is unclear whether this contract came to fruition. Other comments by Kay Marine officials suggest that Kay Marine exported vessels to North Korea, although this was likely before UN sanctions came into place in 2006. However, the 2016 sanctioning of Kay Marine by the US suggests that the company was still in some way involved with its North Korean partners.
The 2011 YouTube video raises red flags in this respect. A marketing film of unclear origin, branded with the Kay Marine's logo, and including at least five weapons systems which appear to be of North Korean design. The origins of the footage are unclear, although certainly prior to 2011 when it was posted online. It is possible that separate segments of the film featuring different vessels may have originated in different time periods. The resemblance of the submarine and stated dimensions (29m, 2.75m) suggest that it is a Yono (not a Yugo) class. With North Korean efforts to export to Iran beginning in the early 2000s, this segment could date to this period or earlier. The design of the vessels, and the lack of similar images in the public domain, suggests that the footage originated in North Korea.
All the available evidence suggests that Kay Marine has marketed arms on behalf of North Korea, possibly for the benefit of Green Pine Associated, a company which has a track record of exports and international collaboration in marine markets. North Korea is known to have marketed arms before using "hard-copy" marketing material (See Target Markets). The Reuter's investigation also revealed a 2017 marketing video (complete with a dodgy techno soundtrack) which has been posted by James Pearson on Twitter. However, this video is both significant because of its age and its contents. It appears to be custom made for or by Kay Marine because its logo is attached (alongside footage of seemingly legitimate products in the first half). While the full story of Kay Marine's involvement is unclear, at the very least it would be prudent to suggest that the UN Panel of Experts investigate the issue further in their 2018 report.