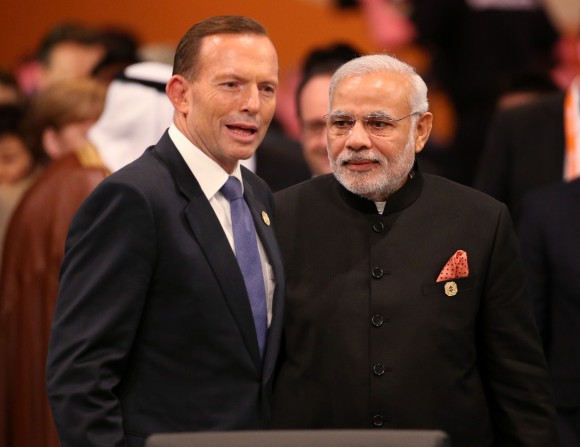 On Monday, February 9 and Wednesday, February 11, the Australian parliament's Joint Standing Committee on Treaties (JSCOT) will take up Australia's nuclear cooperation agreement with India. According to a National Interest Statement from the Australian government, the agreement will enter into force after the JSCOT hearing and after parliament finds that the agreement meets Australia's legal requirements for EIF.
Before lawmakers sign off on the agreement, however, it is possible that on a few points the text will have to be re-negotiated with India and amended.
The Agreement Between the Government of Australia and the Government of India on Cooperation in the Peaceful Uses of Nuclear Energy was concluded on 5 September 2014. The text of the agreement is here.
On the basis of this agreement, Australia's uranium producing industry aims to export uranium to India.
Last week I explored this subject here. In a nutshell, I said that prior to Australia's pending negotiations with India over the fine print of terms to facilitate implementation of the agreement, India has weakened the information-sharing provisions in such arrangements negotiated with Canada and the United States. India's Department of Atomic Energy (DAE) collects data for nuclear security purposes which, if provided to its foreign partners, would permit them to track Canadian and U.S.-obligated nuclear material through India's nuclear fuel cycle. DAE will not agree to provide tracking information to Canada or the U.S., compelling these countries to derive other, partly indirect ways of tracking the material in India.
The contentious issue is so-called administrative arrangements (AAs) which must be agreed upon by both sides to facilitate the nuclear cooperation agreement.
There are two main rationales for negotiation of AAs in Australia's bilateral nuclear cooperation agreements: 1.) Providing what Australia calls "safeguards-related" confidence in partner countries' peaceful use intentions and obligations, and 2.) identifying and locating nuclear material which is subject to Australian obligations.
Peaceful Use Obligations and Intentions
In the big picture, the AAs ultimately follow from Australia's partner countries' commitment that they will dedicate to peaceful use all nuclear materials and other items that are supplied under nuclear cooperation agreements with Australia.
This is what the National Interest Statement says about the bilatleral agreement, AAs, and India's peaceful use committment:
Australia's bilateral nuclear cooperation agreements provide assurance that Australian-obligated nuclear material (AONM) is used solely for peaceful purposes and is not diverted to nuclear weapons or other military uses. At present, Australia has 23 such agreements in place, providing for the transfer of AONM to up to 41 countries, plus Taiwan. These agreements build on the IAEA's safeguards system in order to assure the peaceful and non-explosive use of AONM. They also serve Australia's nuclear nonproliferation security interests by establishing a high standard of safeguards and accountability for a significant proportion of the world's uranium in peaceful use.

…Article III, paragraph 4 [of the agreement] requires also that nominated national authorities establish an Administrative Arrangement to facilitate effective implementation of the proposed Agreement. Australia's national authority would be the Australian Safeguards and Non-Proliferation Office (ASNO).

Article III, paragraph 5, requires each Party to establish and maintain a system of accounting for and control of items subject to the proposed Agreement. Both India and Australia maintain systems of accounting and control for nuclear material to meet IAEA safeguards requirements. Additional procedures to separately track nuclear material and other items subject to the proposed Agreement will be addressed in the abovementioned Administrative Arrangement.
The requirement for tracking of Australian-obligated material in India, accordingly, is separate from and complementary to the requirement for IAEA safeguards on the material. But the main thrust in the Australian perspective is this:
Australian policy is to include safeguards-related conditions in nuclear cooperation agreements that are additional to the requirements of IAEA safeguards. These conditions aim to build confidence between the parties (and among other members of the international community) about their peaceful intentions.
'Safeguards-Related'  Conditions
The conditions in nearly all of Australia's bilateral nuclear cooperation agreements which go beyond IAEA safeguards, and which provide an important rationale for tracking Australian-obligated material in the recipient state, include:
• Australia's written consent for transfers to third parties; Š high enrichment; and Š reprocessing
• Fallback safeguards if IAEA safeguards cease to apply in the state concerned
• Internationally agreed standards of physical security are to apply to nuclear material in the state concerned
• Provision for the cessation of supply and the removal of Australian-obligated material in the event of a breach of the agreement
India Irregularities
Kalman Robertson at the Australian National University argues, in an intervention he submitted for next week's JSCOT hearing, that the Australia-India agreement is unique in a number of aspects. These include:
The broad definition of how Australian-obligated material may be used: The agreement would permit India hypothetically to use fuel containing a mix of 75% unsafeguarded nuclear material and 25% Australian-obligated material in a reactor for a short period of time in order to produce irradiated fuel containing weapons-grade plutonium. Afterward, and provided that 25% of the irradiated fuel remained under safeguards, the other 75% could be taken to an unsafeguarded facility and used as a source of plutonium for nuclear weapons. In this case, "It might be reasonably argued that Australian uranium could indirectly benefit an Indian nuclear weapons program and that this represents a significant lowering of the safeguards standard when compared with [Australia's] agreements with Russia and China." It is possible that DAE will not provide tracking data to its foreign partners as a consequence of those governments having granted India the right to use foreign-obligated nuclear material in facilities which also produce material for India's nuclear weapons program.
Consent to reprocessing: Unlike other agreements, the agreement with India gives India advance consent to reprocess Australian-obligated material.
 Right of Return: Unlike other Australian agreements including those with Russia and China, the Australia-India agreement does not include any provision dealing with the consequences of a failure by the recipient state to comply with the core provisions of the nuclear cooperation agreement (or a failure by the recipient state to comply with its safeguards agreement with the IAEA).
 Fallback Safeguards: Australia's agreements with China and Russia provide for fallback safeguards which would be the eqivalent to IAEA safeguards should the IAEA not be able to safeguard Australian-obligated material for any reason. The Australia-India agreement calls only for vague "appropriate verification measures" in such a case.
No Arbitration Clause: The Australia-India agreement departs from most others in this regard. That could spell trouble given considering the weakness of provisions for fallback safeguards and absence of right of return conditions in the agreement. This might also be interpreted to imply that Australia would tolerate a dispute remaining indefinitely unresolved
If JSCOT after the hearings concludes that there are deficiencies in these or other areas, the Australia-India agreement might have to be amended following further discussion or negotiation with India.
John Carlson, who was Australia's chief safeguards officer from 1989 until 2010, had this to say about whether the agreement concluded last September should stand, in a statement he submitted to JSCOT:
 In 2006, when discussions between Australia and India on a nuclear agreement first started, India insisted on being treated the same as Australia's other agreement partners. But now India has moved the goal posts, expecting an agreement that contains less than all other Australian partners have agreed to. Far from building confidence in its intentions, India's position has the opposite effect…that India is not prepared to meet the standards accepted by all our other partners is a strong reason not to proceed on such a basis…[I]n 2006 Indian officials said they wanted the same conditions as Australia has with other countries. Now however it seems they want much less. The fact that India wants to weaken Australia's longstanding safeguards conditions shows it is not thinking in terms of assuming the same responsibilities and practices as other leading countries – this is not an encouraging start either for this agreement or for a closer bilateral relationship.
It's also not a very encouraging sign of how India might behave should it be invited to join the Nuclear Suppliers Group. But that's another post down the road and a subject that will be up for 48 governments to decide for themselves. In the meantime, all three governments that face the consequences of DAE's policy on information-sharing–Australia, Canada, and the United States–strongly favor Indian membership.
The rest of the submissions to JSCOT on the Australia-India agreement are here.