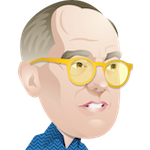 Mark Hibbs
Mark Hibbs is a senior associate in Carnegie's Nuclear Policy Program, based in Berlin. Before joining Carnegie, for over twenty years he was an editor and correspondent for nuclear energy publications including Nucleonics Week and Nuclear Fuel, published by the Platts division of the McGraw-Hill Companies.
All Posts
Most Recent Comments
In: "One Last Chance" for Pakistan
October 28, 2017 12:48 pm

Michael, great post. Comment/question: The current shift in U.S. policy, toward punishing Pakistan by denying military aid, has been used…
In: Implement the JCPOA
October 12, 2017 7:04 pm

Olli, As I expressed above, I don't like the imprecise use of the word "compliance" especially by…
In: Implement the JCPOA
October 6, 2017 3:06 am

Not an eventuality I'm very worried about.