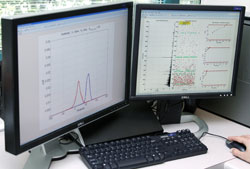 Many years ago, I managed to convince VERTIC's then Executive Director, Michael Crowley, to send me on a two day trip to Vienna just to meet with our friends at the Comprehensive Nuclear Test Ban Treaty Organization. During those days, the treaty's verification regime was still half built, and the building was buzzing with activity. The Public Information Section of the organization's Legal and External Relations Division, then headed by Ambassador Daniela Rozgonova, invited me on a grand tour of the building.
One meeting in particular stand out from those days. I met with a member of the International Monitoring System Division, who took me through how the system works. He started off with this brilliant presentation – a slideshow that I really think should be placed on the CTBTO website – which made everything perfectly clear. I realized that for all its complexity, the verification regime is actually based on simple assumptions. There was a clean beauty hidden in its simplicity. There was also something remarkably touching to see ancient earth science techniques mated with the latest in 21st century processing, analysis and communication.
Now anyone can get that experience. The CTBTO has recently started a new course on the treaty and its verification regime. It covers the verification system, of course, but also offers more, much more. It may be too late to apply to the present round, but those interested in a similar experience may want to contact the Secretariat to inquire about the next round.
And don't despair if you cannot get there in person. It's all going to be streamed. Live.