More data is becoming available on Monday's nuclear test. NORSAR has published the waveform data from two of their stations. The primary wave is very noticeable and sharp, which indicates a man-made explosive event (earthquakes tend to brew a while before really making noise).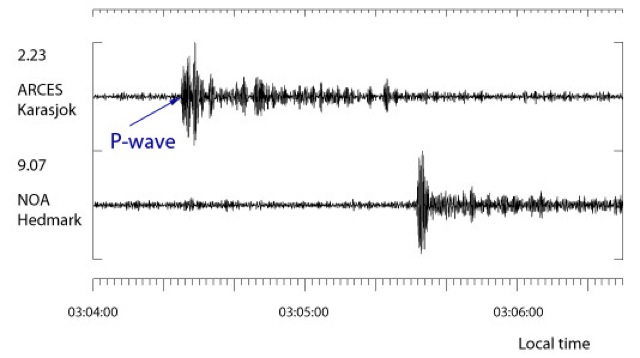 The shear-wave seems to come in shortly thereafter, giving a distinct peak. I like to think of the difference between p and s-waves as flash and thunder. The p-wave comes in fast (in air it travels at the speed of sound) whereas the s-wave rumbles in afterwards. Now, I only have these two datasets, and no other forms, but the signal from ARCES looks peculiar to me. About 10 seconds in there is a sharp fluctuation in the peak-to-peak amplitude, which isn't visible in the NOA readout. I've heard that the seismologists at the IMS division is confused about some of the data as well, but I'm not sure if it's that peculiarity that they've focussed on.
When the s-waves hit, you'll notice some refraction.
If you want to check that these forms match the time of the test, please consult the p-wave travel time image below.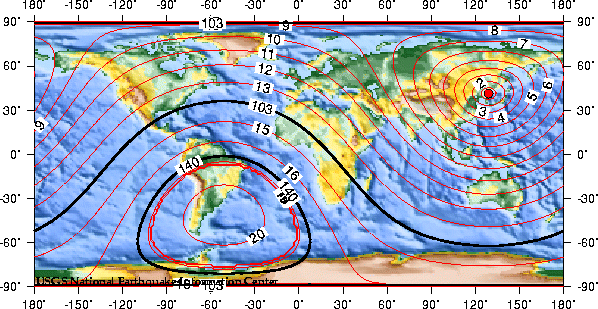 Updated: those interested in antipodal seismometry (see Geoff's post below) might find the image interesting for other reasons.
Most interestingly, the CTBTO has published the error ellipses and visualised them in Google Earth. As you can see, both error ellipses define a search area well within the 1,000 sq. km. maximum search grid stipulated by the treaty. In other words, if the CTBTO hypothetically were to conduct an OSI, they would have a pretty good idea where to start.
But these are only some of the goodies to come. I got an e-mail from Sean O'Connor this morning, who wrote that he's found the likely location of at least two additional sites in the area. He's going to publish his findings on IMINT & Analysis quite soon.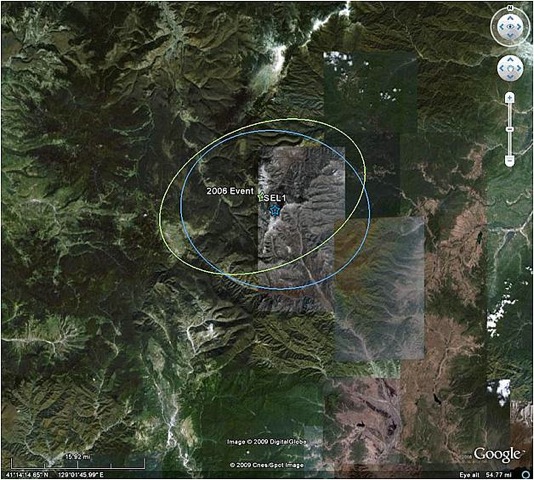 The yield estimate is still highly uncertain, but is likely to be below 4-8 kT range that has been reported in mainstream media so far. But given the discussion in my last thread, I'm attaching this nice Mb – Yield graph for the community to have a look at.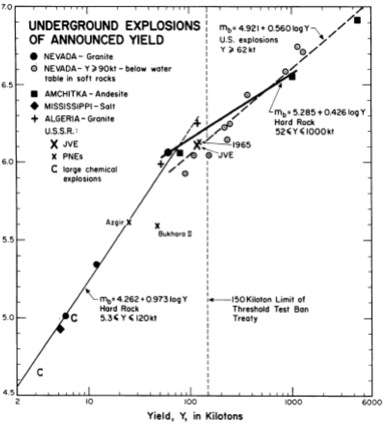 Note that using the NTS hard rock formula puts the yield at 1.6 kT, which fits the assessment of the United States.
Finally, the word is that meteorological conditions at the moment are favourable for a first noble gas hit in South Korea, maybe also in Ussurijsk and later in Japan. But that's for another post.