Cross-posted from Verification, Implementation and Compliance
At the present, I believe that the likelihood of an Iranian break-out is slim. The principal reason for this argument is that Iran's installed capacity at the uranium enrichment plant in Natanz is still low, and that a break-out would entail significant political and security risks for the country. As long as Agency safeguards are in place at the Iranian sites, the international community is likely to get advance warning of any attempt to divert material or to use the existing facilities for nefarious purposes.
The problem is that not all of the nuclear fuel cycle is under safeguards. Processes downstream from the uranium conversion facility are generally covered. But uranium mining and milling as well as certain nuclear related activities (such as research centres or centrifuge assembly sites) are not monitored. Since this is the case, it is easy for a fairly technologically advanced state to construct a parallel nuclear fuel cycle, using indigenous uranium resources to fuel a clandestine weapons programme.
Figure 1: Safeguards under INFCIRC/153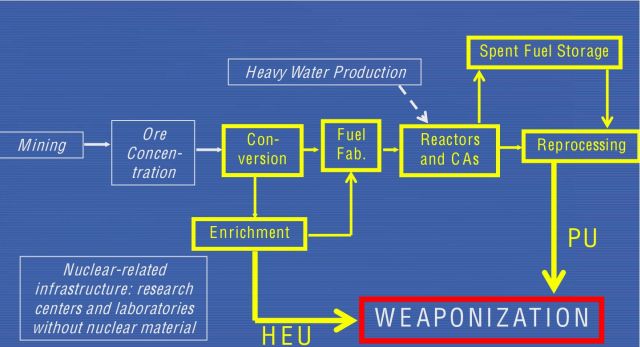 The most appealing option for the cheater is to divert material where safeguards are not applied, in this case the nuclear ore. Let's take Iran as an example. At present, Iran's stockpile of uranium yellowcake is unknown. The only thing that is known, really, is that the country imported 600 metric tonnes from South Africa in the 1970s. If the Iranians have used that material up until January 2009, it would have about 188 tonnes of yellowcake left by now. But again, material accountancy is not carried out, and Iran is under no obligation to give answers if asked.
Status of Iran's mines
The status of Iran's two known mines is largely unknown, but the OECD publication Uranium 2007 at least sheds some light on the status of activities. In Saghand, the AEOI is presently engaged in sinking two cylindrical shafts, each having 4 meters in diameter and extending 350 meters in depth, as well as tunnelling (about 620 meters in total). All projects are scheduled to be implemented by the end of 2009. Ore will be excavated using the "room and pillar", "cut and fill" and "sub-level stoping" methods.
Mining activities are on-going in the Gchine salt plug near Bandar-Abbas. This is an open-pit mine, and mining operations have been on-going since 2006. Its ore is being transported to Iran's only operating uranium production centre (the BUP), which is capable of treating 48 tonnes of uranium ore per day. It has a production capacity of 21 tonnes of uranium per year. Iran's second production facility lies near Ardakan, has a production capacity of 50 tonnes of uranium per year, and is scheduled to go on-stream later in 2009. Iran's reasonably assured resources of uranium is very low, some 591 tonnes of uranium, and its inferred resources are not much higher, about 1,356 tonnes, most of it in metasomatite rock.
If the OECD's figures are correct, it is possible to calculate how much ore would be left in the Gchine salt mine by the end of 2010 if the BUP operates as declared. This calculation is visualized in figure 2.
Figure 2: Mining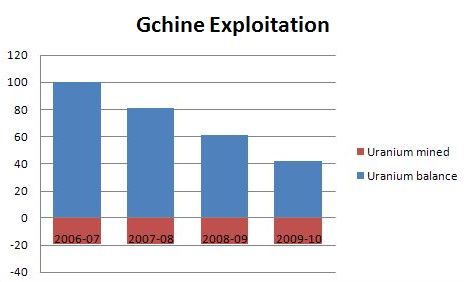 Consequently, by the end of 2010, about 60 per cent of the deposits at Gchine would be exploited. The mine would be more or less drained by 2014.
It is also possible to estimate the stockpile of domestically produced yellowcake, again if the BUP operates as declared and if it uses the acid leach solvent extraction process.
Figure 3: Milling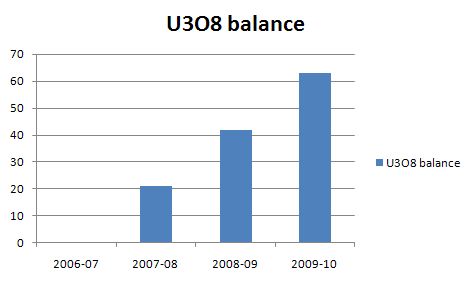 By the beginning of 2009, the stockpile would be some 42 metric tonnes of yellowcake. Probability statistics show that the actual stockpile in 2009 is somewhere between 9.2 and 33.8 metric tonnes (obviously the absence of data leads to an enormous uncertainty – and this is again assuming that the OECD has provided accurate information).
As indicated above, with only the comprehensive safeguards agreement in place, it is virtually impossible to keep track of this stockpile.
In order to be enriched, the yellowcake would obviously need to be processed further. And here is the catch if Iran would want to cheat. Safeguards at uranium conversion facilities are generally quite effective, especially if the throughput is low, and this more or less excludes using the uranium conversion facility at Esfahan for processing the yellowcake. Once it gets on the Agency's books, the material is tracked downstream, and diversion becomes risky business.
Therefore, a state determined to cheat on its non-proliferation obligations would need not only to construct a clandestine uranium enrichment plant, but also a clandestine conversion facility. This facility would not need to be large; a capacity of 10 metric tonnes of uranium per year would be more than sufficient. However, it is an additional investment and it carries with it a risk of overhead or ground detection. The centrifuge facility could be minimal.
About 1,300 IR-1 centrifuges would be able to produce enough highly enriched material for one weapon per year. The cascade hall would require about 520 square meters of space (that's 23 by 23 meters) so the entire operation could be comfortably hidden in a factory building somewhere (amusingly, old clock factories seem to be the preferred choice). It would not require more electricity than an average workshop, so it cannot be detected by a passive infrared survey.
If Gchine is operational, there is enough unsafeguarded yellowcake for 1-5 weapons stored somewhere in Iran. The potential of this material being used in a parallel fuel cycle is the real cause for concern and not a diversion or break-out scenario using declared and safeguarded facilities.
The importance of the additional protocol
This is why it is critically important that Iran reapplies the additional protocol. This instrument allows the Agency to ask for and receive information on Iran's mines (as well as several other activities – such as the assembly of centrifuge rotors). This information can be followed up upon by means of complementary access. The scope of the Additional Protocol is best illustrated by figure 4, which I again have borrowed from a friend's presentation.
Figure 4: Safeguards under INFCIRC/540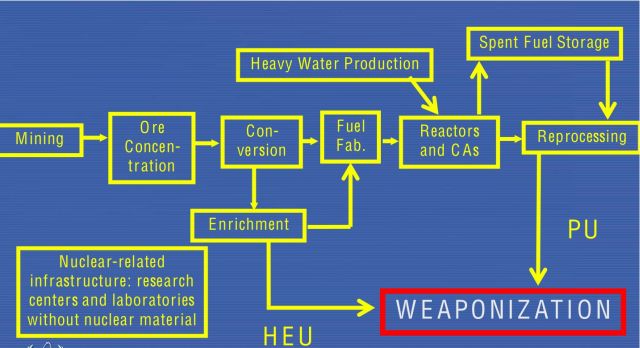 It is only through the additional protocol that the Agency can provide some assurance of the absence of undeclared nuclear activities on Iran's territory. It can do so since it will be able to analyze a much broader array of information. Using this information, they can see whether the flows match up, if only approximately.
The application of the additional protocol will not by itself be able to answer many of the question-marks currently plaguing the Iranian file. For this, transparency measures going beyond the requirement of the additional protocol will be necessary. This is not something the Iranian government seems willing to implement at the moment.
This is unfortunate since for as long as this kind of transparency is not given, the file will never close.