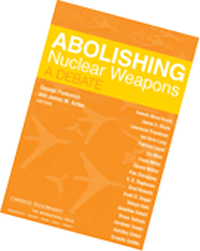 Last September, George Perkovich and I published an Adelphi Paper, Abolishing Nuclear Weapons, which attempted to identify the challenges of getting to zero and how they might be overcome. Most of all, however, it called for serious international debate on the subject.
We have made an effort to catalyze such debate with our new book Abolishing Nuclear Weapons: A Debate. This book reproduces the original Adelphi Paper, followed by 17 responses from officials, analysts and authors representing 13 countries (nuclear-armed states and non-nuclear-weapon states). The volume ends with a concluding essay by George and me. And, it's all available free of charge from here!
We made a real effort to have a broad spectrum of opinion with authors including Jonathan Schell, Sir Lawrence Freedman, Frank Miller, Scott Sagan and President Ernesto Zedillo.
As well as a lot of content, there are also some great pieces of writing. Let me share a couple of my favourites.
Sir Lawrence Freedman on the need for greater public engagement:
As things stand now, if governments start dragging their feet, it is hard to imagine vocal demands and public demonstration to get the process back on track. If nationalist politicians start to insist that their country is being duped into putting national security at risk, it is just as likely that demands to slow down would follow. As long as talk of abolition remains the diplomatic equivalent of easy-listening elevator music, and as political leaders remember to assert their belief in a world without war and weapons—and, while they're at it, no more poverty and disease either—few will pay attention. Only as the talk becomes serious will public debate open up, and properly so. Depending on the political system, dissent from the official line may be vigorous and open or cryptic and furtive. In all cases, the course of the debate will be influenced by the interaction with whatever happens to be on the public agenda at the time and the passing concerns of the moment.
Zia Mian on the problem with framing the disarmament debate in terms of security:
Some arguments that policy makers may advance for abolition will certainly conflict with long-standing official narratives of national security that have served to justify a role for nuclear weapons. These arguments may trigger debates about what, if anything, could fill the nuclear-weapon shaped hole that would result from the abolition of nuclear weapons. The pursuit of disarmament may become tied to the search for reassurance through technological, strategic, and political substitutes for nuclear weapons. Other arguments for abolition may claim that eliminating nuclear weapons would not actually undermine the security calculation of a nuclear-armed state, but would in fact strengthen its position relative to rivals and in the international system. Such an argument could complicate efforts by some other states to make a case for disarming.
In addition, St. Anthony's International Review has also joined the debate by publishing an excellent critique of our Adelphi Paper by Elbridge Colby and a response by us. Again, all available free of charge and worthwhile too because this exchange really helps crystalize an important aspect of the wider debate, in my opinion.
Enjoy.