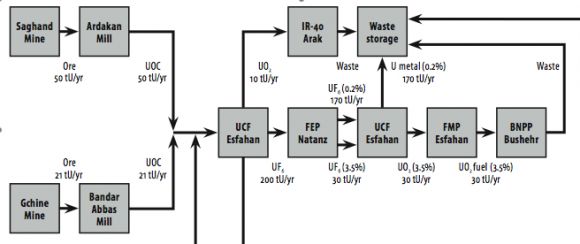 Partial schematic of Iran's planned fuel cycle, once facilities currently under construction have been completed.
I was travelling on Friday and got back to the internet to observe the aftermath of the s*!t storm over material accountancy in Iran.
The story that seems to be emerging is that Iran understated the quantity of low enriched UF6 it produced because of a genuine error in calculation, as reported by various sources including Mark Hibbs (in the comments to Jeffrey's post and, I assume, elsewhere) and Global Security Newswire. Presumably, during its annual physical inventory verification (PIV), the IAEA found an anomaly and worked with Iran to discover it was an error rather than anything more suspicious.
What is the significance of the IAEA's phrase about "measurement uncertainties normally associated with enrichment plants of a similar throughput"?
In its report the IAEA repeated its standard comment that the results of the PIV were "within the measurement uncertainties normally associated with enrichment plants of a similar throughput." This raises an interesting question: What uncertainty would be expected in performing a physical inventory at the Fuel Enrichment Plant (FEP)?
The typical measurement errors associated with weighing canisters, sampling UF6 and measuring enrichment levels are actually very small. They are all given in a favourite of mine—the gloriously wonkish International Target Values 2000.
I don't have the time now to do a calculation to work out what measurement uncertainty would be expected for the FEP as it currently stands but, a couple of years ago, I did this calculation assuming the facility was fully fitted out with 50,000 centrifuges and producing 30 tU/yr of 3.5% enriched LEU. It's in a study I did for VERTIC with the memorable title, The use of voluntary safeguards to build trust in states' nuclear programmes: The case of Iran. Incidentally, in Appendix I, this paper contains a moderately technical summary of the principles of nuclear materials accountancy—if you're interested.
Anyway, I calculated the measurement uncertainty for a PIV in the FEP when completed would probably be just a few kg of uranium (depending on the exact type of measurement techniques used). This is consistent with the expected values given by the IAEA in its Safeguards Glossary (table III, p. 53). So, the measurement error for the FEP today, which has just 4,000 centrifuges (or thereabouts), would be considerably smaller (no, it's not a linear relationship).
What this means is that the IAEA's comment that the results of the PIV were "within the measurement uncertainties normally associated with enrichment plants of a similar throughput" almost certainly refers to situation after the error in Iran's calculations was spotted. The 209 kg discrepancy that sparked the controversy is way, way outside the typical measurement uncertainty.
Why did Iran not spot the error itself?
This is a question that I have been asking myself. I would have expected Iran to have checked its calculations by actually measuring UF6 masses and enrichment levels. I mean you'd do that if you ran an enrichment plant, wouldn't you?
Certainly, this is standard practice in the one enrichment facility I have seen up close and personal. All UF6 cylinders were continually weighed. After each one was full it was heated (to "homogenize" the material) and a sample taken so its enrichment level could be ascertained by mass spectrometry. With these practices an error of 1 kg—let alone 209 kg—would be spotted pretty quickly.
The fact that Iran failed to spot its own error suggests that it isn't doing any of this standard housekeeping. And, I think, this gives us a glimpse into a programme that in its rush to get started and churn out LEU has forsaken normal operating practices.
It ties in with the fact that Iran has stated its maximum enrichment level is higher than the IAEA measured, and also with a story I heard from one of the first inspectors to go to the conversion facility at Esfahan once it had started operating. This person said that the Iranian technicians were very keen to learn basic safety techniques from the inspectors, including how to deal with UF6 leaks. Health and safety has not been a major concern for the Iranian nuclear programme either.
To be clear: none of this sloppiness is illegal—it's just bad practice. And, it makes the IAEA's job harder.
Tightening safeguards?
The measurement uncertainty discussed above matters because it sets the size of a diversion that the IAEA could confidently detect. In my paper I calculated that, with 95% probability, the IAEA could detect a diversion of about 5 kg from the FEP when it is fully kitted out. This is 15 times smaller than the 75 kg target value for LEU. Bear in mind that IAEA safeguards are designed for much larger facilities than Natanz so it's not surprising the IAEA could detect such a small diversion. So, I am very confident in the IAEA's ability to detect the diversion of one significant quantity of LEU from Natanz.
However, I am much less confident in the IAEA's ability to detect a diversion in a timely manner (or to detect a clandestine facility—but that's a different story). Specifically, the IAEA aims to detect the diversion of LEU within one year.
Currently a PIV at Natanz (when the IAEA measures a pre-determined fraction of all the nuclear material at the facility so it can accurately estimate the total inventory) is conducted once a year—the standard practice in most (if not all) facilities under IAEA safeguards. Given the time taken to process the results of this inspection, it means that a diversion occurring just after a PIV might not be detected for 13 or 14 months.
I say "might" because containment and surveillance is in place and that might detect a diversion even before the PIV comes around. Similarly, the IAEA conducts interim inspections in many facilities, normally to verify material flows into or out of the facility but sometimes to conduct interim inventories (albeit in a less rigorous manner than during a PIV). If such inspections occur at Natanz they would increase the probability of detecting a diversion within a year. (Note: These are different from the short-notice randomly-occurring inspections in the cascade hall that are definitely happening and occur about once a month).
In any event, given what we know (or rather don't know) about the safeguards approach for Natanz, I think there are legitimate questions about whether detection in Iran would be timely. Others have made this point too—including David Albright. But, to be fair, this is not just an Iranian problem. It is true in bulk handling facilities in other states as well.
It would not be hard to fix, if funds were available. Performing a PIV twice a year or increasing the frequency of interim inspections would be useful in helping the Agency meets its current timeliness detection goal or even a more ambitious one. And, in an ideal world, I argued in my paper that this is exactly what the IAEA should do.
But, here's the rub. Any change to the IAEA's verification approach could only be effected with Iran's permission. The safeguards approach for Natanz (contained in the co-called facility attachment) took about a year to negotiate. And, reading between the lines of the IAEA's reports, it was a painful process. I find it almost impossible to imagine Iran agreeing to the IAEA performing a PIV more often or conducting more frequent interim inspections.
And, again, to be fair, this is not just an Iranian issue. At a fundamental level, the main problem with IAEA safeguards is not the accuracy of measuring techniques or the frequency of inspections—but severe limits on the Agency's legal authority. I have no doubt that intransigence on negotiating or renegotiating a facility attachment is an issue in many other states too. The situation in Iran just throws this problem into sharper relief.