As Jeffrey discussed on Saturday, "some" in the US intelligence community (aka DIA) have "increasing concerns that North Korea has an ongoing covert uranium enrichment program". David Albright, in Glenn Kessler's story, claims this is based on discovering a single HEU particle that is just 3.5 years old.
Just the day before hearing this news I was, by coincidence, reading this year's IPFM report. Commenting on Jeffrey's post, Alex Glaser (one of the Princeton boys who produced the report) summarizes their key conclusion about dating HEU:
As noted in the quote from the IPFM report, it is impossible to determine (or estimate) the age of a micron-sized HEU particle based on the Th-230/U-234 isotope-ratio if the particle is micron-sized, which is what we expect to find on a swipe sample, and less than 20-25 years old. In other words, an HEU sample has to be quite "large" in order to be able to specify an age of less than 5 five years using the Th-230/U-234-method.
The IC's finding—that the particle in question was just three and half years old—is therefore noteworthy to say the least. So, is it plausible?
The short answer is yes, if the particle was sufficiently large. The larger a particle is, the greater the number of atoms it contains, and hence the smaller the relative error in determining the Th-230/U-234 ratio. So, better questions are: How large would such a particle have to have been? And, how likely is it that USIC would have found a particle of this size?
Those of you without a mathematical/scientific bent may like to skip forward to the results at this point. However, I am going to lay out my analysis in considerable depth so very keen readers can scrutinize it.
Summary of the science
First off, we don't know what method was used to date the particle. The method I describe here—using thermal ionization mass spectrometry (TIMS)—is probably the best described in the literature (including in an article by LaMont and Hall, two US government scientists at Savannah River) but it is not the only possibility. Apart from other forms of mass spectrometry and other isoptopes of interest, Alex Glaser points out the possibility of using fluorine to date the particle. But here we will stick with TIMS…
All uranium contains a small fraction of U-234, which decays to Th-230, with a half-life of 246,000 years. The age, t, of the sample (more properly, the age since it was last purified) is related to the Th-230/U-234 ratio, R, by the equation:

where β=-6.4 × 10-6 yr-1 and K = 0.44 yr-1 (their relationship to the half lives of U-234 and Th-230 are given here, which also has a nice supplementary discussion of this technique).
Incidentally, a formula that will be useful later is obtained by inverting (1):

Anyway, in terms of experimental technique, the sample must first be chemically treated to separate the U and Th before TIMS can be used to count the number of U-234 and Th-230 atoms. From this R and hence t can be calculated using (1). To correct for inevitable process losses (which may affect U and Th differently), the sample is "spiked" with known amounts of "tracers". Tracers are isotopes that are not otherwise present in the sample (such as U-233 or Th-229) and they provide a "yardstick" against which to measure the U-234 and Th-230 concentrations.
Error analysis
Because the concentration of U-234 in a sample is much, much higher than the concentration of Th-230, the former can be measured much more accurately than the latter. In fact, given that in very small samples almost all the uncertainty in determining R comes from the uncertainty in the number of Th-230 atoms then

where σR is the uncertainty in R and σN2 is the uncertainty in the number of Th-230 atoms. N1 and N2 denote the number of U-234 and Th-230 atoms respectively.
In the very small samples we are worrying about here, almost all the uncertainty in N2 comes from so-called counting statistics: the inherent variability in the number of Th-230 particles that hit the detector inside the mass spectrometer (see Table 1 in Lamont and Hall for a detailed "error budget"). Because this process is described by Poisson statistics then, if there were no process losses, we would expect σN2=N20.5. In reality, because only a fraction of the Th-230 atoms in the sample contribute to the mass spectrometry then the uncertainty in N2 is given by

where A is a constant (much bigger than 1) that undoubtedly depends on the specific experimental set-up. Physically A-2 represents the fraction of Th-230 atoms that contribute to the spectrometry.
Finally, by differentiating (1), associating dt and dR with σt and σR, and using (2), (3) and (4), I finally obtain:

where σt is the uncertainty in the age of the particle.
Note that all the constants in (5) are known, except for A. Fortunately, the paper by LaMont and Hall provides enough information to estimate A=6200 for their experimental set-up. I won't go through the details of that calculation here (but can supply them on request, of course).
I want to point out at this stage that, applied to older particles, my model leads to significantly different conclusions from the 2008 IPFM report. As stated above, that report concludes that you need a particle of about 3 microns in diameter to date it if it is a few decades old. In contrast, my model predicts, for instance, that a particle of 50 microns in diameter would be needed to date a 25 year old particle to within an accuracy 5 years. I believe the difference emerges because the IPFM conclusion is based on the particle size needed to contain a detectable quantity of Th-230. However, I think that a larger amount of Th-230 is needed to be able to measure the number of atoms sufficiently accurately for dating. However, as I say at the end of this posting, I am by no means completely confident in my model and given the quality of IPFM's work the fact that my conclusion differs from theirs does worry me. Anyway, onto the results using my model…
Results
If you skipped the last couple of sections: welcome back.
The graph below shows the diameter of a particle (in microns) against the uncertainty in its age (in years), assuming a spherical particle with a nominal age of 3.5 years and a density of 10 g cm-3. Apologies for the lack of axis labels—I am having Excel problems…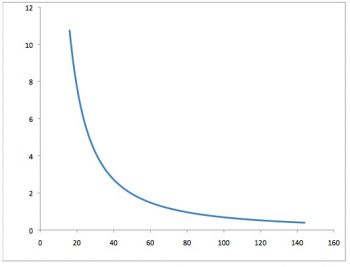 Plot of particle diameter (x-axis, x10-6m) against uncertainty in age (y-axis, years)
Now, USIC told Albright that the age of the particle they found was 3.5 years. Given they cite the age to the nearest half year I take their uncertainty to be somewhere between six months and a year. Based of the graph above, this leads to a particle diameter of between 80 and 120 microns or, in terms of mass, between 2 and 7 microgrammes.
This would represent a very large particle. In fact, it is two orders of magnitude larger than the size normally found on a swipe sample: 1-3 microns (according to IPFM). I simply don't know enough about environmental sampling to know whether such uber particles do occur from time to time. If any of you do, please feel free to comment.
It's hard to say therefore whether USIC's detection of a 3.5 year old particle is plausible. Nonethless, I would certainly urge caution in interpreting this claim. Assuming my analysis is correct (and that is a big assumption—see below), USIC has either found a truly huge particle (which may be unlikely) or they have a worryingly large error bar on their result (potentially a few years or more).
Moreover, even if USIC did find one huge particle, basing key policy choices on just one particle is foolhardy. There is an interesting reference in LaMont and Hall to "discarding outliers". In other words, they occasionally obtained a result that was so wrong (many standard deviations away from the mean) that it was attributed to human error and discarded. If you have just one particle for analysis it is impossible to know whether your one result is one of these outliers.
Should you believe me?
Good question. Let me be very clear about the limitations of this analysis.
The above analysis has not been peer reviewed. In particular, I had to postulate equation (4) because I couldn't find a relevant discussion of this issue in the literature. Moreover, my estimate of mass spectrometry accuracy (essentially represented by the constant A) is based on one paper that is four years old. If TIMS has moved on since then, or if USIC employed some other, more accurate technique, then it may have been able to get away with a much smaller particle. All of this I freely acknowledge. I don't claim this is anything more than a first, rough attempt to get something out quickly to help inform the debate about North Korean enrichment. Please don't treat this as anything more.