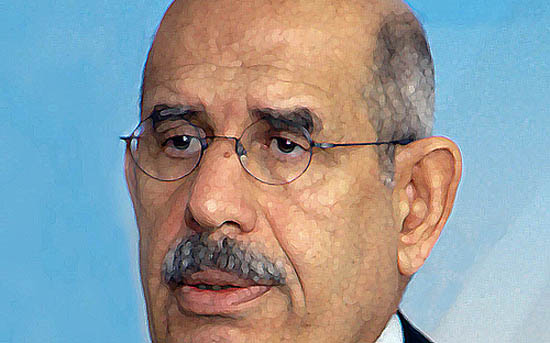 There is a storm brewing over in Vienna about whether the IAEA should cease technical cooperation with Syria on account of the latter's suspected nuclear programme.
The IAEA Director General weighed in on Monday. According to Reuters
IAEA Director Mohamed ElBaradei urged governors to approve the aid project, saying there was no legal basis for curbing Syria's IAEA membership rights based on unverified accusations.

"There are claims against Syria, which we're looking at. There were claims against Iraq, which were proven bonkers (mad), and after, the result was a terrible war," he said in remarks to the closed gathering relayed to Reuters.

…

"So we have to be very careful when we talk about an investigation," ElBaradei said. "Even people who are not a lawyer would know that people and countries are innocent until proven guilty. And we continue to act on that basis."
Let me say first off that, on a personal level, I entirely agree with suspending technical cooperation with Syria. Ceasing to assist Syria to develop a nuclear power programme is an entirely appropriate and proportionate step given the very strong evidence that Syria built a clandestine reactor—in fact, in my opinion, it would be "bonkers" not to take this step.
But, putting my personal feelings aside, is ElBaradei right about the lack of a legal basis for stopping technical cooperation?
Article 19 of Syria's Comprehensive Safeguards agreement states that
If the Board, upon examination of relevant information reported to it by the Director General, finds that the Agency is not able to verify that there has been no diversion of nuclear material required to be safeguarded under this Agreement to nuclear weapons or other nuclear explosive devices, it may make the reports provided for in paragraph C of Article XII of the Statute of the Agency (hereinafter referred to as "the Statute") and may also take, where applicable, the other measures provided for in that paragraph. In taking such action the Board shall take account of the degree of assurance provided by the safeguards measures that have been applied and shall afford Syria every reasonable opportunity to furnish the Board with any necessary reassurance.
Note the way this article is phrased. The IAEA is required to make a finding of non-compliance if it is unable to verify the non-diversion of nuclear material. It does not have to prove there has been a diversion; it only needs to be unable to prove that there hasn't been one. So, ElBaradei is quite wrong when he says that states are innocent until proven guilty. Fair or not, Syria signed up to a system that works the other way around.
Given the evidence in GOV/2008/60, there seems little doubt that the IAEA cannot verify the non-diversion of nuclear material in Syria. Moreover, it has given Syria "every reasonable opportunity to furnish the Board with any necessary reassurance". Syria has recently said it will allow no more inspections.
So, there seems to me little doubt that the Board already has legal right (if not the obligation) to find Syria in non-compliance. If that is done, article XII.C of the Statute comes into play:
The Board shall call upon the recipient State or States to remedy forthwith any non-compliance which it finds to have occurred. The Board shall report the non-compliance to all members and to the Security Council and General Assembly of the United Nations. In the event of failure of the recipient State or States to take fully corrective action within a reasonable time, the Board may take one or both of the following measures: direct curtailment or suspension of assistance being provided by the Agency…
The article manifestly gives the IAEA the right to suspend technical cooperation. I would argue that it could do this right away since it has already given Syria "reasonable time" to take "fully corrective actions" but I am sure that others would argue this article means that Syria must be given some more time after it is found in non-compliance. In any event, even if the IAEA can't suspend technical cooperation right now, it should be able to do so in the near future, if it finds Syria in non-compliance now.
There, however, is the rub. My reading of the law is that the IAEA can only suspend technical cooperation after finding Syria in non-compliance. As much as I think such a finding would be legally justified (and entirely deserved), it seems like a non-starter right now. And because of that it also seems to me that the legal basis for denying Syria technical cooperation is shaky—even if the reasons are totally different from those implied by the Director General.