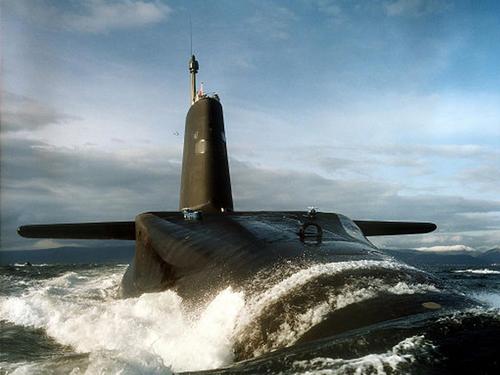 I've had UK nuclear issues on my mind a lot recently—all sparked off by my Barcelona talk, I guess. Preparing for that talk, I spent a lot of time reading the transcript of the House of Commons Defence Committee's enquiry into the replacement of the Vanguard SSBNs. One aspect of the debate that interested me was whether effective deterrence relies on one submarine being at sea at all times.
Some background…
The UK currently has one launch platform for nuclear weapons: the Vanguard-class SSBNs (of which there are four). In its White Paper, the government assessed that the service life of these subs could be extended by five years. If correct, the second boat, HMS Victorious, would go out of service in about 2024 and, from this point onwards, it would no longer be possible to maintain continuous-at-sea deterrence (CASD). Given the Government reckoned it would take about 17 years to get the first boat of a new class up and running, it sought Parliament's permission to start design work in 2007.
At the time (as Jeffrey blogged) there was a debate about whether the service life of the boats could be extended by more than five years. I argued in Barcelona that it is impossible to know the answer to this one on the basis of unclassified information—and that this is another reason why we need some form of classified peer review (like the Jasons) in the UK.
However, there is a another more conceptual—and more important—question. Would the deterrence value of British nuclear weapons be eroded if CASD were not maintained? With the exception of BASIC's Paul Ingram, none of the witnesses really wanted to get into this issue during the hearings. This is, however, a key issue and it is crucial to ask whether the Government was right when it spoke of the need to avoid "a gap in deterrence at the end of the Vanguard-class submarine."
Of course, we've heard a lot about gaps before. During the 1960 election campaign, the Kennedy campaign famously spoke of the non-existent "missile gap" (OK, yes, it did exist but it turned out to be the US' favour). The Nixon administration needlessly worried about a "window of vulnerability" occurring at some point in the 1980s (I notice Pavel Podvig has an article on this in the most recent International Security). And, let's not forget the "mineshaft gap" in Dr Strangelove.
Anyway, back to Trident. Justifying the need for CASD, then-Secretary of State for Defence, Des Browne said "the fundamental answer… is because continuous-at-sea deterrence is at the heart of having a credible deterrent." Browne's concerns must be premised upon an adversary hell-bent on threatening UK vital interests appearing suddenly—before the UK had a chance to revert back to CASD. First off, this is exceedingly unlikely. But, for the sake of argument, let's accept that it just might happen. Would this enemy be more likely to attack the UK if it knew the UK no longer had a policy of CASD?
I don't think so.
Abandoning continuous-at-sea deterrence does not mean announcing to the world that you only have SSBNs deployed when there is a letter "r" in the month. The dates and the length of deployments would remain secret, regardless of whether CASD were maintained.
As someone that broadly subscribes to the idea of existential deterrence (see Jeffrey's excellent recent essay on the subject), I tend to think that any adversary who can be deterred will be deterred, if any remotely plausible threat of nuclear retaliation exists. The fact that abandoning CASD would mean that the UK could "only" nuke an enemy at short notice 50% or 75% of the time would surely be unlikely to alter that adversary's calculation in any material way.
Browne also defended CASD in terms of the need to "avoid unnecessary escalation in a crisis". But, again, this argument would only hold if the Royal Navy were to advertise the deployment of a submarine—which it wouldn't. The UK already has a pressing need to keep the deployment of a SSBN absolutely secret (so it cannot be tracked leaving port). Nothing would change if CASD were abolished.
In reality, however, I don't think that the UK's attachment to CASD is really about deterrence or crisis stability. I suspect the most honest statement on the subject came from Rear Admiral Matthews, Director General Nuclear (cool title, no?) at the Ministry of Defence:
…it drives a real ethos into the programme and I do not think you can put a value on that. You have to be part of it to understand it. The maintenance of continuous-at-sea deterrence and the demands it places on the system and the tests it places it on the system are of real value. It drives operational preparedness, it drives crew training, it drives the whole way the team operate. I do not know how you value such a thing as ethos but I think it is absolutely pivotal to the way we have run this programme and would wish to continue to run it.
In other words CASD is really about training and moral. These are, of course, not bad reasons for maintaining CASD. I'm not entirely convinced by the training argument since presumably the UK could build a realistic Vanguard simulator, if it does not have one already (I'm not clear on whether it does). But, having no experience of life on a submarine myself, I accept the Admiral's argument that morale would be hit if CASD were abandoned.
The question is ultimately whether morale is enough of a reason for keeping CASD. For me, abandoning CASD would be a real, meaningful step toward the NPT's disarmament obligation (and the pretty much unanimous view in Whitehall is that this is crucial to building a coalition to prevent proliferation). It also would help lessen the political-military salience of nuclear weapons and further reduce the (already slim) chance of a catastrophic accident. Morale does matter but surely the political benefits of abandoning CASD matter more.